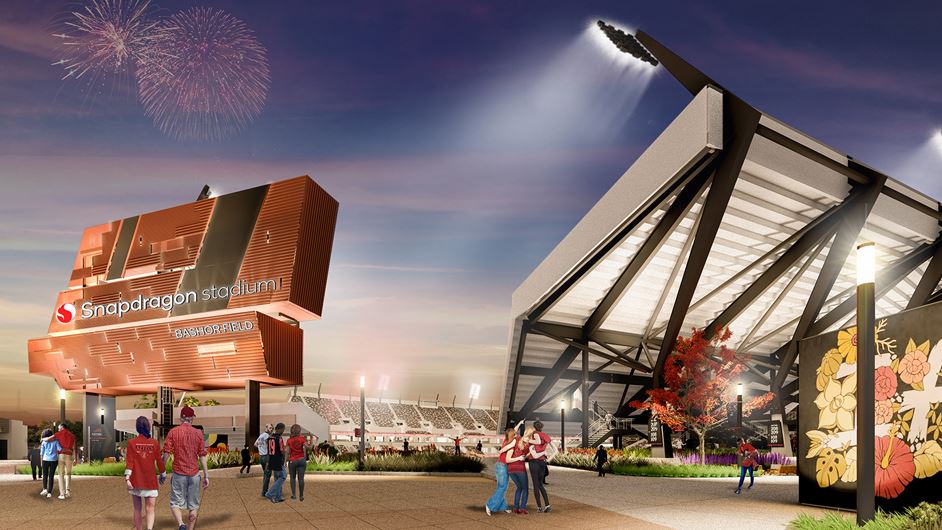 San Diego State University's new stadium as part of the expansive SDSU Mission Valley development, has a new name — Snapdragon Stadium.
Qualcomm Technologies, Inc. has entered into a long-term agreement for naming rights that will now go to the California State University Board of Trustees for formal approval. The previous home for the Aztecs and also the NFL's San Diego Chargers was called Qualcomm Stadium.
The $45 million deal is structured as a 15-year, $3 million per year agreement. Snapdragon Stadium is on schedule to be completed by September 3, 2022, when the Aztec football team is scheduled to play the University of Arizona in the season opener.
"Partnering with Qualcomm on Snapdragon Stadium continues our push for creating a world class stadium experience for the entire San Diego community," said San Diego State Athletic Director JD Wicker. "Our growing relationship will allow us to leverage the best-in-class technological advances of Qualcomm to create superior fan experiences no matter the event. This is another example related to the SDSU Mission Valley development of community investing in community."
Snapdragon represents a family of technology platforms that bring intelligence and connectivity to smartphones, wearables, always-connected PCs, XR headsets, gaming devices and cars.
"We are thrilled to have secured the exclusive naming rights to San Diego State University's new stadium," said Cristiano Amon, president and chief executive officer of Qualcomm Incorporated. "This is just the first phase of an expansive relationship between Qualcomm Technologies and San Diego State University as we look to support their broad digital transformation that will include the Stadium, the upcoming Innovation District and smart campus enhancements across their campuses. This agreement is the reflection of our mutual dedication to our local San Diego community."