Sports Facilities Companies will launch a new lacrosse events company, Halo LAX, which marks an entry into the space of event organizers for the company that advises and manages youth sports complexes across the country. In addition, the company, which includes Sports Facilities Management, has announced a separate deal with tournament registration company EventConnect to serve as the preferred registration provider for events at its venues.
The launch of Halo LAX will see an inaugural season in fall 2020 with three styles of the sport: 6onLAX, D3 Showcase and Club Challenges. A full season is planned in 2021 with the goal of organizing more than 40 events with more than 10,000 participants. The events are estimated to produce $5.6 million in economic impact to the host destinations, which will include SFM properties.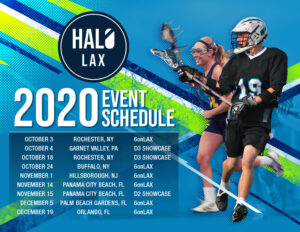 "Halo LAX represents the next evolution of how the SF Companies serve our clients and communities," said Jason Clement, SF Companies' CEO and co-founder. "Our goal is to create exceptional events that fill a hole in the market to supplement – not displace – our existing event owner partners. This initiative creates a win for facilities, communities, and the industry as a whole by introducing new event inventory."
SF Companies' national director of events and entertainment, Justin Roach, and Event Manager Joel Franklin will lead the firm's Halo LAX effort.
"Our vision is to create an event platform that helps grow the sport of lacrosse and improves access for all," said Roach. "In addition to being a great event option for facilities in the SFM Network, we'll also be bringing our events to many other communities across the country."
EventConnect Partnership
Meanwhile, SFM has announced that it will make EventConnect its preferred provider for tournament management, team travel and event reporting at their venues across 16 states.
"This relationship represents our commitment to bringing the industry's best solutions to our clients and communities," said Roach. "EventConnect's technology platform creates a more equitable, responsible solution for event management and team travel. What's more, the CVB portal empowers tourism professionals with real-time reporting from multiple venues in their city – allowing them to make more informed decisions on their investments."
"Our driving goal has been to create a platform that creates a 'win' for all parties in the youth sports tourism industry: destination facilities, event owners, hoteliers, communities, and teams/players," said Jason Parker, founder and CEO of EventConnect. "As a preferred provider for the SFM Network, we'll be able to bring this solution to big portion of SFM's client communities and their 20 million annual visitors."
EventConnect, which has operated since 2013, serves more than 15,000 hotels in over 800 cities across North America and handles tournament registration for more than 4,000 events. EventConnect recently announced the creation of an Event Solutions Team that includes sports tourism veterans Glen Schorr, Hank Pivarnik, Robin Wright and Matt Dunn to expand the company's ability to facilitate the use of its platform and provide support to destinations, event rights owners, hotels and venues.
"The relationship between EventConnect and SFM is really a natural fit. Our organizations are deeply committed to the health of the industry and doing what's right for everyone who participates in youth sports," said Clement. "Our data insight into real-time operations and more than 2,000 communities through planning projects across the country and EventConnect's data on more than 4,000 events really creates an unprecedented ability to look at performance metrics across the youth sports tourism industry."