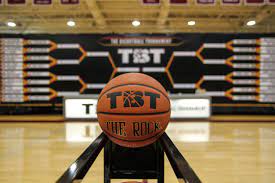 Entering its ninth season, The Basketball Tournament, a $1 million, winner-take-all event televised live on ESPN, has announced its 2022 schedule with games in eight destinations.
TBT will continue having a field to 64 teams. Creighton University, University of Dayton, New Mexico University, Wichita State University, and Xavier University have all signed on as regional host partners, with their respective alumni teams serving as the featured teams in those locations.
Boeheim's Army, the Syracuse alumni team and defending TBT champion, will host a regional. Charleston, West Virginia, will host a regional featuring alumni teams from West Virginia and Marshall University. The University of Dayton, which hosted TBT's 2021 Championship Weekend, will host Championship Weekend again in 2022 in addition to a regional. The eighth location will be revealed at a later date.
One team from each regional will advance to TBT's quarterfinals. The winner of the Omaha Regional will play the winner of the Wichita Regional at Koch Arena in Wichita, Kansas on July 28, while the remaining six quarterfinalists will play at UD Arena in Dayton, Ohio July 29-30. The last two rounds will also be in Dayton with the semifinals taking place on July 31. The $1 million winner-take-all championship game will be played August 2 on ESPN.
"In our nine-year history, we've never had a stronger group of host partners," said TBT founder and Chief Executive Officer Jon Mugar. "After a successful 2021, we received a record number of bids to host, which is how we ended up with such an impressive lineup. We look forward to raucous crowds and a tremendous championship game atmosphere in Dayton."
TBT 2022 will again feature an open-application process, allowing any team or group of players in the world to apply through thetournament.com from April 1 through June 15. The bracket will be released in late June. As always, TBT games will continue to feature the Elam Ending®, the end-of-game format adopted by the NBA All-Star game that eliminates the clock after a certain point and features teams playing to a Target Score.