Most motorsports events are confined to a specific venue suitable for the competition but one organization has embraced the multi-city concept to spread the benefit across multiple destinations and how those destinations have taken advantage of the spotlight in return as panelists detailed in the TEAMS Conference & Expo Educational Session "Case Study: How the Great Race Embraces Multi-City Events."
The Great Race has brought a grass-roots concept to motorsports competition that also allows multiple locations to get a piece of the economic engines involved, becoming a unique event from the event organizer and destinations that hosted stages of the race.
The Panelists
John Gibbons, Rhode Island Sports Commission: As executive director, Gibbons' past and current clients include the NCAA, Ironman, Varsity Spirit, JVC Tournaments, United States Figure Skating Association, American Contract Bridge League, USA Gymnastics, National Federation of High Schools Association and US Youth Soccer.
Mark Jeanneret, Erie Sports Commission: Jeanneret was promoted to executive director in July 2018 after having served as the organization's events director since June 2013. The Erie Sports Commission experienced significant growth during Jeanneret's tenure as events director, increasing its number of events hosted to 59 in 2017 from 15 in 2013.
Jeff Stumb, The Great Race: Stumb saw the Great Race for the first time in 1987 in Orlando. In 1994, he participated for the first time as a driver and in 2011, after leaving the newspaper business after almost 25 years, Stumb became the director of the Great Race after it was purchased by Coker Tire. In the 10 years since, the event has grown with a record number rookies and the overall number of teams.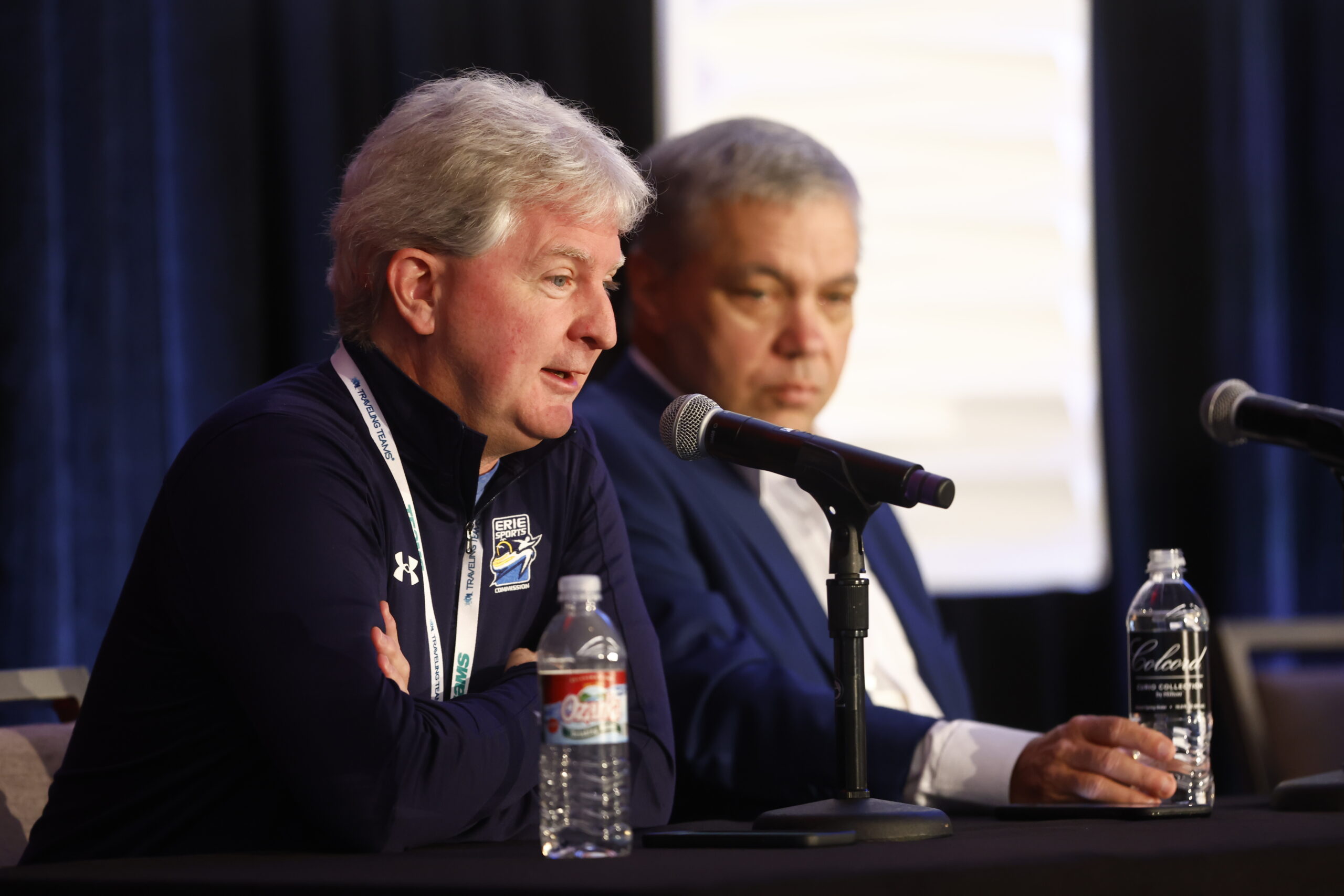 What They Said
Stumb: "The Great Race is simply an old car race across the country. We call it the most unique event in motorsports because we bring the cars to Main Street USA. There is $160,000 in prize money. The inner workings of it is as simple as lowest score wins. It's a very whirlwind event, it's in one afternoon and the next day we're 250 miles down the road.  … this is not a car show, this is an event. It's a real Americana theme."
Gibbons: "The one thing that surprised me — I wasn't surprised that we had a lot of people. It was when they turned out of the park, the streets were lined with people as the cars went out. … We have two major car museums in Newport — they wanted to be part of the race. I think we had 200, 300 cars on display as part of The Great Race. Rhode Island really rolled out the carpet. I'm not a car guy at all but boy, I appreciated this event being in our community. It was a fun cool event to be in our state."
Jeanneret: "Unfortunately Jeff came to Erie on the only cold and rainy day ever in Pennsylvania (laughs). … As the weather cleared, we had thousands of people come downtown to check out the cars. It was fantastic … It was very well received by our community. We would certainly do it again in a heartbeat. Hopefully it's not another 20-odd years before they come through Erie again."