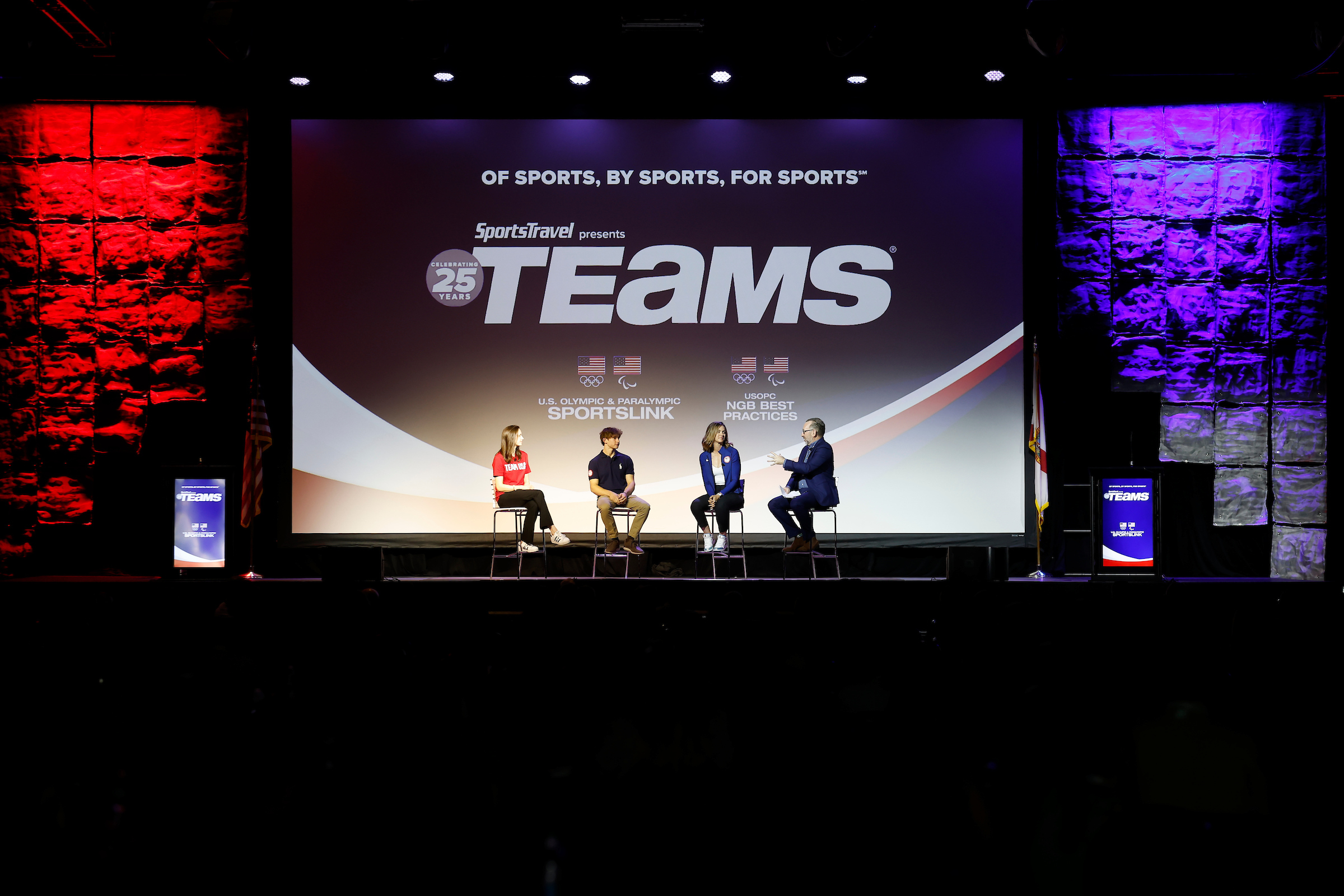 The TEAMS Conference & Expo was held October 2–5 in the Palm Beaches of Florida and featured a mix of education, business development and networking for the sports-events industry. The event also featured the co-location of programming from the U.S. Olympic & Paralymic Committee, the National Congress of State Games and others.
The following is a roundup of observations from several industry leaders who took part in the conference.
Olympic and Paralympic Programming
The U.S. Olympic & Paralympic Committee's annual Olympic and Paralympic Sportslink and National Governing Body Best Practices Seminar, which has been held in conjunction with TEAMS since 2018, is an annual opportunity for the organizations that make up the U.S. Olympic and Paralympic movements to network with destinations, venues and event suppliers interested in hosting sports-related events.
Both Sportlink and the NGB Best Practices Seminar are scheduled so that Olympic and Paralympic sports organizations can participate fully in the TEAMS Conference & Expo. While the NGB Best Practices Seminar is open only to the executive leadership of the NGB's that support Olympic and Paralympic sport in the United States, Sportslink programming is open to all TEAMS Conference attendees.
"I tell everybody I know that I'm built for this — this is what gives me energy and excitement," said USA Artistic Swimming Chief Executive Officer Adam Andrasko. "I get to meet with my counterparts and talk to them about what they're doing right or doing wrong. I get to meet with the cities that have either hosted or want to host us and give them the energy, the fire, the excitement that I have for artistic swimming."
The information sharing for NGBs also has proven key for professionals at all levels.
"We all go through the same issues a lot of times," USA Water Ski & Wake Sports Executive Director Nate Boudreaux said. "We trade information back and forth on how you navigate this and how you navigate that. Just the fact that you're able to sit in the same room with your counterparts from all the different sports is uber beneficial."
"It's just a great benefit to really bounce ideas from a completely different world," added USA Boxing Communications and Digital Manager Brian Taylor. "We're boxing, which is a niche sport, and we're completely different from others. But hearing from field hockey or swimming and other NGBs, it gets you thinking about how to improve what you're doing. I always learn something and meet new people. It's just great networking."
And while the U.S. Olympic movement is known for being concentrated mostly in Colorado Springs or Indianapolis, that does not mean there are daily interactions between organizations.
"(The week is) great because we are all busy," said Christy Strong Simmons, managing director of events and member programs at USA Taekwondo. "Coming together at a conference, we're pulling each other aside and asking 'Have you been to this city? What was this city like? Do you want to try and do something together?' Those things are all happening out on the marketplace floor, then we can go have a drink together at night and catch up on the rest of our lives."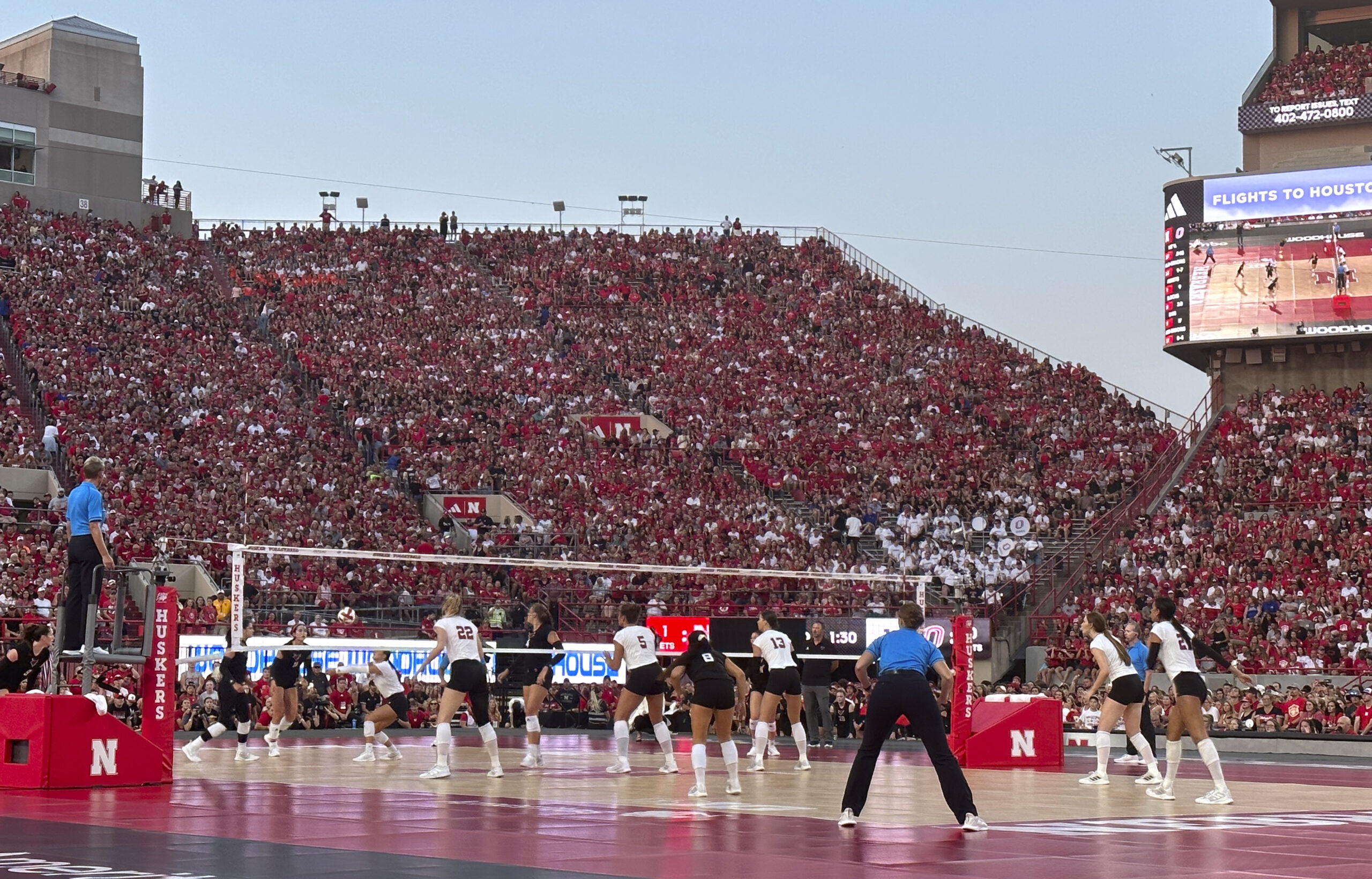 Event of a Lifetime
Even though it was more than a month ago when 92,003 people packed Memorial Stadium to watch fourth-ranked Nebraska volleyball sweep in-state rival Omaha, recalling the live experience was still giving Derek Bombeck chills.
"It was the most incredible sports moment of my life, to be honest," said the director of sports for Visit Lincoln. "The night turned out so perfect and then the way the University of Nebraska portrayed the event, the drone show they did, the videos, the flyovers, they treated it was bigger than a Nebraska football game and that day, it was bigger."
The primetime event surpassed the previous world record crowd for a women's sporting event of 91,648 fans, which came during a 2022 soccer match between Barcelona and Wolfsburg.
"It was great for Lincoln, the state of Nebraska and Sports Nebraska," said Bombeck, who was able to sit near the court and chatted up several dignitaries at the event with the legacy of the event still unfolding.
"It was on ESPN nonstop, it was on every podcast, every show imaginable," Bombeck said. "USA Volleyball is reaching out to us, the FIVB (international federation) right after that event said 'we think you might be perfect for an international competition because of how popular the sport is.' We don't even know what the ROI is going to be for that one event, but it's going to be long-lasting."
Going Off the Beaten Path
Non-traditional events in cycling and triathlon have continued to become more popular over the past few years.
Gravel racing has been a boost for small destinations that are interested in hosting national and international events. USA Cycling held its inaugural Gravel National Championships in Gering, Nebraska, on September 9, on the heels of USA Triathlon holding a Gravel Triathlon Series in 2022.
"People are starting to get off of the roads and get onto the trails or dirt roads," said Micah Rice, vice president of event strategy and operations for Sports Strategies, a consultancy firm. "Why run through a sidewalk in town when you can get out on an amazing trail and see things and climb mountains?"
For both cycling and running, technology advances have bolstered participation in non-traditional events.
"If you wanted to ride out on a gravel road in the '90s, you did it on your road bike or your mountain bike," Rice said. "But the tire technology as well as just frames that take bumps out of the trail a bit has made it a lot more fun to ride gravel roads than it was 10 or 20 years ago. (And) we're seeing these super shoes evolve, look at much different a Hoka trail running shoe looks compared to 10 or 20 years ago."