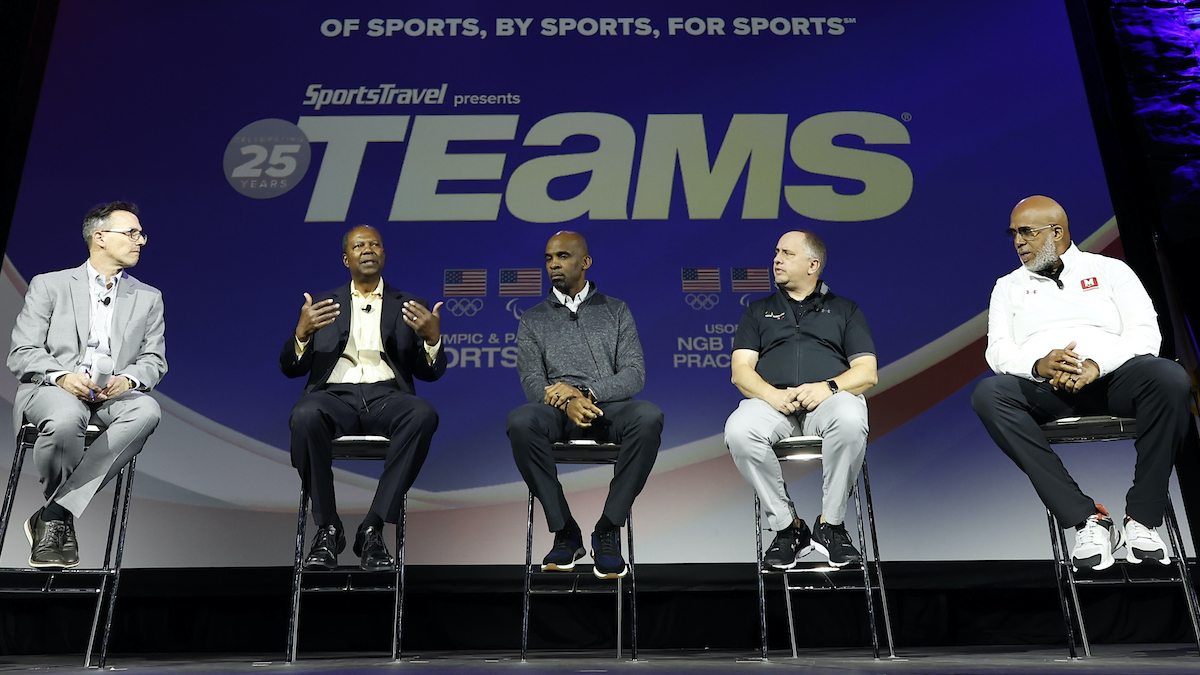 The concluding session at the 25th anniversary TEAMS Conference & Expo focused on youth sports, which represent the largest segment of the sports-events industry. Keeping kids safe while they are involved in those sports has become an increasingly difficult yet crucial task.
Recent high-profile situations with Damar Hamlin and Bronny James have underscored the need for venues and organizations to have plans in place to keep athletes safe on the field — and the same holds true for youth sports.
As National Youth Sports Week turns its attention to athlete safety, this session dove into ways organizations are tackling the subject. Industry leaders at the Palm Beach County Convention Center spoke on what it means to keep participants safe to ensure the ultimate goal that they have fun and take away the best of what sports have to offer.
This session is sponsored by Visit Anaheim, Greater Columbus Sports Commission, Greater Birmingham CVB, Sports Milwaukee, Sports Pittsburgh, Visit Atlantic City and the Atlantic City Sports Commission.

The Speakers
Terry Hasseltine, Sport and Entertainment Corporation of Maryland: Hasseltine took the reins as president of the Sport and Entertainment Corporation of Maryland in 2019 as a newly formed nonprofit affiliated foundation to support the Maryland Sports Commission, where Hasseltine has served as executive director since 2008.
Marty McNair, The Jordan McNair Foundation: McNair is the founder of the Jordan McNair Foundation, as well as an author, student-athlete and parent advocate, student-athletic safety educator and motivational speaker. McNair started the foundation after his son, Jordan — a University of Maryland football player — died of a heat-related illness in June 2018.
Wayne Moss, National Council of Youth Sports: Moss has been executive director of the NCYS since July 2018. The organization is well-known for its advocacy in promoting the importance of youth sports. NCYS member organizations serve more than 60 million boys and girls registered in organized youth sports programs.
Izell Reese, RCX Sports: Reese was seven-year NFL veteran and is now the chief executive officer of RCX Sports, which aims to make youth sports more accessible and inclusive by partnering with the NFL, NBA, NHL, MLB, MLS to empower youth athletes of all backgrounds. Reese is also the executive director of NFL Flag.
What They Said
Hasseltine: "Whether it's grassroots up to the professional ranks, we as a destination have a responsibilty of who we do business with and that businesses we do work with are responsible and safe. We need to look at events and activities not from a pure economic perspective. They deserve the right to play in a safe environment. … We want (parents) to say they have a great event because our kids were safe. We get so motivated by the revenue generation aspect but these are kids. The last thing you want to do to stunt their enthusiasm in the game is by having a negative experience."
McNair: "Our mission at the Jordan McNair Foundation is to promote education and prevention of heat-related injuries and the number of heat-related deaths. Heat-related injuries are a very realistic cause of death. … Any organized event should have the medical professionals on the field. I'm a parent first and an advocate second. I need to know who's going to save my child in the event of (an issue). … Our catch phrase is the more educated we are, the safer our children are going to be."
Moss: "How do we become prepared in the event something would occur? I think the awareness of this issue has ratcheted up and folks are looking at it from a variety of places. … In the youth sports space, typically you're not going to have an athletic trainer. However, the thing that is super important is that we control the things that we can control. As we think about emergency action plans being foundational, one thing we have to do is practice that plan so that if something happens at a given location, everyone is aware of what is needed to be done."
Reese: "Pro sports, when you think about player safety … they're going to hold up a higher standard. All of that trickles down. The pro leagues hold a very high standard when it comes to safety. A lot of times we are mandating things, we partner with Safe Sport for example. All our staff is trained in cardiac protocol. … NFL, NBA, all our different partner organizations, anything they're educating teams on, they're quick to share that information with us to share through our different leagues. They've done a phenomenal job and we've been the middle person to share those messages."