Northstar Meetings Group has reached an agreement with Compete Sports Diversity that will provide the opportunity for members of Compete to attend the TEAMS Conference & Expo in Oklahoma City, October 24–27, 2022, as event organizers to meet with destinations, venues and suppliers interested in LGBTQ+ sports events. The deal will also provide meeting space and networking opportunities for members of Compete Sports Diversity and allow the organization to present a diversity award during the SportsTravel Awards luncheon on October 26.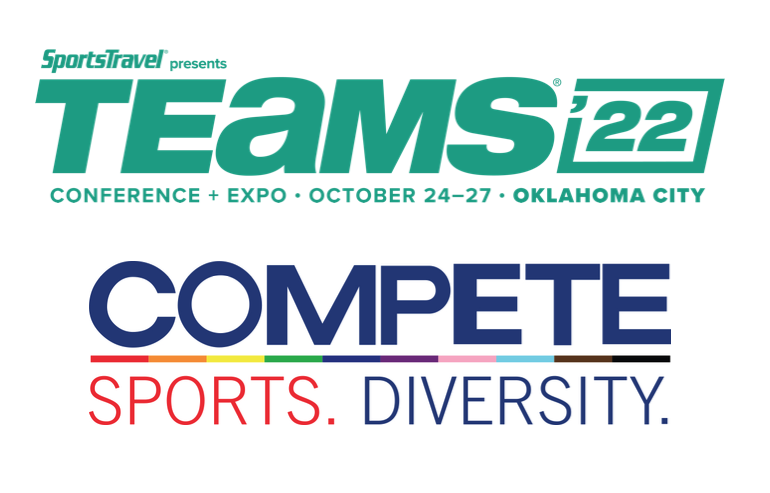 The Compete Sports Diversity Council is a group with more than 150 member organizations reaching 250,000 leaders, athletes and fans. Its mission is to bring together leaders, athletes, fans and professionals to further sports diversity. It accomplishes that by creating a platform based around the IDEAL principles of Inclusion, Diversity, Equity/Equality, Acceptance and Leadership to connect, educate, empower and inspire mission-driven LGBTQ+ and allied sports and community leaders, sports organizations, nonprofit groups, tourism partners, corporate partners and athletes through membership, media and event platforms.
Under the agreement, TEAMS will offer meetings and appointments with the organization's qualified event organizers, and discounted registration for the organization's members who are not event organizers.
"We have always believed in building the biggest tent possible for the entire sports-event industry to find a home at the TEAMS Conference, and this agreement will benefit all attendees by encouraging the most diverse group of sports organizations possible to take part in the conference," said Jason Gewirtz, vice president of the Northstar Meetings Group Sports Division and executive editor and publisher of SportsTravel. "Compete Sports Diversity has been a leader in this space and we look forward to growing our relationship with them and the important and vital segment of the sports-events industry they represent."
"Sports is a universal language everyone can speak, yet there are still communities that are excluded from their respective sport of choice," said Trayer Martinez, Compete's director of partnerships. "Compete is thrilled to partner with the TEAMS Conference to best serve our members with tournament and event needs all while supporting us as we unite the world through sports."
The TEAMS Conference & Expo, organized by Northstar Meetings Group, is the world's largest gathering of sports-event organizers and the destinations and venues interested in hosting their events. The agreement with Compete is the latest partnership the conference has made with industry organizations, including the recent announcement of the National Council of Youth Sports holding its annual board meeting in conjunction with TEAMS '22 in Oklahoma City. Since 2018, TEAMS has been the exclusive home of the U.S. Olympic and Paralympic Committee's SportsLink and NGB Best Practices Seminar. The National Congress of State Games has also held its annual symposium in conjunction with TEAMS since 2016.