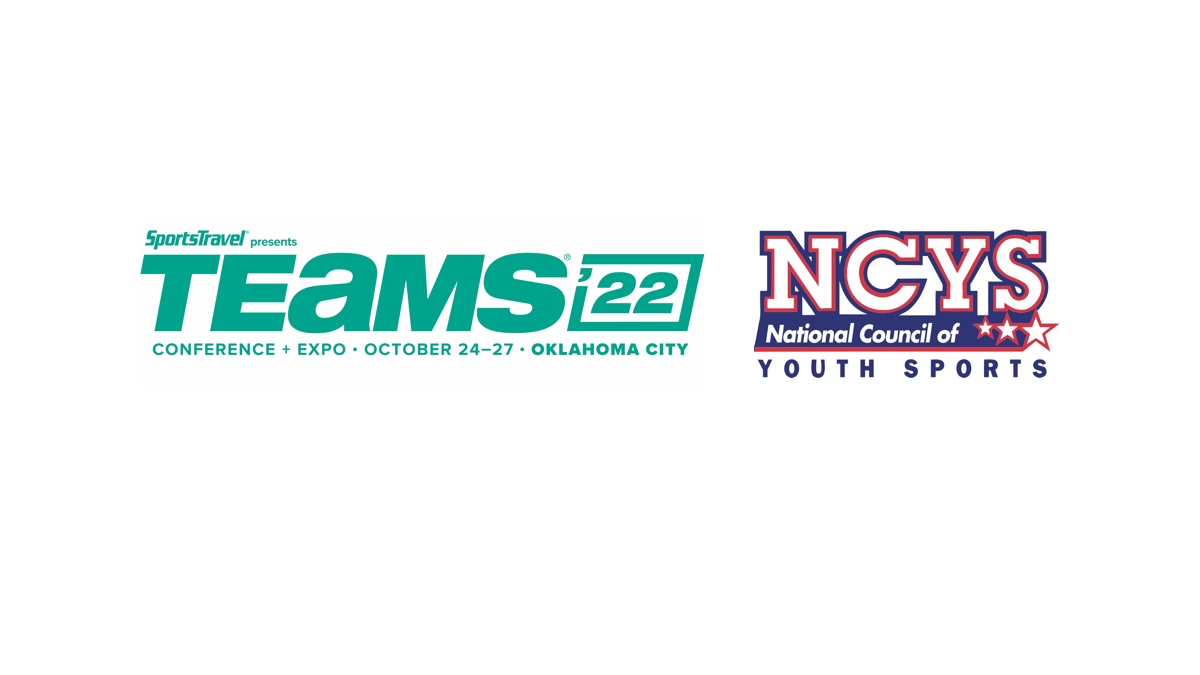 The National Council of Youth Sports has announced that its annual board meeting will be co-located with the TEAMS '22 Conference & Expo. Presented by SportsTravel and hosted by the Oklahoma City Convention & Visitors Bureau, TEAMS '22 — the world's largest gathering for the sports-event industry — will be held in Oklahoma City, October 24–27. As part of the agreement, NCYS member organizations will have the opportunity to network with venues and destinations interested in hosting sports-related events.
The co-location will coincide with National Youth Sports Week, which will be recognized October 24–29 during TEAMS and highlights the importance of youth sports. NCYS is uniquely positioned to make a difference for young people, their families and youth sports organizations. The organization's membership serves 60 million youth registered in organized sports programs. NCYS members include national community-based organizations, local unaffiliated community-based organizations, national governing bodies, parks and recreation departments, and destination marketing organizations. Member organizations have a presence in local communities in all 50 states and U.S. territories.
As part of the agreement, NCYS leadership will also take part in a general session at TEAMS '22 that will examine the state of youth sports.
"We are thrilled to welcome the National Council of Youth Sports to TEAMS and begin a partnership that we hope to expand in the years to come," said Jason Gewirtz, executive editor and publisher of SportsTravel and vice president of the Sports Division for Northstar Meetings Group, which organizes the TEAMS Conference & Expo. "We are excited to highlight the importance of youth sports and the vital role that they play not only to keep the next generation active and engaged but to provide economic development for communities as well."
"NCYS looks forward to joining the TEAMS Conference and Expo," said Wayne B. Moss, NCYS executive director. "The networking opportunities available at TEAMS will be beneficial to our members. We're excited to be partnering with the world's preeminent annual sports-event industry conference."
During National Youth Sports Week, which has been celebrated along with National Youth Sports Day since 2013, NCYS will celebrate youth sports and address concerns in the space by bringing awareness, driving engagement and delivering a call to action to help address issues involving youth sports. Highlights of the week nationwide include a Pep Rally Day on October 24, Coaches Day on October 25, Health and Wellness Day on October 26, Safety Day on October 27, Spirit Wear Day on October 28 and Play Day on October 29 that will feature games, practices, free play and NGBs providing clinics to sample their sports.
For some 40 years, the extensive reach of NCYS has catalyzed major changes in the youth sports landscape. That work has included a strategic, industry-wide initiative to protect the interests of youth through criminal background checks after a rise in highly publicized abuse and sexual molestation cases in youth sports. NCYS led a coalition to work with the U.S. Senate and House of Representatives Judiciary Committees to amend the Child Protection Act. Subsequently, NCYS announced the release of the "NCYS Recommended Guidelines for Background Check Screening in Nonprofit Youth-Serving Organizations" and introduced the opening of the National Center for Safety Initiatives (NCSI).
The co-location is the latest partnership for TEAMS, which since 2018 has been the exclusive home to the U.S. Olympic and Paralympic Committee's SportsLink and NGB Best Practices Seminar, providing education to national governing bodies and the cities and venues interested in hosting their events. Since 2016, TEAMS has also been the co-location partner of the National Congress of State Games, which hosts its annual symposium alongside the conference.