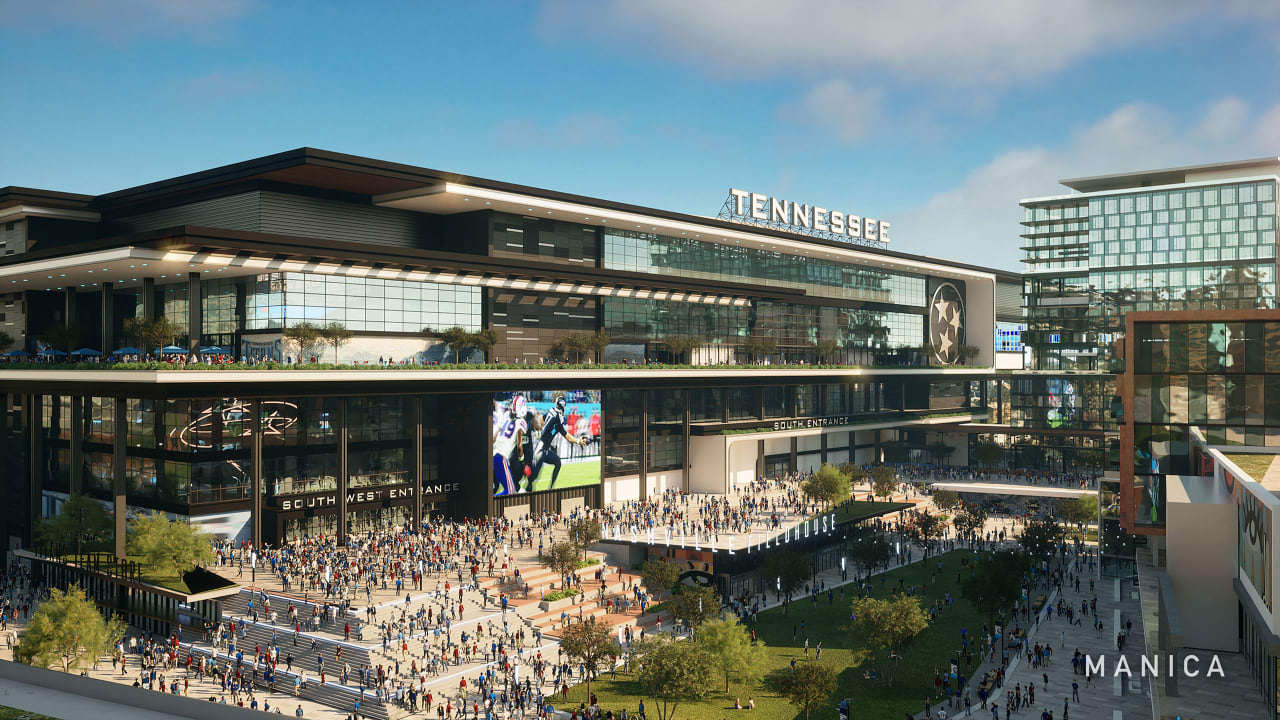 The Tennessee Titans have received final approval from the Metropolitan Nashville Council to move forward with plans to build a new, enclosed $2.1 billion stadium.
The Metro Nashville City Council approved by a 26-12 vote Wednesday morning on the final reading to allow its sports authority to issue $760 million in bonds. That combines with $500 million in state bonds for $1.2 billion in public financing committed to the Titans' enclosed stadium. The Metro Nashville Sports Authority, the owner and landlord of both the current and new stadium, unanimously approved the stadium agreement on April 4.
That gives Tennessee the largest public price tag for a stadium, topping the $850 million commitment from New York for Buffalo's new $1.5 billion stadium. The Titans, with help from the NFL and personal seat licenses, will provide the remaining $840 million. The new stadium will feature a translucent roof with a capacity of approximately 60,000. It will allow Nashville and the Titans to bid for a Super Bowl, Final Fours, College Football Playoff games and more.
"For more than 25 years, Nashville, Tennessee, has been the Titans' home, and with the approval of the new stadium agreement, we are grateful to know the Titans will be a part of this great city and state for decades to come," said Titans controlling owner Amy Adams Strunk.
The deal shifts an estimated $1.8 billion in costs for future maintenance and stadium investments up to 2039 from Nashville taxpayers to the Titans, which also will be on the hook for costs that go over budget and maintenance instead of local taxpayers. The Titans agreed to waive $32 million owed by Nashville for money spent maintaining Nissan Stadium the past four years. The Titans also will pay off the remaining $30 million in bonds owed for the current stadium.
The stadium agreement includes a new 30-year lease and non-relocation agreement between the Titans and the Sports Authority. The team will also contribute nearly $48 million over the life of the lease to the Nashville Needs Impact Fund, a fund directed by the Metro Council to support city needs such as public education, public transit, affordable housing, and several other areas.
Groundbreaking is expected to occur in early-to-mid 2024, with the anticipated opening in 2027. A new 1% hotel/motel tax, all of in-stadium sales tax and 50% of sales taxes from 130 acres around the stadium will pay off the bonds.
Nissan Stadium originally opened in 1999 as Adelphia Coliseum. The new stadium will be built on the parking lots between the current stadium and Interstate 24. The deal returns control of 66 acres, including the current site of Nissan Stadium, to Nashville. City officials are planning a renovation featuring to feature a park, greenways, affordable housing and a new road.