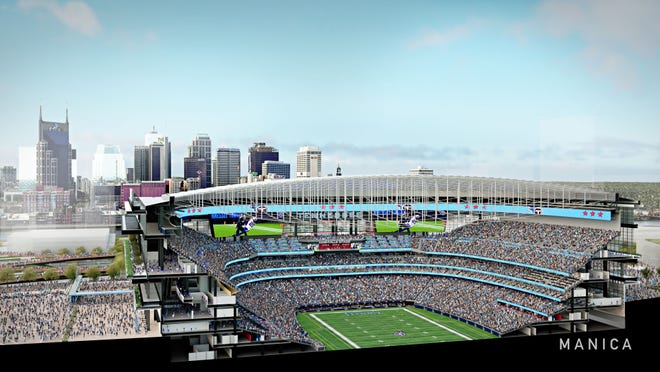 The Tennessee Titans, in conjunction with Manica Architecture, have released renderings of the team's planned new stadium to provide a sneak peek both inside and outside of the venue, which is slated to have a capacity of 60,000.
Manica also designed Allegiant Stadium, home of the Las Vegas Raiders, and Chase Center, home of the NBA's defending champion Golden State Warriors.
The Titans commissioned Manica to create concept designs to estimate the cost for the new enclosed stadium, which the team recently agreed on terms with Nashville and Davidson County Mayor John Cooper.
The proposed $2.2 billion stadium will feature a translucent roof structure and include an upper deck patio area. The stadium will also feature a 12,000-square-foot dedicated community space that could be used year-round for educational opportunities, non-profit events and other communit purposes.
"Are there other buildings out there in the NFL that are larger? Yes, there are. So, being strategic in what area we build and making sure that everybody has everything they need inside that limited area, or defined area, was the No. 1 thing we did to control the budget," said David Manica, president and owner of Manica Architecture.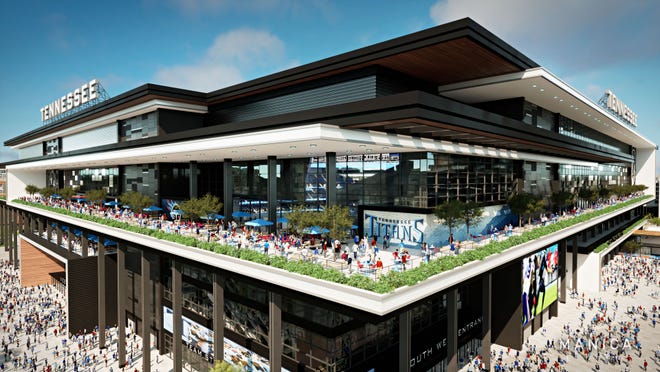 A full architectural design process for the stadium will begin at a later date.
"Most NFL stadiums do not have outdoor environments and we wanted to change that in this building," Manica added, referencing the outdoor patio areas that wrap around the stadium. "You have a lot of wonderful weather here in Nashville, even during winter seasons and we wanted that to be a part of the experience. The concourses … open to these big front porches that have these sweeping panoramic views of downtown."