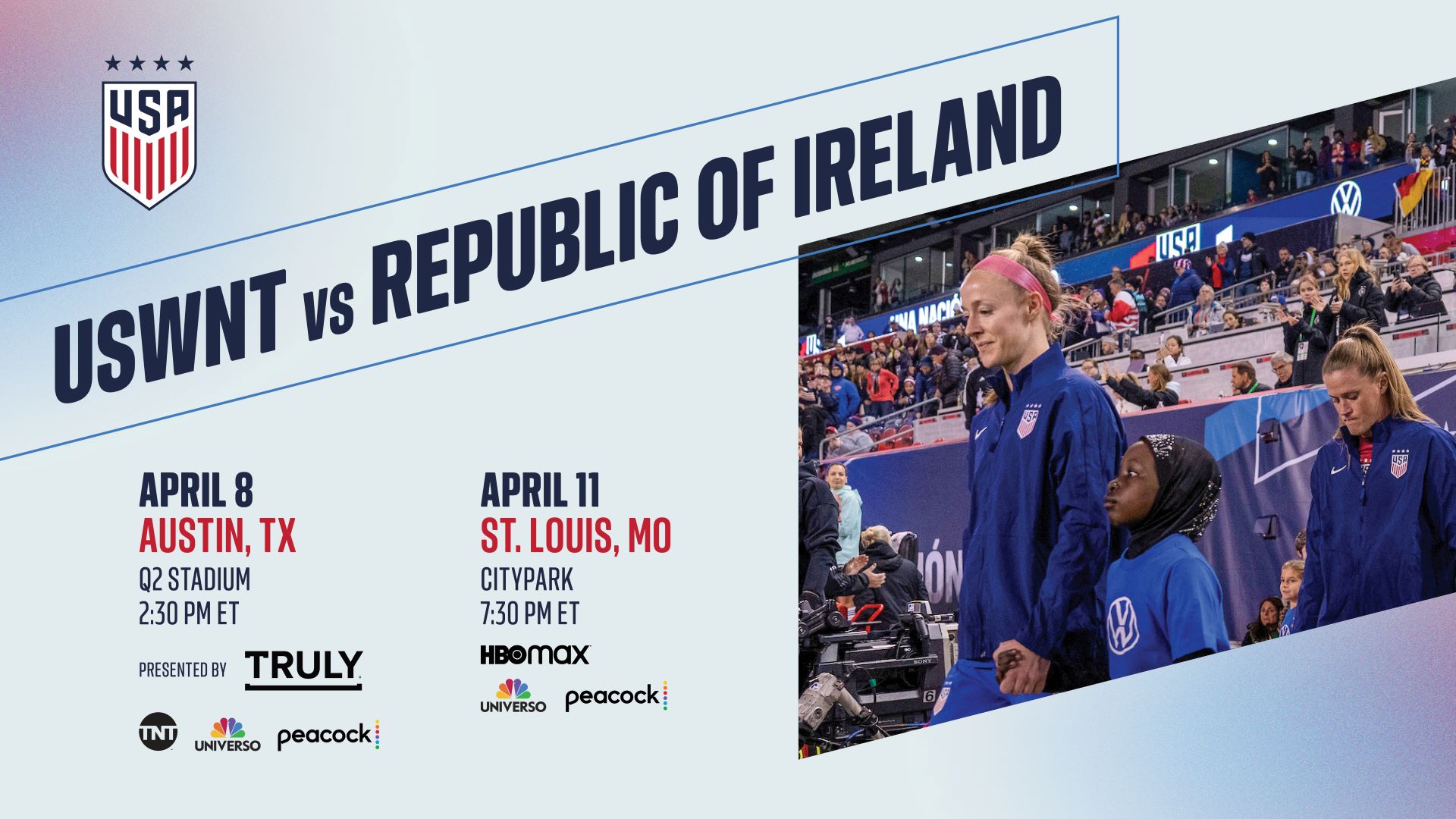 The U.S. Women's National Soccer Team will play two April friendlies against the Republic of Ireland as both teams prepare for the 2023 FIFA Women's World Cup.
The teams will meet on April 8 at Q2 Stadium in Austin, Texas, at 1:30 p.m. CT. The second match will be April 11 at the brand new CityPark in St. Louis, Missouri, at 6:30 p.m. CT.
These will be the final international matches for the USWNT players before head coach Vlatko Andonovski and his staff choose the USA's 23-player World Cup roster later in the spring.
In 2021, the USWNT played the first-ever match at Q2 Stadium, defeating Nigeria 2-0 in front of a sold-out crowd. The match at CityPark carries some history as it will be the first game for the USWNT at the home of the newest franchise in Major League Soccer, St. Louis City SC, the first female majority-owned team in the league.
Ireland qualified for the 2023 Women's World Cup — its first — in dramatic fashion. After finishing second in UEFA Women's World Cup Qualifying Group A behind Sweden, Ireland defeated Scotland in a one-game World Cup playoff.
"Ireland is a highly-motivated, hard-working team that has talented players with big hearts who I know are really excited to be representing their country in a World Cup," Andonovski said. "The two games will be a great test at a crucial time in our team's run to the World Cup. While there will be plenty of league games for us to watch after April, these will be the final matches for our players with the National Team before we have to pick the World Cup roster, so they will carry that importance."
The USWNT has played Ireland 13 times and has won every match. The most recent meeting was August 3, 2019, a 3-0 victory at the Rose Bowl.
Presales for both matches will begin on February 27 with the public sale beginning on March 6.