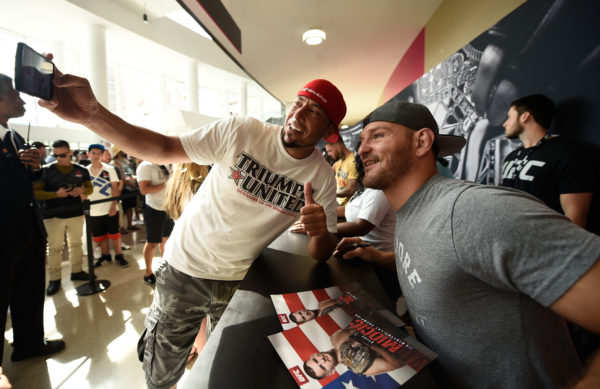 Las Vegas is once again set to host Ultimate Fighting Championship's grandest multiday event. As part of its 25th anniversary celebration, UFC's 7th Annual International Fight Week is expected to attract tens of thousands of mixed martial arts fans from around the world.
"UFC International Fight Week is our annual summer tent pole and, quite arguably, our biggest event of the year," said Heidi Noland, vice-president of global brand marketing for Las Vegas-based UFC. "It continues to be an anticipated week for fans and UFC athletes."
More than 300 UFC employees and volunteers join forces to produce the weeklong event, with a focus on creating a one-of-a-kind experience. "This event touches every aspect of the organization, so it's crucial to integrate across all teams and build a task-force mentality," Noland said. "We start planning for the next year the day after the current year wraps."
The main event will be staged July 7 at T-Mobile Arena with UFC 226, featuring several championship bouts. The showstopper is the world heavyweight championship, pitting Stipe Miocic against Daniel Cormier.
T-Mobile Arena, a joint venture between MGM Resorts International and AEG, is a 20,000-seat venue located just off the Las Vegas Strip. It hosts 100 to 150 events annually and is UFC's official home (with four events yearly) as well as home ice for the NHL's Vegas Golden Knights.
"The UFC is one of our strongest and best partners, especially since they are a Las Vegas-based organization," said Dan Rush, MGM Resorts International's vice-president of global sports.
T-Mobile Arena, which opened in the spring of 2016, has already hosted a number of UFC events. Another, UFC 229, is set for October 9.
"As UFC has evolved, we've tried to evolve with them," Rush said. "We support them with different events, auxiliary events that take place around Fight Week. We host the fighters, we host the staff, we host the media. We're basically (playing) a support role to UFC to help them achieve their goal."
Fight Week 2018 is packed with fan-friendly events, including discussion panels, pool parties and after parties. A two-day UFC Fan Experience, set for Downtown Las Vegas Events Center July 6–7, includes autograph sessions with UFC stars, brand and partner activations, and a UFC Store. The Pearl Concert Theater at the Palms Casino Resort will host the 2018 UFC Hall of Fame Induction Ceremony on July 5 and "The Ultimate Fighter: Undefeated" finale on July 6.
"We continually aim to build and inspire brand loyalty by inviting fans to become an active part of the UFC experience," Noland said.
For fans not making the trek to Vegas, the hall of fame induction ceremony and athlete panels will stream on UFC Fight Pass and the finale will air on FS1 with preliminary fights on FS1 and UFC Fight Pass. UFC 226 is a pay-per-view telecast, with prelims on FS1.