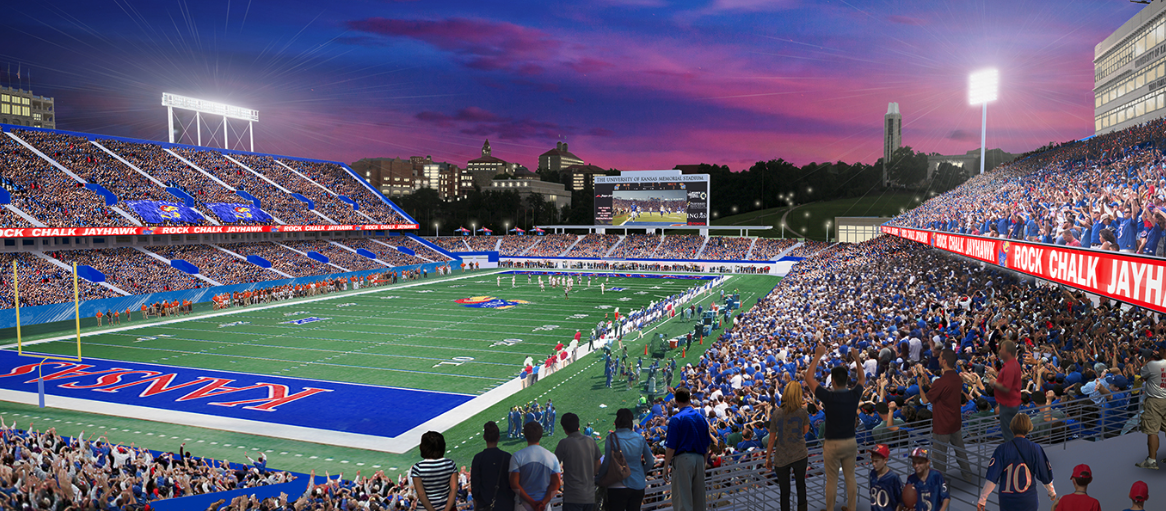 The University of Kansas is moving forward with a development project to create a north gateway to campus that includes new multi-use space and renovated football facilities.
The project includes major upgrades to David Booth Kansas Memorial Stadium — one of the nation's oldest football venues — to create a better experience for fans as well as renovations to the Anderson Family Football Complex. The $300 million project will transform the area near the intersection of 11th and Mississippi streets with new facilities with a mix of conference and entertainment space, retail and other functions.
"The intersection near 11th and Mississippi streets is a primary campus entrance for prospective students, alumni and guests who are touring KU and visiting David Booth Kansas Memorial Stadium," said Chancellor Douglas A. Girod. "For these reasons, it's the ideal location to develop a new gateway with multi-use facilities to better serve these audiences, generate revenue for academic programming, drive economic growth in the region and reimagine our football facilities."
The project will begin with renovations to Anderson Family Football Complex, as well as site preparation work related to storm water, sanitation, Wi-Fi availability and electrical system upgrades, in the first half of 2023. The project will be funded primarily with private donations, economic development funds, premium seating sales in the stadium and future development opportunities that will be created on the site.
Upgrades include seating bowl design with improved sight lines that increase fan comfort and bring fans closer to the field; expanded concessions, restrooms and accessible seating locations; improved concourse circulation; and new premium amenities such as club seats, loge seats and ledge suites.
Kansas has chosen HNTB as the lead architect in partnership with Lawrence-based Multistudio. Kanas has also retained Nations Group, a national owner's representative firm specializing in university athletics venues and mixed-use facilities.
"This project is unmatched in its vision to benefit a broad range of KU constituents while signaling a new era for Kansas football," said Travis Goff, director of athletics. "Once complete, this project will ensure our football program has the facilities it needs to compete at the highest level and provide the best-possible game day experience for student-athletes and fans."