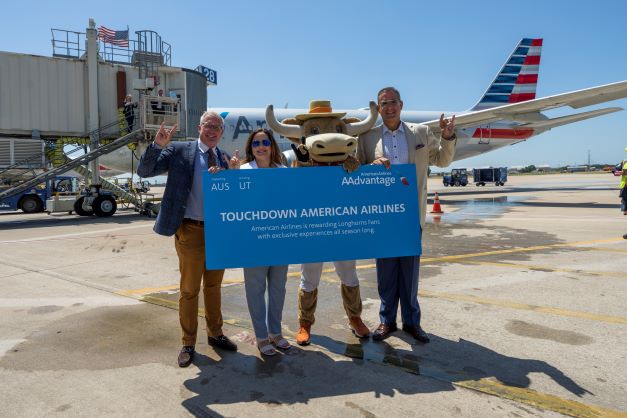 As the University of Texas prepares to move to the SEC in 2024, it will do so with a new sponsor.
The Longhorns have teamed with American Airlines in a multiyear agreement that will include sponsorship and marketing benefits across all of the Longhorns' athletics programs.
American is now the official airline and airline rewards program sponsor of Texas Athletics and will provide Longhorns fans with VIP perks and benefits, which can be accessed by using their American Airlines AAdvantage number.
"We're excited to welcome American Airlines to the Texas athletics family as an official sponsor and are so grateful to have them onboard," University of Texas Vice President and Athletics Director Chris Del Conte said. "We welcome and appreciate their commitment to our athletics programs and Longhorn Nation as a whole. Their support across the board will be tremendous and we look forward to their presence and all of the activities they'll be a part of on game days."
American's activation of the sponsorship will include exclusive promotional rights to co-brand with the Texas Longhorns logo, as well as gameday sponsorships and hospitality, beginning with the 2022 football home opener vs. Louisiana-Monroe on September 3. The Longhorns football team will also join the roster of chartered programs for American.
"American is proud to serve as the Official Airline for the Longhorns," said Dana Lawrence, managing director of global brand advertising at American. "University of Texas athletics has a storied history and is enjoyed by many customers and team members in the Austin community and beyond."
Additionally, American will sponsor the football coaches' headsets and receive branded content opportunities, AAdvantage member promotions, and an American Airlines AAdvantage branded seating deck during games at Darrell K Royal-Texas Memorial Stadium.