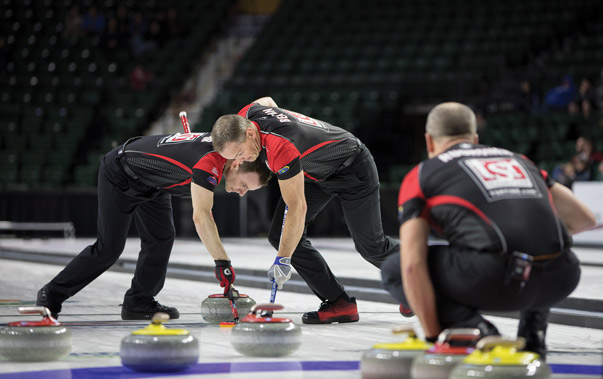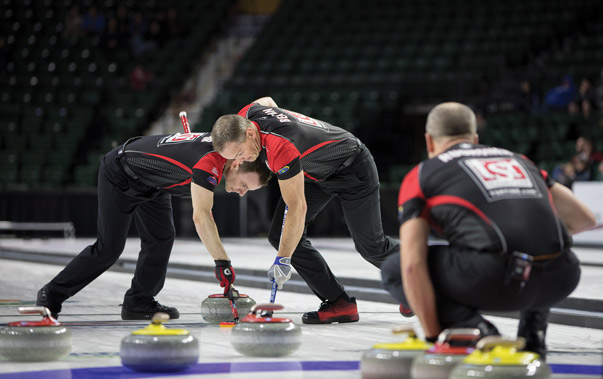 If you walk around Everett, Washington, these days and ask residents about the sport of curling, chances are they'll be able to tell you a thing or two. That wasn't necessarily the case before the USA Curling National Championships came to Xfinity Arena for seven days of competition. More than 5,000 residents, visitors and curling enthusiasts gathered to watch and learn as the nation's top teams competed in "chess on ice."
The excitement of the competition and the organization skills of USA Curling, the Snohomish County Sports Commission, the Granite Curling Club and Xfinity Arena were keys to the event's success. According to the sports commission, the event had an estimated economic impact of $1.6 million. "It was a great success on many fronts," said USA Curling CEO Rick Patzke. "It was a gorgeous arena, and the support from the city of Everett, Xfinity Arena and the Snohomish County Sports Commission was top-notch. We had good crowds on opening weekend and for the playoff draws."
Tammy Dunn, the sports development director for the sports commission, echoed Patzke's thoughts. The USA Curling Nationals were a great way to introduce curling to the community and to help grow the sport, Dunn said. "Everything went smoothly, was seamless and we had great media exposure," she said.
This was Xfinity Arena's maiden foray into curling. Organizers took effort to reach out to new fans, setting up a practice curling sheet where fans could "throw a rock" of their own and bringing in curling ambassadors to educate attendees. "The Granite Curling Club had a fan area, and they created a passport game," Dunn said. "You had to go around to six different locations to get a stamp, and they had the opportunity for people to learn to curl, and they loved it."
In addition, event organizers made the Smart Bug earpiece system available to fans during the competition. "It gives people an opportunity to listen in to the web-streaming commentators, as well as to the athletes, who were miked," Patzke said. "It adds another dimension to the on-site experience, and I think that helps when you have fans who are new to the sport."
Still, the event encountered some obstacles. Setup crews ran into some issues converting the arena's hockey ice into curling ice. "Our ice is different than hockey ice and has different requirements, so we ended up having to bring in some significant dehumidification equipment," Patzke said. "We did some scrambling, but the venue was great to work with. I learned a lot about dehumidification that I didn't know before, but ultimately we pulled it together and made some world-class ice and a competitive environment."
To solve its humidity issues, USA Curling partnered with Aggreko, a global company that provides power generation and temperature-control services. The company helped save the day and even signed on as a partial sponsor, Patzke said.
Afterward, organizers were confident that future curling events could make their way back to Everett sooner than later. "I do see us looking at another bid down the road to host another curling event," Dunn said. "We have to find the event that's the perfect fit for us and everyone involved to draw spectators. If we had the international aspect and were able to draw Canadians, we'd see a lot of people come down to see the event."