USA Table Tennis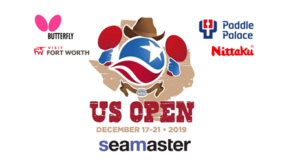 has named Fort Worth, Texas, as the host of the 2019 Seamaster U.S. Open Championship. The event will be staged December 17–21 at the Fort Worth Convention Center.
"We are excited about the opportunity to work with USA Table Tennis to create a championship experience for athletes and fans while showcasing all Fort Worth has to offer," said Jason Sands, director of sports marketing at Visit Fort Worth and Fort Worth Sports. "Table tennis competitors and their fans are accustomed to visiting world-class cities and we are confident they will feel right at home in Fort Worth."
Other Seamaster table tennis championships host cities include Doha, Qatar; Budapest, Hungary; Hong Kong; and Stockholm, Sweden. Several of the world's top players, including those expected to vie for medals at the 2020 Olympic Summer Games, are expected to compete in Fort Worth.
"We are delighted to bring the 2019 U.S. Open to Fort Worth," said Virginia Sung, chief executive officer for USA Table Tennis. "It is important for us to create a life experience beyond the competition, and we know Fort Worth provides us with such a rich culture and great hospitality."
The event is expected to generate 3,000 rooms at downtown Fort Worth hotels, with an estimated economic impact of $1.2 million in direct spending.