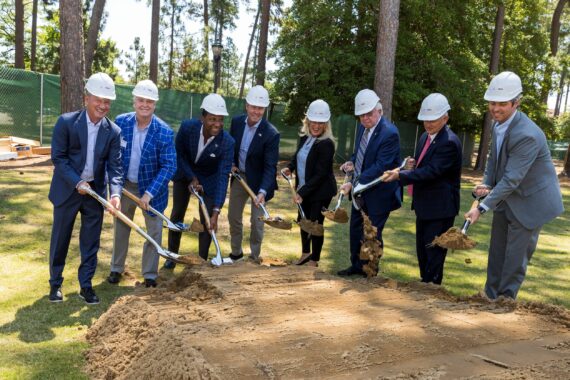 The United States Golf Association and Pinehurst, North Carolina, have always had a strong relationship. Now, it's getting even stronger.
The two entities broke ground June 6 on Golf House Pinehurst, the USGA's newest campus which will include an equipment-testing facility, the USGA Experience and an educational landscape feature. The project is set to be completed by the end of 2023.
"The USGA, along with our many partners who helped make this project a reality, share a bold vision for Golf House Pinehurst and the impact it will have on this community and the game of golf," said Mike Whan, chief executive officer of the USGA. "We love being a part of the Home of American Golf and bringing this vision to life, starting today."
The six-acre campus will include two buildings located near the Pinehurst Resort & Country Club Main Clubhouse. The structures pay tribute to the architectural features of Pinehurst's earliest buildings.
Guests at the groundbreaking got a first-hand look at the design of the campus, which will feature:
The USGA Experience, an immersive view of golf and the USGA's work to unify, showcase, govern and advance the game. Designed by Luci Creative, the Science of Golf and Championship galleries will feature interactive multimedia displays that incorporate augmented reality, interactive touch screens, sculptures and trophies
The USGA Shop, where golfers can purchase various products with the USGA championship logo of their choice as well as exhibit-related specialty items
USGA Golf Museum Special Exhibitions that showcase one of the most comprehensive collections of golf artifacts in the world
​​​​​​​The USGA's Research and Test Center, the only one of its kind in North America dedicated to testing golf balls and clubs for conformance to the rules of golf​​​​​
The Glade, the USGA's outdoor learning landscape that will show the USGA's work to help make golf more sustainable, with native plants and pollinator habitats
The Grove, a restoration of the ancient longleaf pine forest native to the region, through a unique partnership with North Carolina State University​​​​​​​
The USGA is also partnering with Pinehurst Resort to construct an outdoor testing pavilion and STEM education space near the resort's main practice facility, including a mechanical golfer and ball launcher to demonstrate and evaluate golf ball aerodynamics.