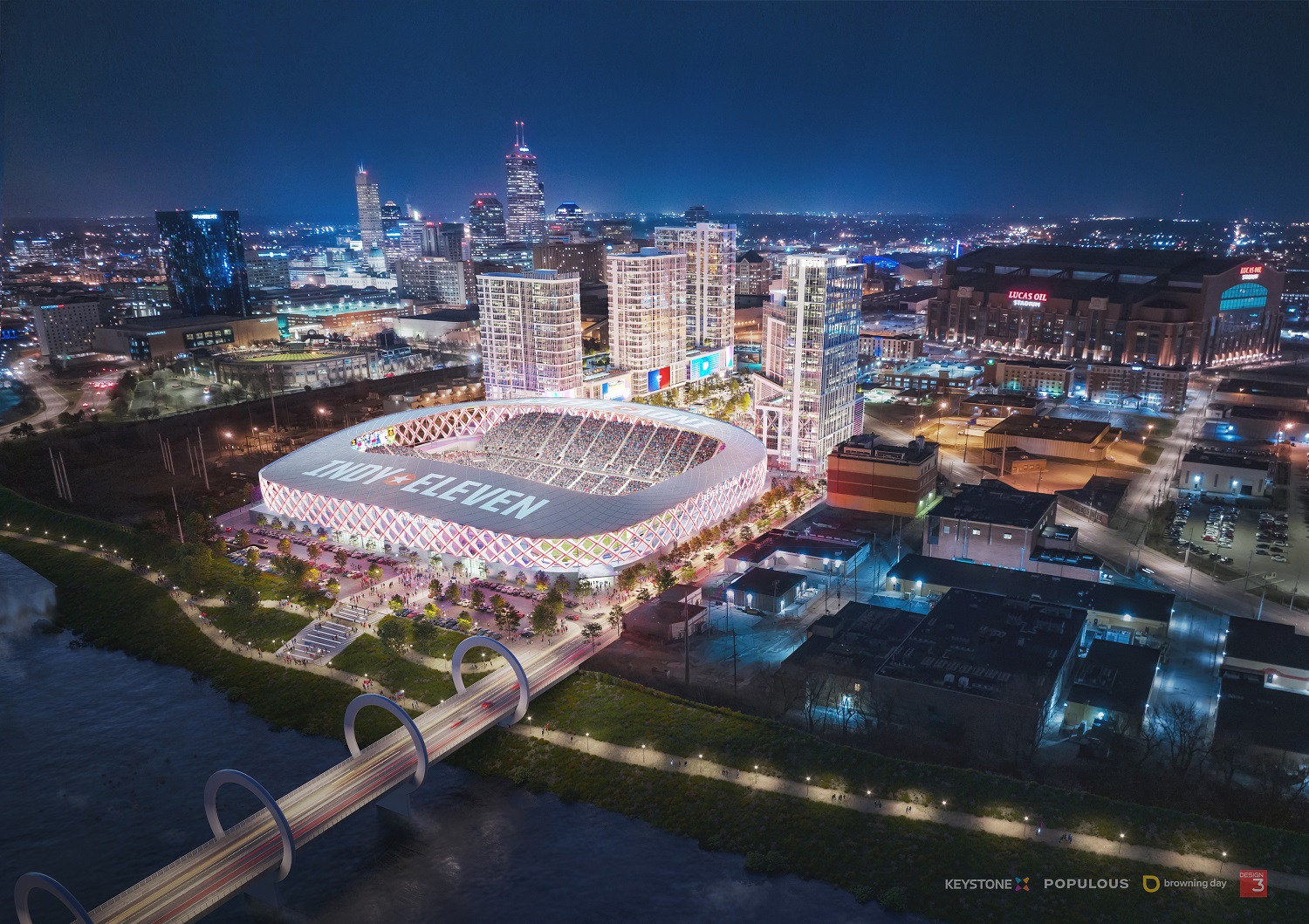 The United Soccer League Championship's Indy Eleven and Keystone Group unveiled renderings of plans for the Eleven Park neighborhood development, anchored by a new multipurpose stadium.
With an expected capacity of around 20,000 seats, the stadium will serve as the new home for Indy Eleven in the center of a development in southwest downtown Indianapolis with apartments, office space, retail space, restaurants, parking garages, a hotel and public plazas with green space.
"A world-class stadium is designed as a true destination, a reflection of its community and a catalyst for growth in the area. This is our mission with the new stadium for Indy Eleven," said Phil Kolbo, a principal at Populous. "The stadium will anchor Eleven Park, providing a home for Indy Eleven that creates new and tailored experiences for Indianapolis fans in a venue designed with the innovation and aspirations of a great global soccer venue."
The stadium is anticipated to be completed in 2025. It will include space for 2,400 supporters in a standing section on the north end of the stadium. On the west, the building will offer field club seating on pitch level surrounding the team benches, up through the mid-line club with suites, party suites and a terrace club above.
On the south, a taproom provides the atmosphere on game day for 700 fans with a viewing terrace for non-game day watch parties and events. On the east, seats will be concentrated on the sideline with the widest concourse and best concessions and restroom ratios in the league.
"Eleven Park will not only change the skyline of Indianapolis, but will add over a thousand jobs, have a huge economic impact, create quality of life benefits and attract talent and opportunities to our city and state," said Ersal Ozdemir, chairman and founder of Keystone Group and Indy Eleven. "Our goal for Eleven Park is to continue the city's tradition of using sports as a business driver for Indiana by increasing Indianapolis' profile as a global city and showcasing the world's most popular sport."