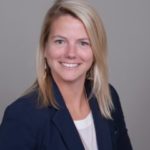 Alysha Carse has been named the sports sales manager of Visit Plano. Carse most recently served as catering sales executive at the Renaissance Dallas at Plano Legacy West Hotel and in her new role will be responsible for booking sports tournaments and securing hotel room nights.
Carse also has experience as a special events programmer for the city of Frisco, Texas, and as registrar/general meeting coordinator for the United Soccer League.
"Alysha's special passion for sports, eye for detail and devotion to customer service make her an outstanding resource for tournament planners," said Visit Plano Director Mark Thompson. "She is ready to help our valued clients make the most of all we have to we offer, and guarantee a great experience for visiting athletes and their families."
Carse earned a Bachelor of Arts degree from Flagler College, where she majored in Sports Management. Carse will run the prestigious Boston Marathon, which has been rescheduled to September, as part of the Dana-Farber Marathon Challenge team in honor of her grandfather whom she lost to cancer last year.