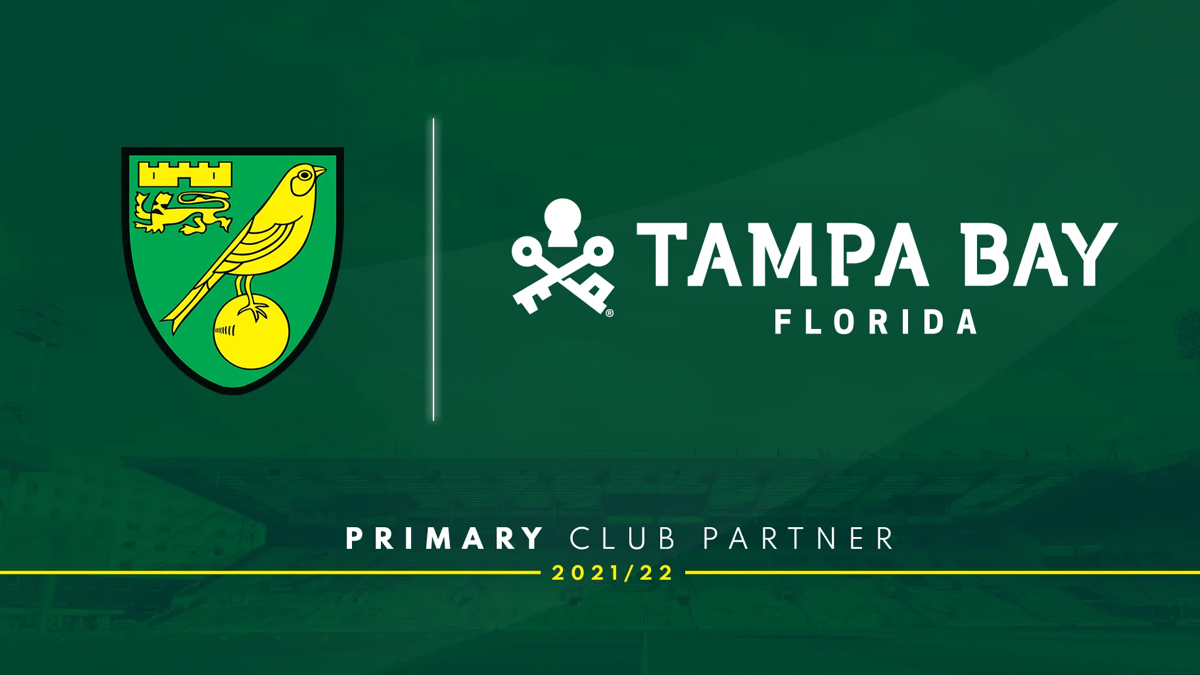 Visit Tampa Bay has extended its partnership with Norwich City, which was promoted back to the English Premier League for the 2021–2022 season.
The agreement marks the fifth consecutive season that the destination and club have worked together. It will include the renewal of the Tampa Time Half-Time Challenge, a Tampa Bay Takeover in March for Norwich's home match against powerhouse Chelsea, as well as Visit Tampa Bay branding around the Carrow Road pitch.
"We're really proud to enter our fifth season with the brilliant organization that is Visit Tampa Bay and thank the leadership team over in Tampa for their continued support," said Norwich City Interim Commercial Director Sam Jeffrey. "Tampa Bay is an amazing destination and a region of sporting excellence, with the recent successes of the Buccaneers, Lightning, Rowdies and Rays. We're proud to be associated and we're delighted that (Visit Tampa Bay President and CEO) Santiago C. Corrada and (Chief Marketing Officer) Patrick Harrison continue to see the value of working with our Club."
The Tampa Bay Half-Time Challenge caught national attention throughout England when featured during a Sky Sports game in Norwich's 2018–2019 season in the Premier League. The "orb football" is not allowed this season because of Premier League pitch restrictions due to COVID, so in place of that the halftime show sponsored by Tampa Bay will another taking place in the corner of the Joma Community Stand, pitting two fans together on their quick-fire Norwich City knowledge. Each weekly winner will be added to a prize drawing for the chance to win a holiday package to Tampa Bay for two.
"We are so pleased to be continuing our innovative and exciting partnership with Norwich City Football Club," said Corrada. "The partnership enjoys a huge amount of loyalty and respect and continues to grow from strength to strength. While the last 18 months have been a struggle for all of us, we stand together and welcome the community to be inspired by everything Tampa Bay has to offer from trophy winning sports teams to our thrilling attractions, amazing outdoor experiences and of course year-round Florida sunshine."