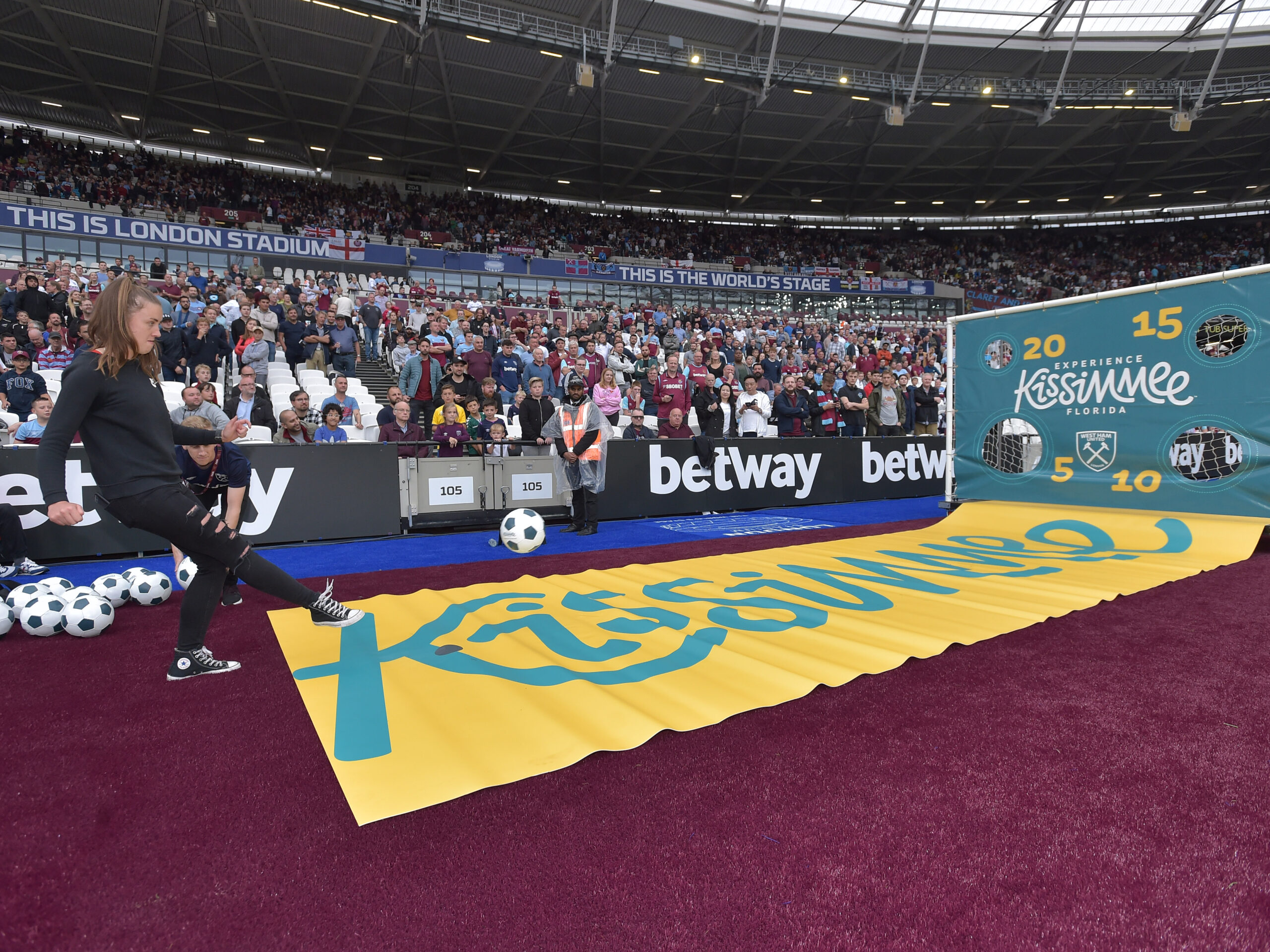 The Premier League is the most-watched sports league in the world, broadcast to over 200 countries each season. With more than $11 billion in global media rights agreements each year, its growth the past three decades is the envy of every league or sports organization in the world.
Being able to partner with a Premier League team can give any business the ability to showcase itself to the type of audiences few could imagine. And for two tourism markets in the United States, it's the perfect vehicle to showcase themselves as an international travel destination.
Both Visit Tampa Bay and Experience Kissimmee in Florida have used partnerships with English soccer clubs to promote themselves for British vacationers who — in a non-COVID world — enjoy traveling abroad. Through a mix of signage and activations in the stadiums and with halftime promotions that have captivated crowds and gone viral on social media, both tourism groups have been able to get themselves in front of millions of fans and establish new business relationships.
"The most important part is the profile that our destination receives," Kissimmee Sports Commission Executive Director John Poole said of his group's ties with West Ham United, which opens its Premier League season on Saturday against Newcastle United. "We've worked closely with Neilsen Sports and had the partnership evaluated and in terms of media value, they said it's one of the best partnerships for ROI that they've ever seen."
NBC Sports' presentation of the 2019–2020 Premier League season averaged nearly 462,000 viewers per match ­and globally its audience is estimated to be about 3.2 billion. One of the more memorable games in the early season occurred when Norwich City shocked then-champions Manchester City, with each of its goals brought to you by its destination partners — Visit Tampa Bay.
"Sports is a great way to bring people together and a great way for us to make our name known," said Patrick Harrison, Visit Tampa Bay's chief marketing officer. "We have a lot of local pride seeing our logo each game."
London Calling

The Kissimmee Sports Commission had successful partnerships in the past with soccer teams and international events. It had a tie-up with Orlando City as the franchise moved from the USL to Major League Soccer, capitalizing on the popularity of Brazilian superstar Kaka to make inroads with South American audiences. It also partnered with the 2016 Invictus Games in Orlando, sponsoring the swimming events.
"That's typically a thing you do on vacation, so we had all our branding around the swimming pool," Poole said. "From an experiential marketing standpoint, we had fans for spectators with our hashtag on it and that was engaging. … We see sports as the greatest platform for an emotional connection with consumers, so we started to think, 'We're a really great destination here and how do we build awareness in key markets in a unique and different way?'"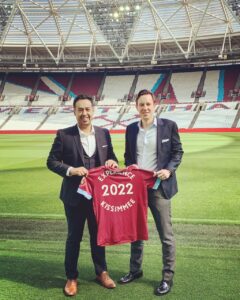 West Ham United stood out as the perfect fit. Kissimmee became the London club's official destination partner ahead of the 2016–2017 season as the club moved into the revamped London Stadium; the partnership was extended ahead of the 2019–2020 season for three more years.
"They offered a unique opportunity for us," said Poole, an ex-Brit who grew up as a fan of Tottenham Hotspur. "You could try to go with a Manchester United or a Liverpool, but they have so many sponsors that you get lost in the clutter. West Ham is based in London and they have a home stadium that was a former Olympic site, so it dovetails as a tourist attraction. It's been a great success for us."
And for West Ham, it allows the team to establish a footprint abroad.
"Having such a strong relationship with a U.S. partner like Experience Kissimmee helps us to create that affiliation with the existing fans in the States, as well as growing the fan base," said Karim Virani, chief commercial officer at West Ham. "When the partnership was first discussed, the club was looking at ways to create a more global awareness of the West Ham United brand. As our relationship has been deepened over time, we've seen constant positive sentiment from fans, staff and players towards Kissimmee as a destination as we've been able to highlight the amazing experiences on offer there."
As part of the partnership, several West Ham players have come to Kissimmee including one of its biggest stars, England national team member Declan Rice, who brought his family over for a summer stop in 2019 and did a series of social activations. Among the various activations in the partnership, the club holds a "Kicking It With Visit Kissimmee" promotion at home games with participants trying to get shots on goal into various spots that are worth points totals and getting Kissimmee-branded soccer balls.
And when the Premier League finished its season after a COVID-enforced suspension with no fans allowed at games, a giant Visit Kissimmee logo was one of the most visible sponsors tarped over seats for anybody who watched on TV while the sports commission and club partnered on a promotion where fans could enter to watch each of the rest of the season's games with a former player from the club.
"For fans who live in the West Ham heartlands of East London and Essex, and beyond, the partnership raises awareness of Kissimmee as a destination and all the fantastic experiences on offer there, particularly for families," Virani said. "The other real positive is the great working relationship we have between our team here at West Ham and the team at Experience Kissimmee. When both parties understand each other, it really helps to drive the partnership forward and come up with great new ideas, which we can offer to fans."
For Kissimmee, the partnership has multiple benefits. It's an entry into not only the U.K. market but with a club based in a global city such as London. West Ham has an internationally recognized brand throughout soccer as well, best known for having multiple stars on England's only World Cup champion team in 1966.
"I think the most important part is the profile that our destination receives," Poole said. "It's given us a great platform that has allowed us to do some really clever things. With West Ham as a partner, we've been able to push the envelope."
The Perfect Partnership

Harrison said when looking to partner with a club in the UK, Visit Tampa Bay "was looking for something that wasn't just a financial transaction. We wanted something we could be a part of."
The perfect fit was found three years ago with Norwich City, a club in the east of England with a famously loyal fanbase where season tickets are passed down through the generations. The Canaries were in the Championship, English soccer's second tier of competition, when Tampa Bay and the club connected in what Norwich City Head of Commercial Operations Sam Jeffery calls "one of my favorite things to talk about commercially."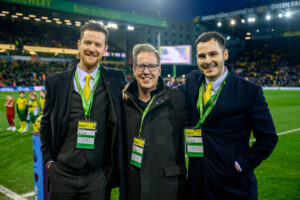 The partnership started with some LED board branding for Visit Tampa Bay, which also sponsored the halftime entertainment. There is one game each season designated as the "Tampa Bay Takeover" game with stadium workers and team employees wearing the Visit Tampa Bay logo and branding.
"Sports is a great way to bring people together and a great way for us to make our name known," said Harrison, an ex-Brit and lifelong Leeds United fan.
After the first year, Jeffery had an idea to help the partnership turn into a longer-term deal: Have the club take a warm-weather trip to Tampa Bay during a break in Norwich's 2018–2019 season. As a self-financed club, he was told if he was able to sell enough packages for other team sponsors that would help defray the costs, the trip would be approved — and in mid-November 2018, nearly 100 club members, staffers and sponsors flew across the Atlantic.
During the training camp trip, the club also did a series of local activations that reached more than 1 million people on social media platforms. After four losses in the first 17 games of the season, the club only lost twice more the rest of the season, earning promotion to the Premier League.
"We went up on the back of brilliant football and amazing team spirit that you could quite rightly argue was fostered in Tampa Bay," Jeffery said.
From that trip, the ties between Tampa Bay and Norwich City have deepened. The Tampa Bay Rowdies in the USL Championship have the same green-and-yellow color scheme for its uniforms as Norwich City, making the Rowdies a perfect fit as Norwich's "Official North American Soccer Club Partner." One player from Norwich goes on loan each season to the Rowdies and there were plans for the club's academy squad to visit Tampa Bay this summer to play against the Rowdies before the coronavirus pandemic.
And the club's 2018 trip included visits with the other professional franchises in Tampa Bay — the NFL's Buccaneers, MLB's Rays and NHL's Lightning — that now are official affiliations. Norwich even plays AC/DC's "Thunderstruck" before games after seeing how the crowds at Lightning games reacted.
"The Tampa Bay Lightning in particular were one of the most impressive sporting organizations that I think any of us have ever met," Jeffery said. After visiting the Buccaneers training facility, the Norwich club — which was already investing in training facility improvements — returned home and put a series of inspirational quotes on the walls akin to what the Bucs have in their building.
Furthermore, a new camp for teenagers in Tampa Bay, the "Yellow and Green Dream," is set up so coaches from both the Rowdies and Norwich can evaluate talent. In the program, a teenager is invited to spend seven days training at the Norwich academy and then two weeks with the Rowdies the following preseason. Norwich's ties to Tampa Bay are so deep that Jeffery said the United States has become the club's third-biggest market for shirt sales behind the U.K. and Finland, the home of star striker Teemu Puuki.
"When we got involved, both sides said they didn't want this to be treated as 'you get this much promotion for this much money' but more how can we layer the partnership to get people involved with what we're doing as partners," Harrison said.
Visit Tampa Bay's brand would only grow during Norwich City's Premier League campaign in 2019–2020. The halftime show sponsored by Visit Tampa Bay introduced "orb football" to audiences. When it was featured on Sky Sports with the network's top commentators, Gary Neville and Jamie Carragher, participating, the resulting videos went viral. The partnership between Visit Tampa Bay and Norwich was a finalist for Best Brand Activation at the 2020 UK Sports Business Awards, and a finalist for Sponsorship Innovation of the Year at the UK Sponsorship Awards.
And while Norwich may have been relegated from the Premier League back to the Championship for the 2020–2021 season, the partnership between the destination and club may even be stronger than before.
"In three years, we've become close friends," Harrison said. "We watch games, we talk once a month — I've been to two or three Norwich games and everybody is so welcoming when we go there. It gives us a feeling of creating goodwill with the community that we're seen in a positive light by the people of Norwich."