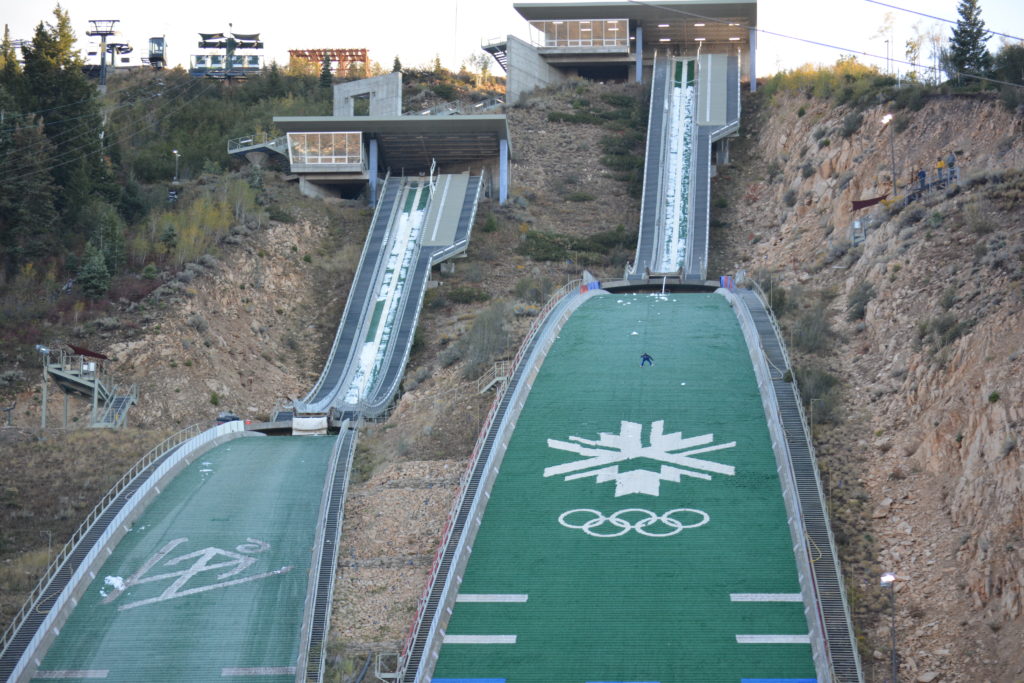 With the 2018 Olympic and Paralympic Winter Games in Pyeongchang, South Korea, soon to be in the rear-view mirror, attention will next turn to bidding for the 2026 Winter Games. Leaders in Utah, Denver and Reno–Tahoe have all expressed interest should the United States pursue a bid.
Complicating matters, though, was the recent award of the 2028 Summer Games to Los Angeles. U.S. Olympic Committee officials have acknowledged that staging another U.S. Olympics before 2028 would pose a number of marketing and sponsorship challenges for Los Angeles. "In all candor, I think we're leaning more in the 2030 direction," USOC CEO Scott Blackmun said after the group's December board meeting.
The International Olympic Committee has set a March 31 deadline for nations interested in 2026. Whatever the USOC decides, here's a look at where each potential bid stands.
UTAH
Utah was the first out of the gate expressing interest in hosting in 2026 or 2030. October saw the formation of an exploratory committee led by Fraser Bullock, a key figure in Salt Lake City's 2002 Olympic Winter Games, and Jeff Robbins, the head of the Utah Sports Commission, which for years has touted the successful legacy of 2002. The group has already released results of a poll it claims shows 89 percent of locals would support a new bid. The committee expects to issue a report in February on the feasibility of hosting again, but all indications are that Utah will be ready when the time comes.
Pros:
> Recent and successful history as host of the 2002 Games, with past leaders involved in current effort
> World-class ski resorts in close proximity to Salt Lake City> Exploratory committee well underway in planning
Cons:
> A recent state audit suggests $39 million in improvements are needed for 2002 venues to host again.
> International guests may prefer to visit a new host city.
DENVER

Denver has been interested for a number of years, for obvious reasons: Some of the largest ski resorts in the world, many of which are regular stops on world tours, are a relatively short drive away. In December, Denver's mayor and Colorado's governor announced the formation of a committee to explore whether the city should submit a bid if the USOC decides to move ahead. The city, however, has a complicated history with the IOC, which awarded Denver the 1976 Games before Colorado voters opted not to proceed with the event.
Pros:
> Abundance of potential indoor and outdoor venues
> Plenty of hotels—10,000 rooms in downtown and 45,000 in the metropolitan area
> Proximity to USOC and many NGB headquarters
Cons:
> No bobsled/luge/skeleton track
> Notorious traffic on I-70 from Denver to mountain resorts
> Does the IOC have a long memory of the 1976 rejection?
RENO-TAHOE

For years, the Reno–Tahoe region has wanted to raise its international profile by submitting a bid to host a future Olympic Winter Games. The Reno Tahoe Winter Games Coalition has existed since 2003 and has stayed busy, recently co-sponsoring an international federation forum in Lausanne, Switzerland, home of the IOC. While the coalition has kept a lower profile than Denver and Utah in recent months, leaders have been monitoring events and recently suggested they could include Las Vegas in a potential bid, which would dramatically increase the number of hotel rooms available and the bid's profile.
Pros:
> Successful track record hosting recent international events
> Suitable venues for alpine and Nordic events, including Squaw Valley, the 1960 Olympic Winter Games host
Cons:
> No bobsled/luge/skeleton track or ski jumping hill
> Officials have kept a low public profile. Perhaps too low?
> Unknown level of local support for potential Games cos