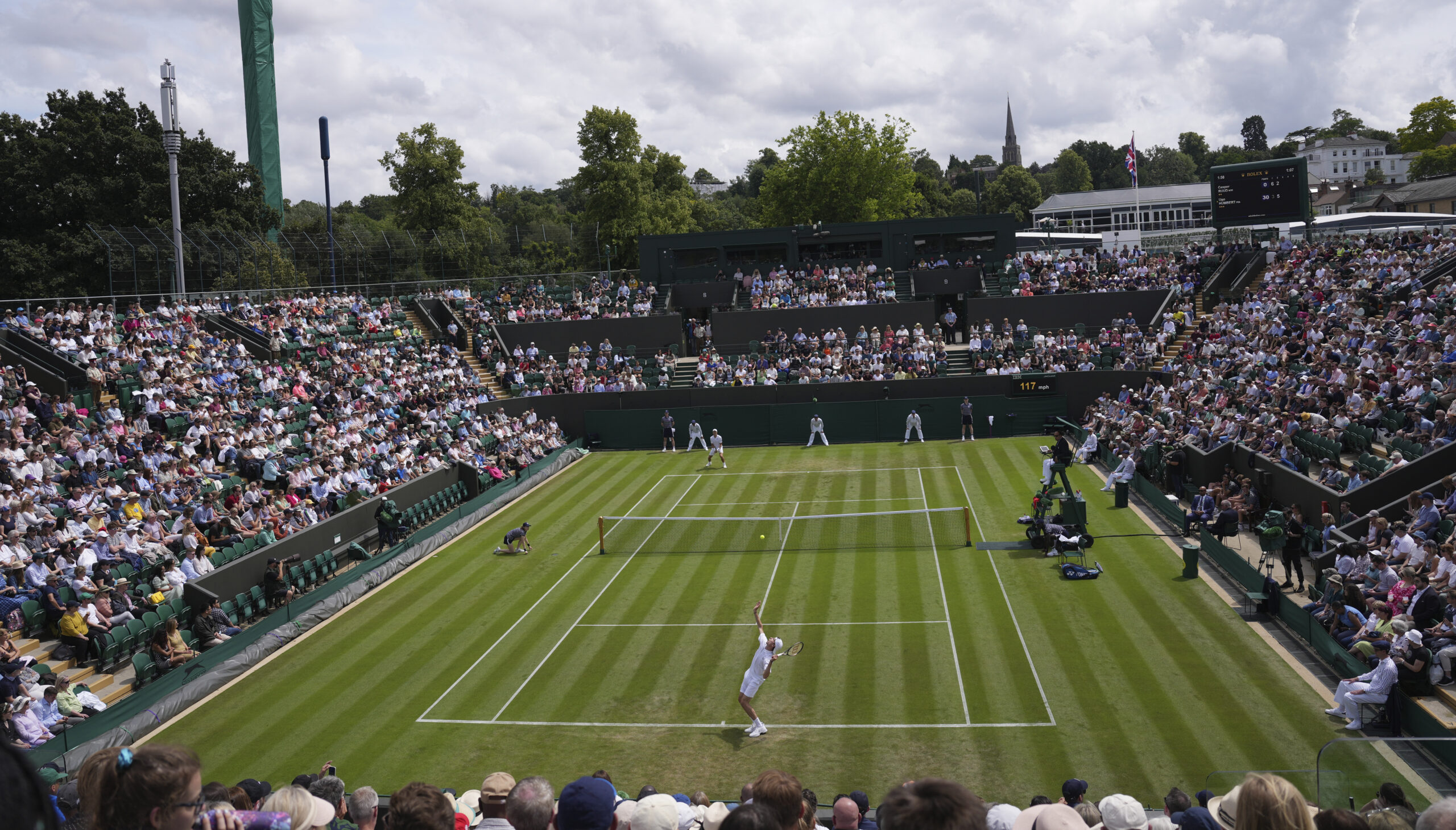 Russian and Belarusian players will be able to compete at Wimbledon as neutral athletes after the All England Club on Friday reversed its ban from last year.
The players must sign declarations of neutrality and comply with "appropriate conditions," including not expressing support for Russia's invasion of Ukraine. The players cannot receive funding from the Russian or Belarusian states, including sponsorship from companies operated or controlled by the states.
Australian Open champion Aryna Sabalenka of Belarus and Russian players Daniil Medvedev and Andrey Rublev are among the players who can return.
"The option of personal player declarations was not in our view viable last year," the All England Club said. "Since then, extensive engagement with the Government and tennis stakeholder bodies has clarified and developed the form of declarations and produced workable measures for their implementation and enforcement. This approach has the full support of the Government and the LTA, ATP, WTA and ITF."
This year's Wimbledon tournament will start on July 3. The women's final is scheduled for July 15 and the men's final on July 16. Last year's women's final was won by Elena Rybakina, who represents Kazakhstan but was born and raised in Russia. She switched her nationality on the WTA Tour to Kazakhstan in 2018; after winning Wimbledon last year, Russian state media celebrated Rybakina's win as a national victory.
Ukrainian Foreign Minister Dmytro Kuleba condemned the reversal as "immoral."
Wimbledon's decision to permit the participation of Russian and Belarusian players is immoral. Has Russia ceased its aggression or atrocities? No, it's just that Wimbledon decided to accommodate two accomplices in crime. I call on the UK government to deny visas to their players.— Dmytro Kuleba (@DmytroKuleba) March 31, 2023
Other tennis tournaments around the world have had Russian and Belarusian players compete as neutral athletes. Russia and Belarus were not permitted to participate in the Billie Jean King Cup or Davis Cup. When Wimbledon banned Russian and Belarusian players last year, the ATP and WTA responded by not awarding ranking points for Wimbledon — an unprecedented move.
"There was a strong and very disappointing reaction from some governing bodies in tennis to the position taken by the All England Club and the LTA last year with consequences which, if continued, would be damaging to the interests of players, fans, The Championships and British tennis," the club said Friday.
"It has taken a collaborative effort across the sport to arrive at a workable solution, which protects the fairness of the game," the WTA and ATP Tours said in a joint statement. "This remains an extremely difficult situation, and we would like to thank Wimbledon and the LTA for their efforts in reaching this outcome, while reiterating our unequivocal condemnation of Russia's war on Ukraine."