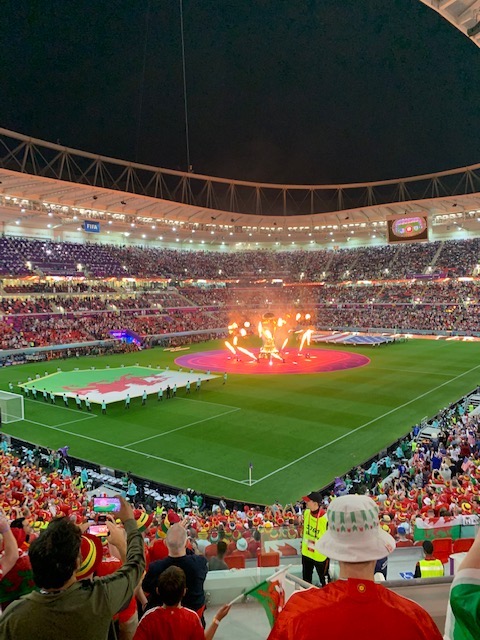 There are always some challenges with any mega-event and this month, the 2022 FIFA World Cup is in Qatar, a country established 51 years old ago with a total population of 2.8 million people. So with that perspective, here are some observations.
[Behind the Scenes of the 2026 World Cup Bid Process]
Inside the Stadiums
Concessions are limited to just a few items if you want to eat late at the 10 p.m. (2 p.m. ET in the United States). For those games, many counters only sell chips and beverages. At other games, fans can get a grilled cheese or a hot dog, chicken shwarma (a popular Middle Eastern dish consisting of meat cut into thin slices, stacked in a cone-like shape) or fatayer, a meat pie that is also available with a spinach stuffing.
[Read More: 2022 World Cup: Ticket Issues, How to Watch and Why Qatar is Hosting]
It's a big change for those who are American and for whom eating and drinking during the game is part of the experience. And no, while you cannot get a beer with alcohol in the stadiums, you can get a souvenir beer cup by purchasing a Bud Zero. You can definitely find places to drink inside and outside of the stadiums — just be ready to pay anywhere from $15-30 per beverage.
Looking Around Qatar
Lines for the metro train post-match are at least an hour but well organized. Some say if beer was sold postgame, the crowds waiting for trains would be reduced but then the crowd would also not be as amicable!
Unlike previous host cities, it is hard to find local establishments with live match feeds but we are seeing more being installed each day. Watching sports in Qatar is not a national pastime as it is in other countries.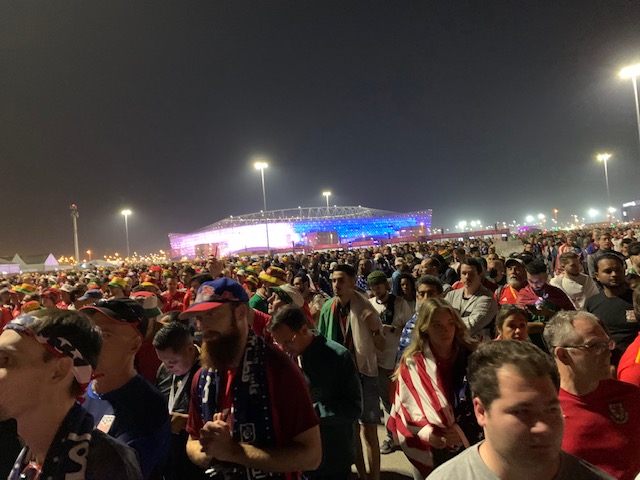 Qatar's tourist attractions are primarily focused on Islamic and Qatari culture such as the Islamic Art Museum and the National Museum that share history in a beautiful architectural setting. Shopping malls are elaborate and most are open until 2 a.m.
We did venture to the desert to explore the dunes and, of course, ride a camel. And the FIFA World Cup mascot, fondly referred to by Americans as "Casper the Friendly Ghost Arab style," has not been sighted in physical form but is well-represented digitally.
Good thing Qatar has a lot of solar power as the city is lit up beyond what you would experience in Las Vegas with eye-catching building wraps of fans' favorite players.
[What Cities Will Host 2026 World Cup — U.S., Mexico and Canada Hosts Announced]
Other Insights
For volunteers there are several special touches including a mural with all 20,000 volunteers names; special treats each time you check-in such as keychains and chocolates; as well as contests to win tickets and a volunteer hub to meet and hang out with others.
The World Cup ticket app has proven not so user friendly and completely failed on Day 2, resulting in chaos at stadiums before it was fixed the next day. For some fans, the QR ticket codes do not appear on the phone until you arrive at the stadium for a game. Security is well-organized and thorough, without the patting down of fans at entry like at other major sports events. Women are typically funneled through a separate line.
---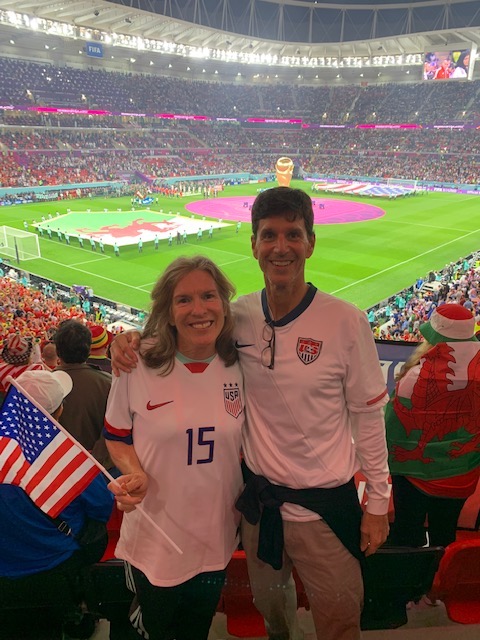 Editor's Note: George Washington University sports management professor Lisa Delpy Neirotti is on the ground in Qatar for SportsTravel. The 2022 FIFA World Cup is her sixth World Cup, having first attended the event in 1994 when she worked with the host committee. She is in Qatar with 16 students from George Washington who are spending 12 days volunteering at different stadiums. The Beijing Winter Olympic Games earlier this year were her 21st consecutive Games in various capacities. She has been at George Washington University for 32 years.