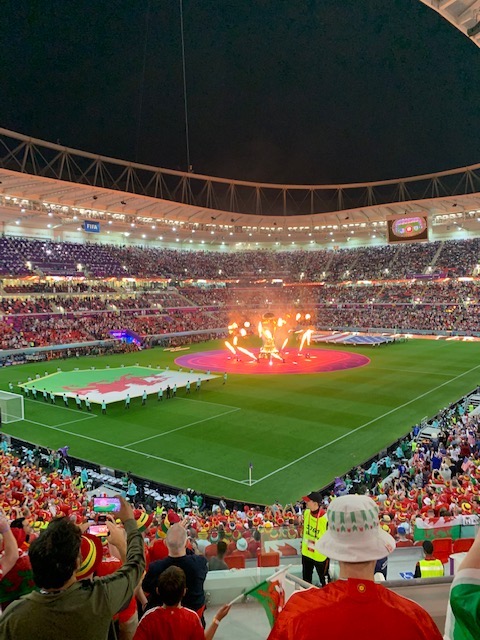 There are always some challenges with any mega-event and this month, the 2022 FIFA World Cup is in Qatar, a country established 51 years old ago with a total population of 2.8 million people. So with that perspective, here are some observations.
[Behind the Scenes of the 2026 World Cup Bid Process]
Seeing Qatar Up Close
The discovery of Qatar continues as the Katara Cultural Village offers a look into the Bedouin life and the area transforms at sunset into a glimmering destination. When we entered the Villagio Mall to find a place to watch a match, we surprisingly found Venice awaiting us with canals and all. After the "Express Bus" dropped us at least a mile from the Lusail Stadium, there was no missing the Lusail Boulevard filled with amazing architecture, music and street performances.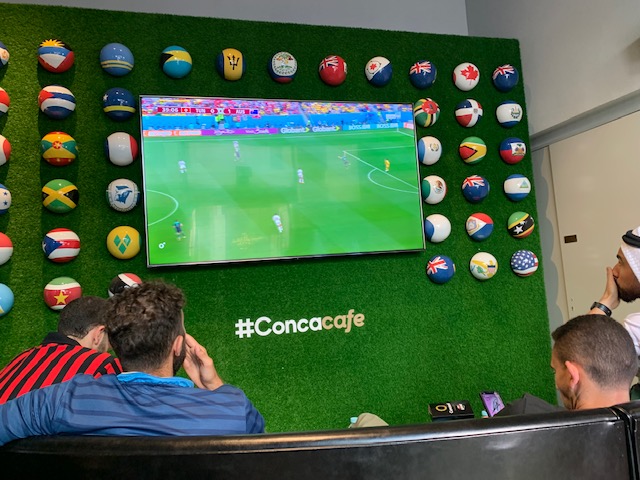 Concacaf, the federation that the United States, Mexico, Canada and Costa Rica are representing in Qatar, have set up a Concacafe that offers a place to meet, watch a match and enjoy the tastes of the region with free lunch on days when member associations play. CONMEBOL, the South American federation, has an interactive exhibit showcasing trophies, famous players, a small pitch and a large Tree of Dreams.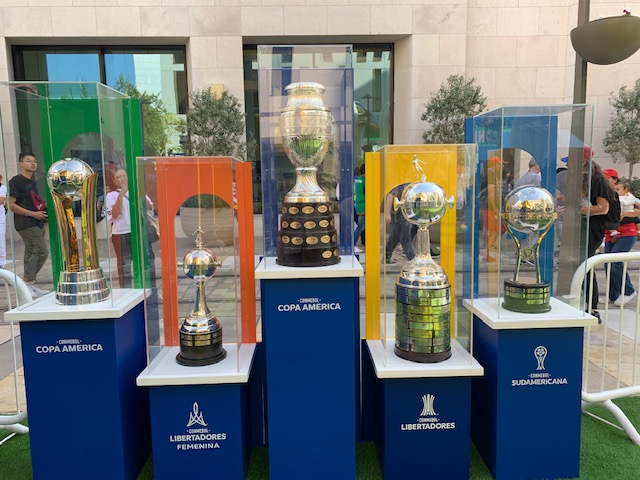 Getting Around Town
From an event management perspective, I understand the need to use zigzags to slow the flow of pedestrian traffic — but at the World Cup they took this to the extreme. Barricades forming multiple zigzags are outside every metro station and stadium whether needed or not and no adjustments made for non-peak hours adding time and steps to everyone's journey. Jumping the barriers is not an option. Spectators are creating songs about the zigzags of Qatar.
Unfortunately, there are no designated "World Cup" traffic lanes for spectator buses like there are during the Olympic Games and it does not seem that they asked locals to adjust their driving plans as spectator parking is available for free at stadiums. They did shut down schools for the month to reduce traffic. "Express Busses" are not express as often the drop-off and pickup points are located further from the stadium and then stuck in traffic, whereas the lines for the metro may be long, but they move and are ultimately faster. Transport is always difficult so credit should be given to the organizers for offering a variety of transport options and for encouraging people to take different bus routes.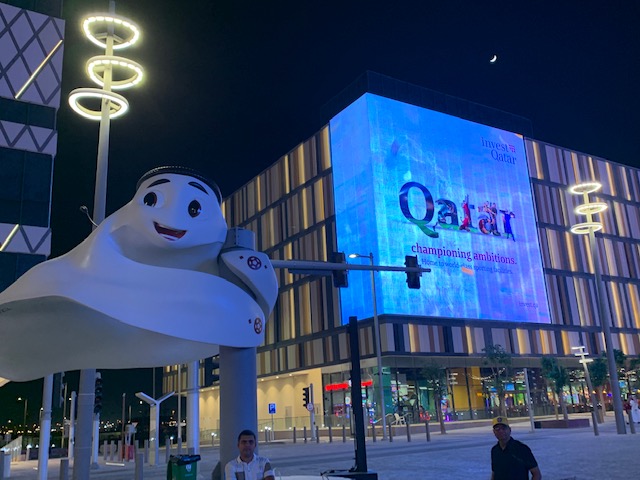 The unexpected star of the tournament is a metro worker who used his megaphone to give directions to the metro while singing "Metro …. .metro metro" that has caught on more than the official theme song. You can hear fans chanting "Metro metro" and bantering with staff holding large foam fingers. The person who started this craze was recognized during halftime at the USA vs. England match.
As for the metro, during the World Cup everyone can enter any train car but prior to September 2022 there were specific cars for women, men, family and VIPs. Anyone can be a VIP if they apply and pay double (the VIP seats look like an airline seat). From what I understand the open seating will probably end after the World Cup, but according to the local women I spoke with, they said this was not an issue for them and most actually preferred it.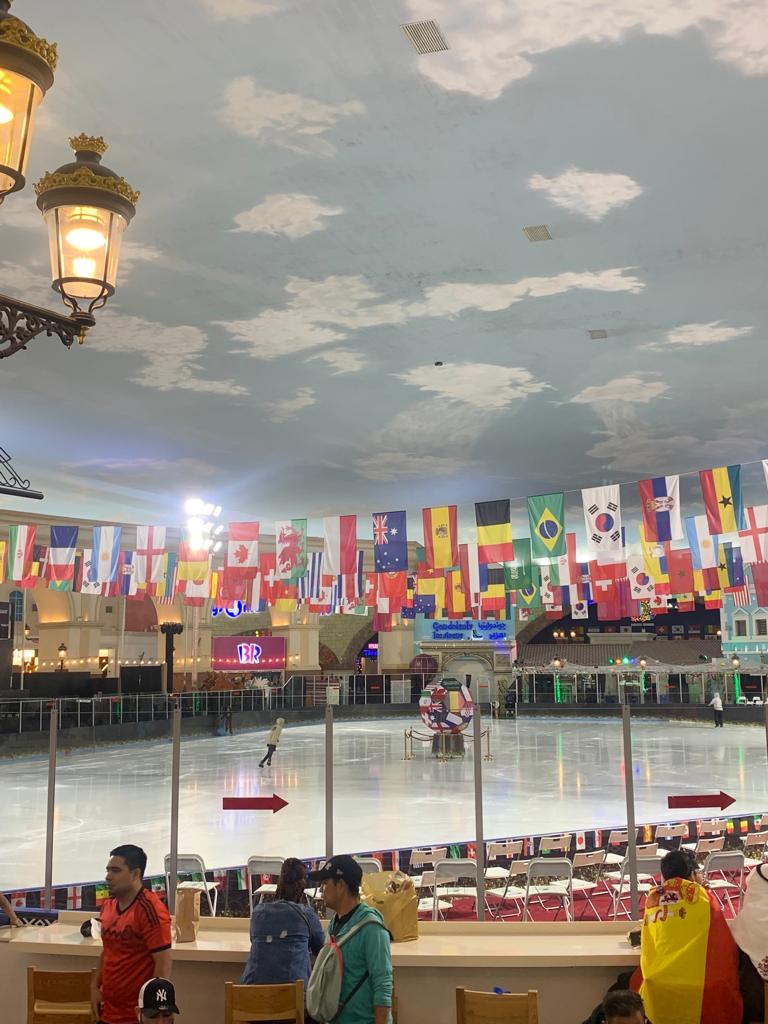 Supporter Club Parties
Several national federations and hotels are offering special events but all come with a cost.
The official U.S. fan supporter group, the American Outlaws, host pregame parties at Bud World the night before U.S. matches for $50. You get televisions and music at the gathering but no drinks included; my mixed drink cost $32. They were also only selling Budweiser merchandise but no USA merchandise.
Canada offers a $180 event with seven drinks and food included. Mexihouse in Lusail has an entrance fee of $30. Most establishments serving alcohol are capitalizing and require a cover with some applying the fee to food and drinks. Last night we waited for a spot at Applebees in the mall to be able to watch a match, eat and drink lemonade. Unfortunately, there is no list of establishments showing matches. From what we hear, the rights fee to broadcast matches is expensive. Even in our FIFA housing, televisions do not air matches.
Inside the Stadiums
Concessions are limited to just a few items if you want to eat late at the 10 p.m. (2 p.m. ET in the United States). For those games, many counters only sell chips and beverages. At other games, fans can get a grilled cheese or a hot dog, chicken shwarma (a popular Middle Eastern dish consisting of meat cut into thin slices, stacked in a cone-like shape) or fatayer, a meat pie that is also available with a spinach stuffing.
[Read More: 2022 World Cup: Ticket Issues, How to Watch and Why Qatar is Hosting]
It's a big change for those who are American and for whom eating and drinking during the game is part of the experience. And no, while you cannot get a beer with alcohol in the stadiums, you can get a souvenir beer cup by purchasing a Bud Zero. You can definitely find places to drink inside and outside of the stadiums — just be ready to pay anywhere from $15-30 per beverage.
Organizing Crowds and Late Night Walks

Lines for the metro train post-match are at least an hour but well organized. Some say if beer was sold postgame, the crowds waiting for trains would be reduced but then the crowd would also not be as amicable!
Unlike previous host cities, it is hard to find local establishments with live match feeds but we are seeing more being installed each day. Watching sports in Qatar is not a national pastime as it is in other countries.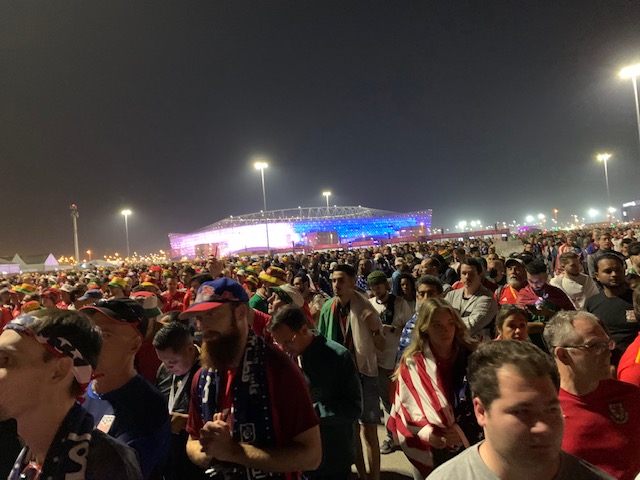 Qatar's tourist attractions are primarily focused on Islamic and Qatari culture such as the Islamic Art Museum and the National Museum that share history in a beautiful architectural setting. Shopping malls are elaborate and most are open until 2 a.m.
We did venture to the desert to explore the dunes and, of course, ride a camel. And the FIFA World Cup mascot, fondly referred to by Americans as "Casper the Friendly Ghost Arab style," has not been sighted in physical form but is well-represented digitally.
Good thing Qatar has a lot of solar power as the city is lit up beyond what you would experience in Las Vegas with eye-catching building wraps of fans' favorite players.
[What Cities Will Host 2026 World Cup — U.S., Mexico and Canada Hosts Announced]
Other Insights
For volunteers there are several special touches including a mural with all 20,000 volunteers names; special treats each time you check-in such as keychains and chocolates; as well as contests to win tickets and a volunteer hub to meet and hang out with others.
The World Cup ticket app has proven not so user friendly and completely failed on Day 2, resulting in chaos at stadiums before it was fixed the next day. For some fans, the QR ticket codes do not appear on the phone until you arrive at the stadium for a game. Security is well-organized and thorough, without the patting down of fans at entry like at other major sports events. Women are typically funneled through a separate line.
---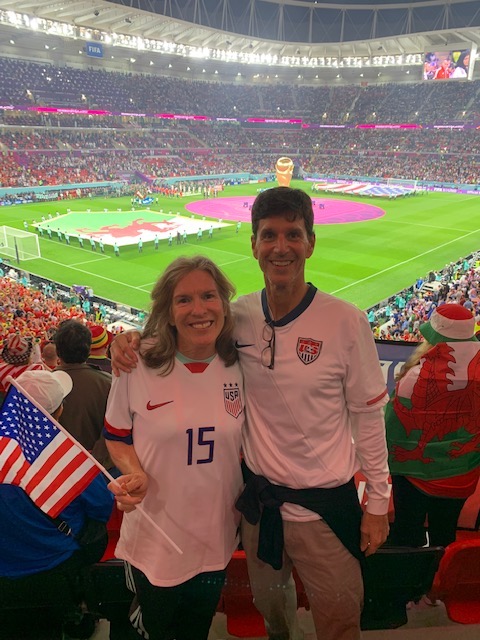 Editor's Note: George Washington University sports management professor Lisa Delpy Neirotti is on the ground in Qatar for SportsTravel. The 2022 FIFA World Cup is her sixth World Cup, having first attended the event in 1994 when she worked with the host committee. She is in Qatar with 16 students from George Washington who are spending 12 days volunteering at different stadiums. The Beijing Winter Olympic Games earlier this year were her 21st consecutive Games in various capacities. She has been at George Washington University for 32 years.