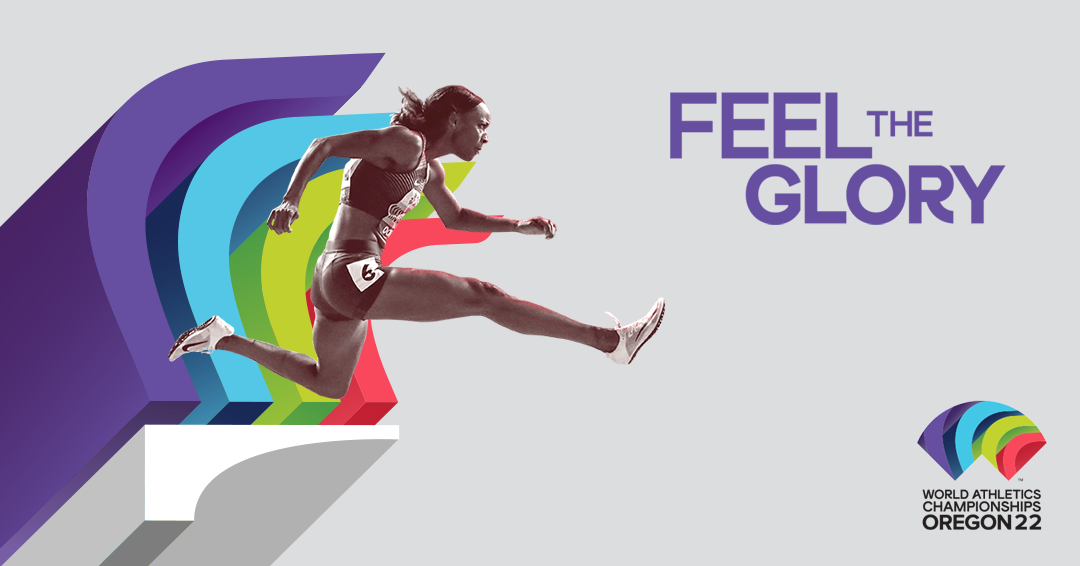 World Athletics Championships (WCH) Oregon22, the local organizing committee for the 2022 world championships in Eugene, Oregon, has revealed a new logo and launched its website, social media channels and overarching brand identity. The move comes 600 days out from the event that was rescheduled from 2021, and comes on the same day the international federation announced that NBC will retain the U.S. rights to broadcast its events, including the championship.
The 2022 event, which will be staged July 15–24 at the rebuilt Hayward Field at the University of Oregon, marks the first time that the track-and-field world championships will be held in the United States.
"Our mission is to offer the best of all worlds to athletes, fans and media attending and watching from every part of the globe," said Niels de Vos, executive director of WCH Oregon22. "It will be the ultimate track and field experience, showcasing the state of Oregon and the sport to an unprecedented global audience."
According to the organizing committee, the new logo is inspired by the wooden rib-like bents that support the new roof of Hayward Field. The colors in the logo were selected to represent the global, national and local communities that will converge at the event. The purple outmost rib celebrates the diversity of the sport's global audience. The blue rib represents the Team USA, the green honors Oregon and the state's natural resources and eco-conscious culture and the innermost red conveys "the passion that defines Hayward Field."
In addition to the logo, World Athletics and NBC Sports Group have announced a 10-year media rights agreement that will give NBC the exclusive multi-platform media rights to World Athletics Series events in the United States until the end of 2029. The new deal includes the next five editions of the World Athletics Championships starting with 2022 in Eugene.
"The World Athletics Championships Oregon22 will be a historic occasion for our sport and we are delighted to have such a trusted broadcast partner by our side to showcase our sport in the United States," said Sebastian Coe, president of World Athletics. "The next decade presents a tremendous opportunity for us to build our American fan base for track and field by highlighting the amazing athletes the U.S. produces, and telling their stories as they take on the greatest athletes from around the globe."