Life moves fast in the running world, and that's as true in 2020 as ever. More than 30 million Americans compete in track and field, and there are plenty of spruced-up and new venues to keep running organizers inspired. In Japan, robots are taking over—at least when it comes to some Olympic activities once reserved for human volunteers.
Oregon: Transforming a Classic Field
If Olympics legend Steve Prefontaine were still alive and kicking in his hometown of Eugene, Oregon, he'd feel the familiar rush of anticipation as TrackTown USA prepares for its newest mega-events in the city—but he wouldn't recognize his old venue. That's because historic Hayward Field is undergoing the final stages of a rebuild that will prepare the site to host some of the most significant events in the sport.
A thing of beauty🤩

See you in 2022, Oregon 🇺🇸 pic.twitter.com/fSdtEKa4tV— World Athletics (@WorldAthletics) May 21, 2020
"The eyes of the world will be on this community over the next few years," said Jessica Gabriel, senior director of marketing for TrackTown USA, which is helping to transform Hayward Field in time for upcoming events that will include the rescheduled U.S. Olympic Trials in 2021 and the World Championships in 2022. "We couldn't be more excited to be able to utilize the finest track-and-field facility in the world to celebrate athletes and our sport moving forward. The updates to the stadium will mean the spectator and athlete experience alike will be better than ever before, and we can't wait to capitalize on all the new opportunities presented by this incredible venue."
Kari Westlund, president and CEO of Travel Lane County in Eugene, said tearing down the previous version of the stadium was a difficult decision, but one that she supported.
"I was a strong advocate for rebuilding the stadium because we overachieved for hosting events in that space with the limitations in that facility," she said. "I thought the athletes for today and tomorrow deserved to have a state-of-the-art facility for them to perform their best."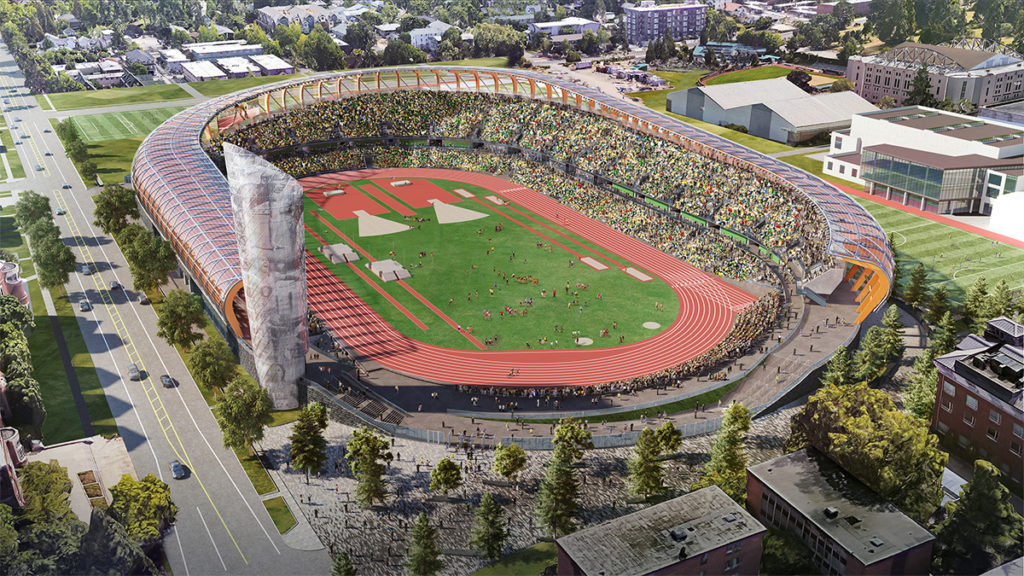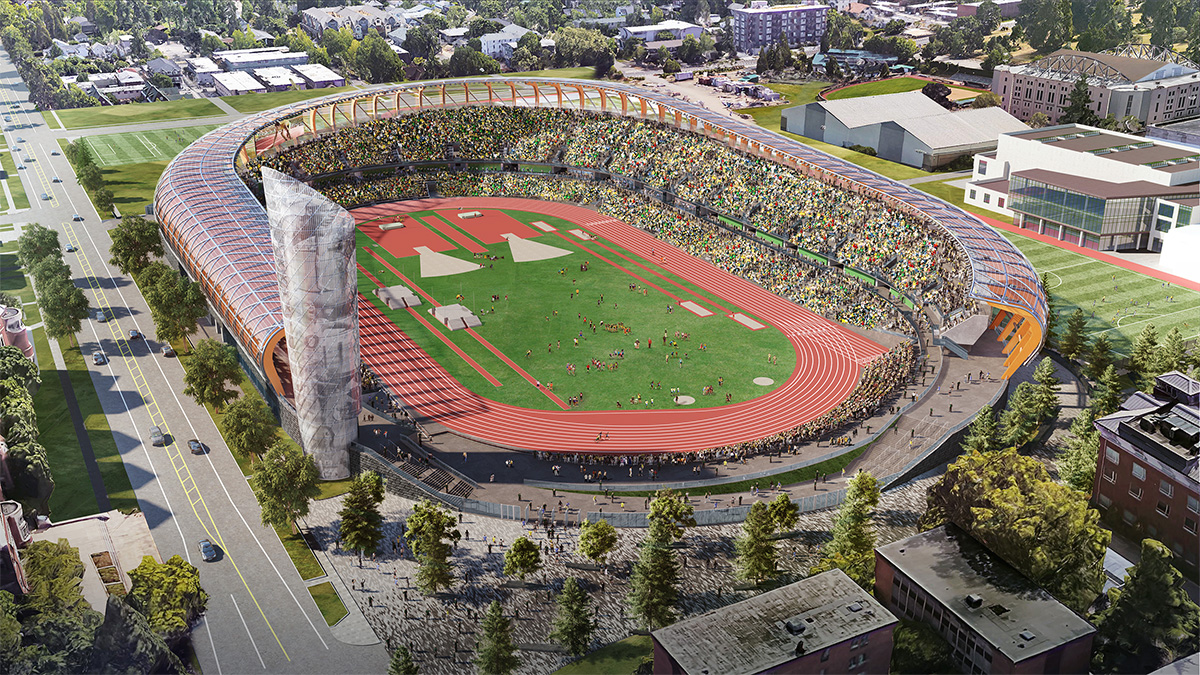 Phil and Penny Knight gifted $500 million toward the privately funded renovation of Hayward Field, which will feature a new nine-lane track, a hydrotherapy room and an anti-gravity treadmill room. Fans will find 12,650 permanent seats, widened for comfort; the stadium can be expanded to 25,000 capacity. The partial roof, made of glass and Oregon wood, is designed to create an intimate atmosphere via state-of-the-art acoustics. The venue also will feature a multi-story tower with a lobby filled with interpretive exhibits, an observation deck and viewing areas.
The original stadium, built in 1919 for football, hosted seven USATF Championships and six Olympic Trials. The new venue will host the Olympic Trials again June 18–21, 2021. After that, the World Championships—which have never been held in the United States—will be staged there from July  15–24, 2022 (a postponement from its original dates in 2021). When it is held, it will be one of the biggest sporting events of the year, drawing more than 2,000 athletes and an estimated 50,000-plus visitors per day.
"It's a phenomenal honor for us," Westlund said, noting that past events have been held in Doha, Qatar, and London. "We're humbled and excited at the same time. It's a big lift."
Kentucky: State-of-the-Art Facililty
Louisville, Kentucky, may be better known for its bourbon, but track-and-field fans will want to keep an eye on the urban—as in the Louisville Urban League's new $35 million sports and learning complex, which includes both outdoor and indoor tracks.
"The goal from the outset was to build a state-of-the-art facility that could host championship-caliber events, large youth events and serve the local community," said Karl Schmitt, president and CEO of the Louisville Sports Commission. "We visited a number of indoor track facilities throughout the U.S., both old and new, and the operators openly shared information regarding best practices."
Louisville has plenty of examples to emulate, as Winston-Salem, North Carolina, has recently drawn big events to its JDL Fast Track, a 105,000-square-foot indoor facility with multiple areas for field events, runways and a pop-up Panera outlet fueling athletes and spectators alike. In New York City, the classic uptown Armory held the 113th Millrose Games in February 2020; the venue attracts more than 100 other events and welcomes more than 125,000 athletes every year, all in the heart of the city's Washington Heights neighborhood.
"Being able to run at Millrose has been something exciting for me throughout my career," said Olympian Allyson Felix on the eve of this year's Games, at which she placed 6th in the 60-meter behind first-place finisher Javianne Oliver. "I love the energy, the crowd and being able to meet the young athletes who are the future of this sport."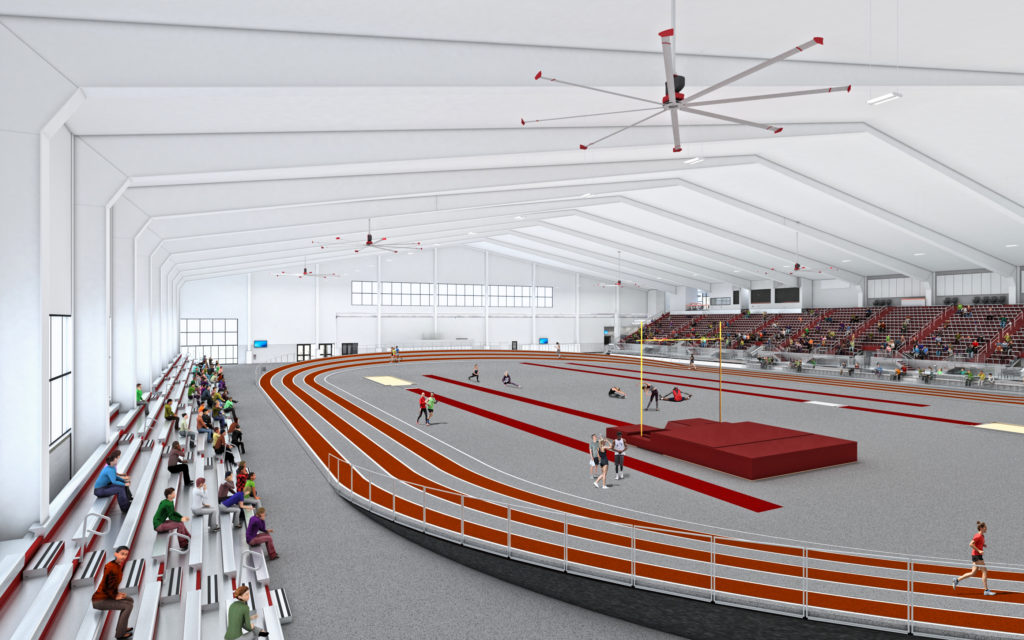 In Louisville, the new Urban League project will see its outdoor component finished this summer, with plans for the indoor portion to be complete by the end of 2020. Plans for the indoor track call for a 4,000-seat space that is expected to attract up to 30,000 visitors annually and can be used for other sports as well. A hydraulic floor will be capable of being lowered in minutes, allowing flexibility for other programming, including the addition of a stage for concerts.
The city's residents "were clear that they wanted an indoor multipurpose sports complex on this property," said Louisville Urban League president and CEO Sadiqa Reynolds. "We know that track and field deserves investment, and our local track coaches have been pleading with city leaders for years to find an indoor location for training. We decided to use track as the anchor sport because it is a foundational sport with high graduation rates and phenomenal educational outcomes. Those things are important, because this facility is not only about sports but also learning."
Japan: The Robots Are Coming
Robots aren't the first thing one thinks of when it comes to track and field, but they will definitely be part of the field squad retrieving javelins, among other duties, at the rescheduled Summer Olympic and Paralympic Games in Tokyo.
Designed by Toyota, the lineup of mechanized assistants includes a Field Support Robot, which will determine the optimal path for fetching equipment at track-and field-events at the Olympic Stadium.
It's not the first time that robots have found themselves rewiring the running world. In 2014, engineer Sebastien Cotton introduced the "biologically inspired" OutRunner as the world's first remote-controlled robot capable of outrunning Usain Bolt. Running up to 20 miles per hour on a single charge, the OutRunner hit a wall only when it hit the commercial market.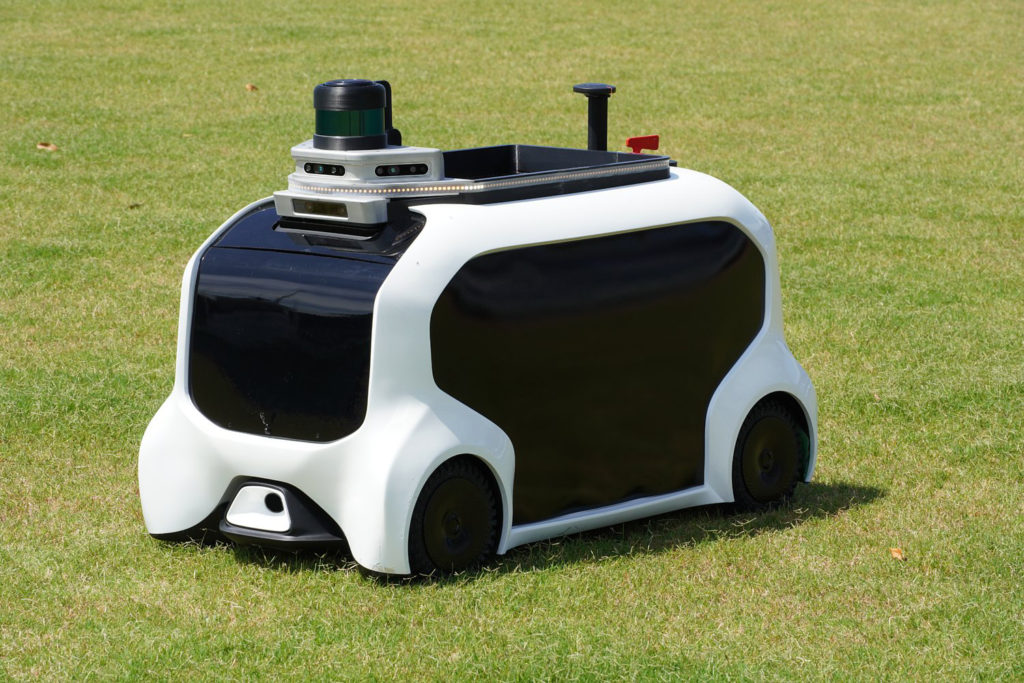 The Japanese government, its technological partners (including not only Toyota but also Samsung) and Olympic organizers clearly hope to showcase innovation while streamlining events and entertaining viewers. For example, while robotic versions of Olympic mascots Miraitowa and Someity shake hands with on-site spectators, T-HR3 Humanoid robots resembling Transformers will transmit images and sounds from the 100-meter dash, marathon and more, while the machine called T-TR1 will create a virtual reality of Games events for fans abroad.