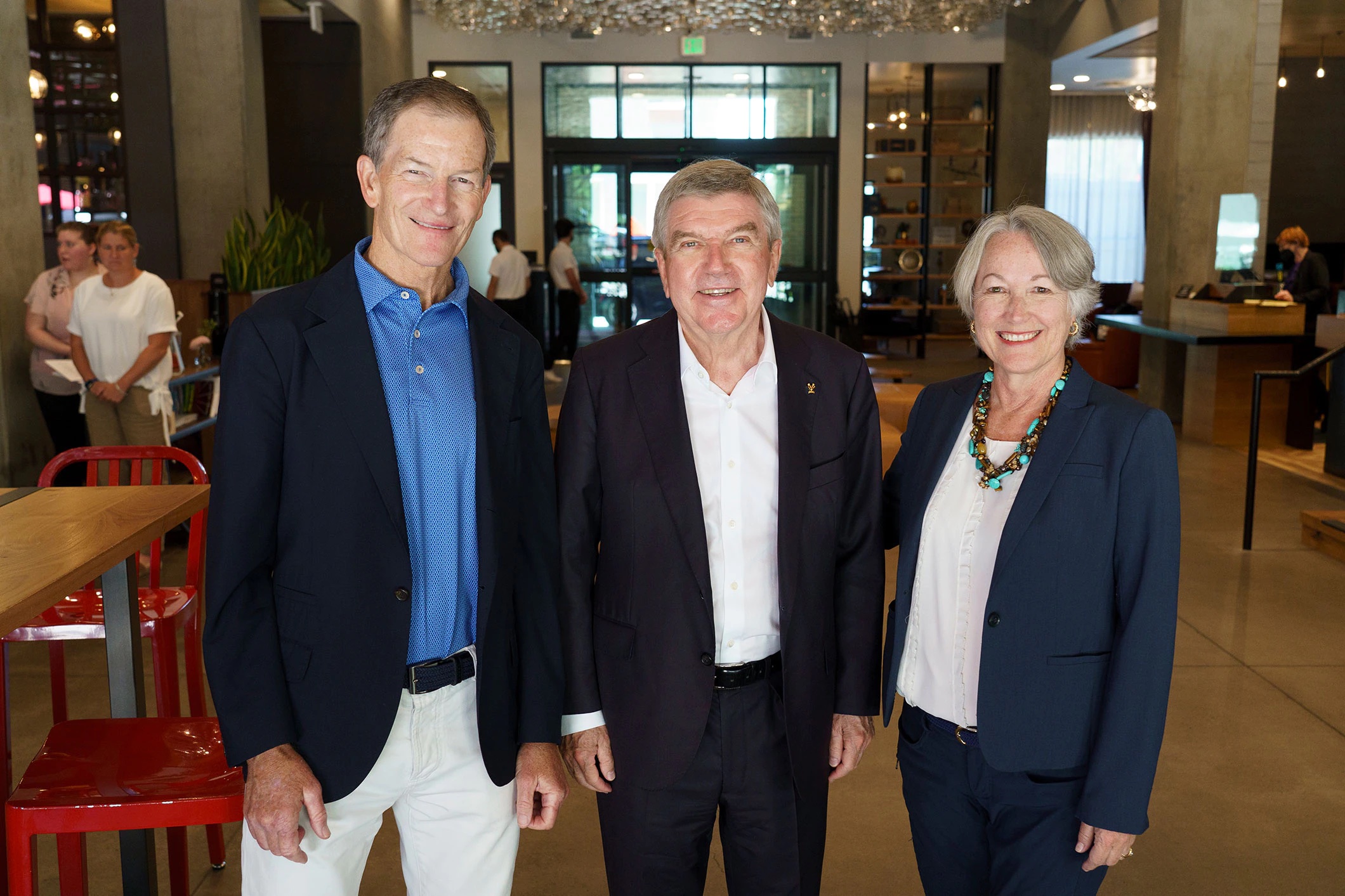 International Olympic Committee President Thomas Bach has been around the United States over the past week in a series of meetings with national and international stakeholders as the IOC detailed on Tuesday.
In the past week, Bach has visited New York City; Birmingham, Alabama; Eugene, Oregon; and Los Angeles, where on Monday organizers for LA28 officially announced the competition dates for the 2028 Olympic and Paralympic Summer Games that will be in Los Angeles.
While in L.A., Bach addressed the organizing committee team for LA28 and also visit a PlayLA program, which was launched in 2021 to ensure that children have an opportunity to participate in low-cost or no-cost sports – including adaptive sports – in their neighborhood as part of a $160 million investment from the IOC and LA28. Bach was accompanied throughout the day by IOC Vice-President and Chair of the IOC Coordination Commission Nicole Hoevertsz. Also present were IOC Members Anant Singh and Luis Alberto Moreno.
Bach was also accompanied throughout LA by IOC Anita DeFrantz, who was instrumental in the organization of the Olympic Games Los Angeles 1984. Bach also met with local politicians and stakeholders, including the outgoing Mayor of Los Angeles, Eric Garcetti.
One of the spotlight sports during any Summer Games is track and field, which is where Bach was before heading to Los Angeles. He spent time in Eugene, Oregon, at the World Athletics championships and watched competitions including the men's 100 meters final, where Team USA had a sweep. He also had the opportunity to meet legendary sprinter Allyson Felix, who bowed out of competition with a bronze medal in the 4×400 meter mixed relay.
Away from the track, Bach addressed the World Athletics executive council after being introduced by President and IOC Member Sebastian Coe. Bach also attended a reception given by the United States Olympic and Paralympic Committee, where the new USOPC Board Chair Elect, Gene Sykes, and his predecessor Susanne Lyons were in attendance.
Accompanied by International World Games Association President José Perurena, as well as Birmingham mayor Randall Woodfin, Chairman of the Birmingham Organizing Committee Jonathan Porter and Chief Executive Officer Nick Sellers, Bach checked out the action at several competitions.
"The World Games show the diversity of sports, and we see how sports develop and grow," Bach said during a breakfast between leaders of the IOC and IWGA.
Bach's U.S. visit started in New York City with a visit to the United Nations. He also met NBC Universal executives Mark Lazarus, the chair of NBC Universal, and Jeff Shell, the chief executive officer of NBC, as well as a team from Visa, an IOC sponsor.