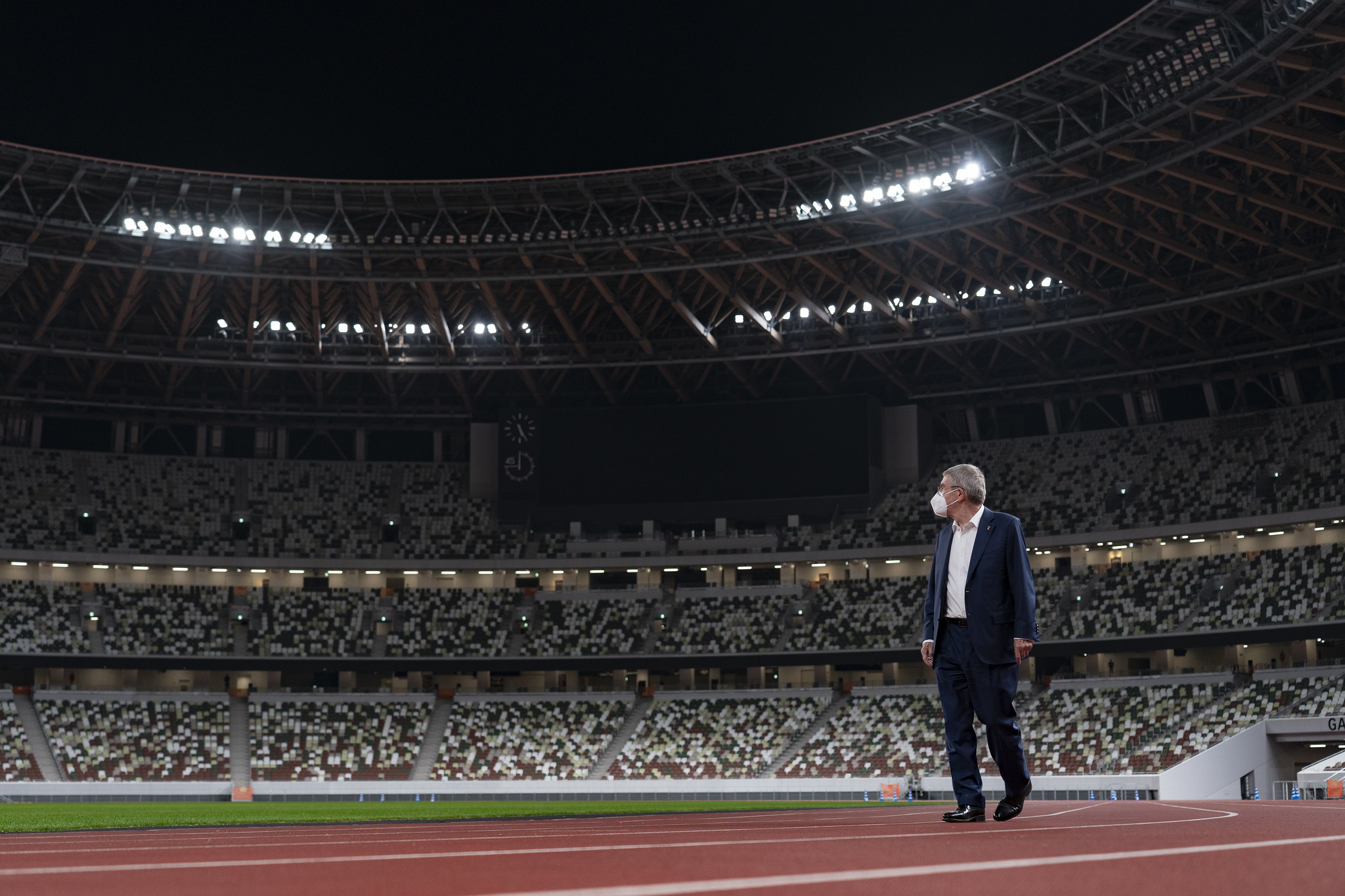 Ahead of another update on its preparations for this summer's rescheduled Olympic Games, the Tokyo Olympic organizing committee said Monday that International Olympic Committee President Thomas Bach has canceled his scheduled trip to Japan because of a surge of COVID-19 cases in the country.
Bach was to visit Hiroshima and meet the torch relay and then possibly travel to Tokyo. The trip has been made impossible because of a state of emergency in Tokyo and other parts of the country that has been extended until May 31. The organizing committee said Bach's visit would be made "as soon as possible."
Japan has attributed 11,000 deaths to COVID-19 and variants of the virus are spreading with reports of public health systems coming under pressure, with only 2 percent of the population vaccinated. Between 60-80 percent of Japanese people in opinion polls have said the Olympics should be canceled or postponed with an online petition calling for the Games to be canceled gaining 300,000 signatures in three days.
The postponement is an embarrassment to the IOC as the Opening Ceremony approaches on July 23, although organizers and the IOC have repeatedly said the Olympics will not be canceled. Japan's Kyodo news agency reported that Hyogo prefecture will take the torch relay off public streets, at least the fifth time the torch has been rerouted and on Monday, the leader of Japan's main opposition party said in Parliament said it was not possible to safely hold the Games.
"I think it is possible that the measures our nation takes to protect human life and livelihoods simply will not make it possible to hold the Olympics," said Yukio Edano, head of the Constitutional Democratic Party of Japan. "In that situation, the IOC and Tokyo city government will have to make a decision, and the government will back that."
Fellow party member Kazunori Yamanoi told Prime Minister Yoshihide Suga that fighting COVID-19 may "have become secondary" to him to holding the Olympics, to which Suga retorted, "I think that is very rude, but I have never put the Olympics first."
Fans from foreign countries will not be allowed to attend and competitors also are expected to avoid interacting with non-athletes when possible according to the IOC's playbook ahead of the Games. Financially, the decision to not allow foreign fans all but ensures that Japan will sustain significant financial losses with the official cost for the Games at $15.4 billion, though two government audits suggest it might be twice that much.
The IOC is somewhat insulated from the loss of ticket revenue but sorely needs the Games to be held; worldwide broadcast rights of the Games account for 73 percent of the IOC's revenues but within that is a major caveat; according to Bloomberg, because Olympics broadcasters such as NBC only make up to 10 percent of their payments before the Games, the majority of the rights fees are not delivered until after the Games are completed.
One Olympic sport that has had two of its most high-profile stars speak about Tokyo preparations is women's tennis. While the sport overall in the Games is not seen as one of the most visible, the lure of winning a gold medal in addition to a Grand Slam has often been incentive for top players looking to equal Steffi Graf's Golden Slam achievement in 1988.
But the WTA Tour's second-ranked player, Naomi Osaka, said she is conflicted whether the Olympics should be held. Osaka would represent the home country in the event and is currently at the Italian Open in preparation for the year's second Grand Slam, the French Open, which starts later this month.
"Of course I would say I want the Olympics to happen, because I'm an athlete and that's sort of what I've been waiting for my entire life," said Osaka, who won the Australian Open earlier this year. "But I think that there's so much important stuff going on, and especially the past year. I think a lot of unexpected things have happened and if it's putting people at risk, and if it's making people very uncomfortable, then it definitely should be a discussion, which I think it is as of right now. … At the end of the day I'm just an athlete and there's a whole pandemic going on."
Following Osaka's comments, four-time Olympic gold medalist Serena Williams said Monday that she would not participate in the Games if she is not allowed to bring her 3-year-old daughter, Alexis Olympia.
"I haven't really thought much about that. That's a really good question," Williams said. "I haven't spent 24 hours without her, so that kind of answers the question itself. We're best friends."
Timing for the Olympic tennis tournament also is not particularly kind for players when it comes international travel. The Olympic tennis tournament is scheduled to begin July 24, two weeks after the women's final is held at Wimbledon in England. The tournament would end August 1, less than a month before the U.S. Open in New York City.