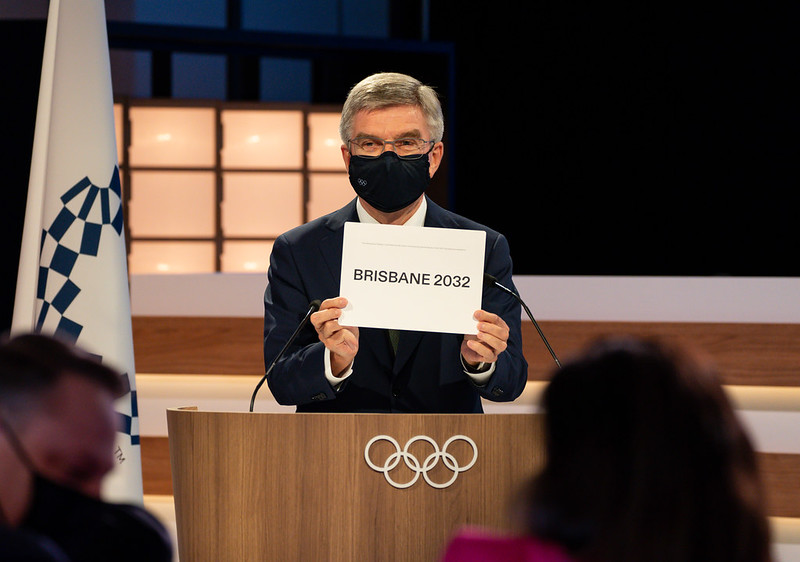 Brisbane, Australia, will host the 2032 Olympic and Paralympic Summer Games, a move that was expected for weeks after the International Olympic Committee's Executive Board forwarded the Queensland coastal city as the only candidate for the event.
The formal vote came at the IOC Session in advance of the Tokyo Games. Brisbane will become the third Australian city to host the event after Sydney in 2000 and Melbourne in 1956. Brisbane received 72 yes and 5 no votes.
"The Brisbane 2032 vision and Games plan fit into long-term regional and national strategies for social and economic development in Queensland and Australia, and complement the goals for the Olympic movement outlined in Olympic Agenda 2020 and 2020+5, while focusing on providing memorable sports experiences for athletes and fans," said IOC President Thomas Bach. "Today's vote is a vote of trust that Brisbane and Queensland will stage a magnificent Olympic and Paralympic Games 2032. We have heard a lot of positive feedback from IOC Members and International Federations in the past few months."
Australis Prime Minister Scott Morrison said the Games will create a legacy for the city and the country. "They will support economic growth and investment, deliver lasting community benefits and inspire the next generation of Australian athletes," he said. "I am proud of Australia, proud of Queensland and proud of our team that secured this win for our country."
The move to award Brisbane the 2032 Games was the result of a new bidding process that has tried to cut down on international lobbying and excessive costs from potential hosts. While other destinations were interested in 2032, Brisbane recently emerged as the top choice by a new IOC Future Host Commission that vetted various proposals.
Preliminary reports estimate the Olympics would generate $6.1 billion in value to Brisbane and $13.4 billion to Australia as a whole. Those factors included health, volunteering and resident benefits as well as qualitative benefits such as community infrastructure and behavioral change to protest the environment and reduce carbon emissions.
In recommending Brisbane, the IOC's executive board cited the master plan for the event, which calls for 32 venues, 84 percent of which are existing or temporary, with remaining new venues planned far in advance of the 11-year window ahead of the event. The IOC also noted strong support from local, state and federal governments as well as the Australian public and private sector.
While the IOC has its Olympic and Paralympic Summer Games hosts set through 2032 (Paris will host in 2024 and Los Angeles in 2028), no decision has yet been made about the next available Winter Games in 2030. Salt Lake City is among those interested in hosting the winter event in 2030 or 2034.
Bach has said there is no immediate timeline on selecting a 2030 host, noting that Winter Games have more logistics to consider than Summer Games.
"Organizing Winter Games is somehow more complex than organizing Summer Games because Olympic-sized swimming pools are available all across the globe but there are not so many mountains where you can organize a downhill," he said recently. "Some of this needs a close study and having a look into it. It's diligence before speed — we are not in a hurry."