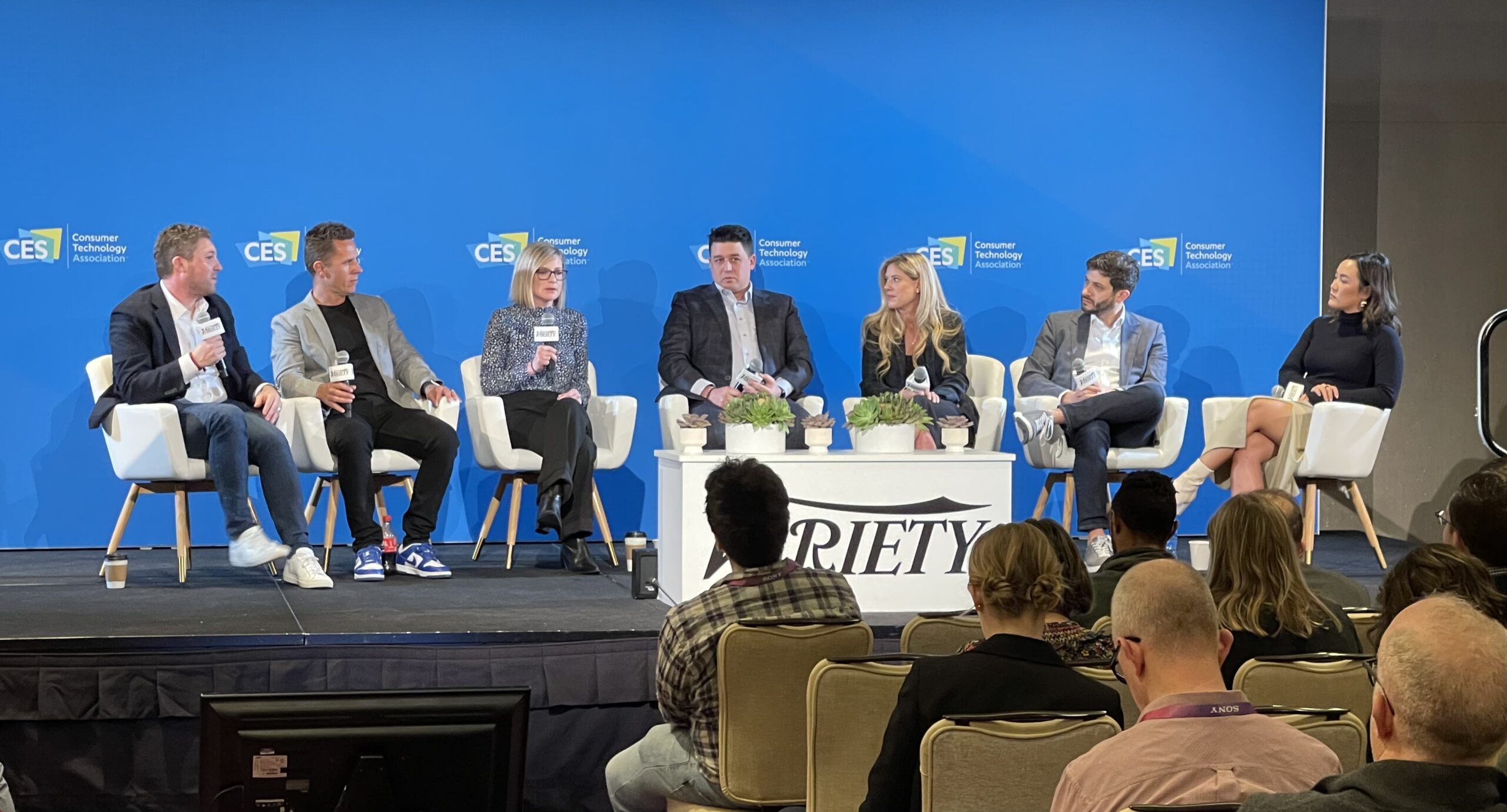 CES 2023 has invaded Las Vegas, with thousands of exhibitors and patrons spread out across the city as it celebrates its 25th year in Sin City.
The sports session "What's Next for the Creator Economy?" brought together a panel to discuss how brands are working with content creators to promote their products.
The group, moderated by Heidi Chung, media analyst/correspondent for Variety Intelligence Platform, discussed what the future may hold for content creators and if the boom of the industry can continue on a forward trajectory.
The Panelists
Steve Braband, WWE: Braband is vice president of digital at WWE. Today, WWE has more than 1 billion social media followers across 16 platforms and is the most-viewed sports channel on YouTube and the most-followed sports brand on TikTok. Braband led the charge around several WWE partnerships including Snap Inc.'s Arcadia.
Kenny Gold, Deloitte Digital: Gold joined Deloitte Digital in 2021 as a managing director and head of social, content and influencer. In this role he helps Deloitte Digital's clients meet business goals through social media strategies and activations. He has lectured on social media marketing at several universities and was named to AdWeek's prestigious AdWeek50 list.
Sarah Henry, Walmart: Henry is vice president, head of content, influencer and commerce for Walmart, driving content and social commerce initiatives. Her background spans omni-channel marketing, media, and customer innovation across retail and e-commerce organizations. Prior to joining Walmart, she led customer acquisition strategy and paid media for The Vitamin Shoppe.
Richard Oppy, Anheuser-Busch: Oppy is the vice president of Premium Co at AB InBev. Oppy is responsible for the Premium Brands, including some of the world's biggest beer brands, such as Corona, Stella Artois, Michelob Ultra, and Budweiser.
Valerie Stempler, Meta: Stempler is the industry director, entertainment, for Meta. She has been with the company for nearly a decade and is responsible for streaming entertainment at the former Facebook.
Andrew Yaffe, National Basketball Association: As senior vice president, head of social, digital and original content, Yaffe leads the department responsible for all video, editorial, and documentary content produced and distributed by the NBA. He oversees all non-live game content on NBA owned and operated properties, as well as its social media channels. With the relaunch of NBA digital products, Yaffe has led programming of the new platform.
What They Said
Braband: "From a media perspective, vertical video is taking over all our phones. From a legacy media content standpoint – whether it's the Super Bowl, NBA Finals or Wrestlemania, for us, we're shooting that for flatscreen TVs at home and now we're seeing consumption that's 9×16 tall on your phone. Which is much different than how sports, media, movies, etc. are shot. The innovation around how fans are consuming content on their phones is something I'm really excited to see take the next jump by using legacy media resources."
Gold: "By a poll we did, 58% of content creators are making less than $50,000 per year. When you think about the energy it takes to make a piece of content and the amount of content they're creating over time, this economy is being defined by the creators who are at the top. I think what we're seeing from creators is the desire to want to diversify how they make money over the next year to two years. How do they sell merch and create their own business that isn't reliant on brand partnership? They're looking for a long-term relationship with brands instead of a short term one. Of the 58% percent, 75% of them think they're going to make more money this year than they did last year."
Henry: "Walmart launched 350 shoppable livestreams last year, which was significantly higher than past years. I think creators are getting more comfortable with it and they like entertaining that way and I expect that it will continue to be a focus in the future. For us, it's really about authenticity and working with relatable content creators and to some degree letting them story tell how they want. We work with celebrities and mega influencers, but the bulk of the influencers and affiliates we work with are people who are living day to day just like us — relatable moms who are just trying to get dinner on the table. There's a power there in explaining how Walmart can help her along her journey."
Oppy: "A lot of our content creators tell us that their mom and dad wanted them to be a doctor, lawyer, investment banker, but that they want to go do their own thing and follow their dreams and passions and be a creator. So I think we're more at the beginning of content creation instead of the peak, and more people are going to try and be creators. To be able to follow your passion and monetize it, that's the dream for everyone. The creator world is going to get more competitive, so the challenge is going to be how do they stand out to crack through and make it a full-time job?"
Stempler: "We're seeing over 100 billion minutes spent with creator content and the business results are there. We see it drive intent to watch a show, buy a movie ticket, buy a sub and there's a lot of stats and measurements to demonstrate that business as usual with creator content drives stronger results. If the business results are there, the (industry) will continue to grow. We define creators as not just making content but building things. We have a number of examples working with studios where they actually enrolled creators to create their Horizon Worlds and as a result they have since left their former jobs to create their entire livelihood around VR studios. So we're really excited about the future opportunities with creators and they're going to redefine how we think of them today."
Yaffe: "It's important to think broadly about how you can provide value to a creator on their platform or channels. Obviously, money is one form of compensation, but we find, especially in our longer-term relationships, that providing access, content and tools is far more valuable than a long-term contract. So I think we're in a unique position where for all brands there are elements you can provide your creator base that makes it easier for them to create content and more valuable for them to create content."