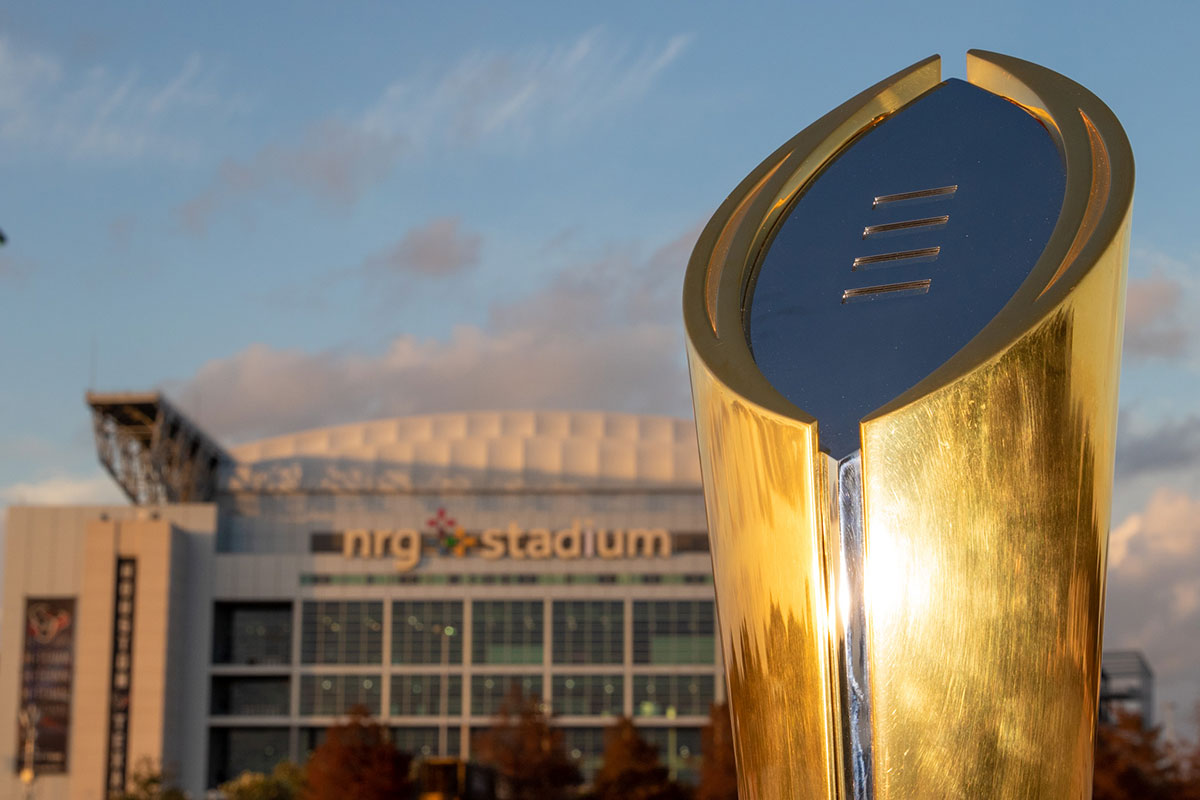 The College Football Playoff and 2024 title game host Houston have announced a series of fan events leading to the January 8, 2024, championship game at NRG Stadium with activations starting three days before kickoff.
The 2024 CFP activations begin January 5 with the opening of Playoff Fan Central at the George R. Brown Convention Center in downtown Houston. The free experience will include games, clinics, pep rallies, band performances, special guest appearances, autograph signings and exhibits celebrating college football and its history. AT&T Playoff Playlist Live! will bring a three-day weekend of music at Shell Energy Stadium with the  lineup and details on how fans can attend will be announced in November.
"A national champion will be crowned on Monday, January 8, but the 2024 College Football Playoff National Championship will include an entire weekend of fun activities," said Bill Hancock, executive director of the CFP. "It will be an opportunity for fans of all ages to come together to sample what college football is all about, and you don't have to have a ticket to the game to be a part of it. We've worked closely with the Houston Host Committee to develop fan-friendly events that thousands will enjoy come January."
On January 6, fans will be invited to attend Media Day within Playoff Fan Central with one-hour interview sessions with athletes and coaches from each of the participating teams. On Sunday, January 7, the Trophy Trot will wind its way through the streets of downtown at both the 5K and 10K distances with proceeds from the event benefiting Extra Yard for Teachers.
In addition to all the fan activities taking place, the CFP Foundation is working with Houston Loves Teachers, a collective impact campaign to recruit, reward and retain teachers in the greater Houston area. Since its launch in May 2023, there are more than 15,000 educators from across a dozen Houston-area public school districts in the campaign through events. Along with all of the announcements, a citywide campus beautification campaign was announced to provide refreshed and renewed spaces in schools across 10 districts in Houston.
"We're all very honored for the opportunity to host the city's first CFP National Championship this January," said Chris Massey, president of the Houston Host Committee. "Perhaps most importantly, through the wide-ranging efforts of the CFP Foundation and our host committee, we are pleased to make a commitment to local school public teachers that will make an positive impact on Houston for many years to come."
The 2024 CFP will be one of the final ones in the four-team format. In a summer that has seen dramatic changes on the college sports realignment landscape, the College Football Playoff will get into the expansion business as the field will triple to 12 from the traditional four teams — though a date for the expansion to come into effect is not yet set.