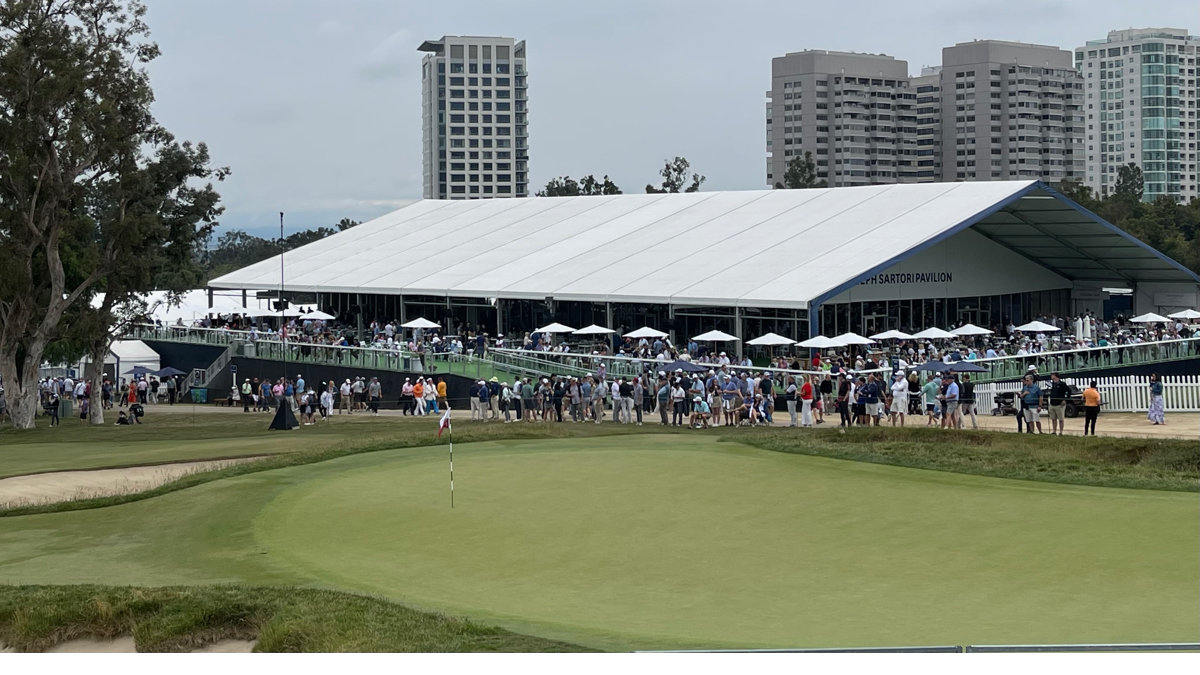 As thousands from around the world packed into the exclusive Los Angeles Country Club last week for the 123rd edition of the U.S. Open, many more tuned in to watch the coverage on various platforms.
The media center was buzzing, complete with large screens and strong connectivity. The massive merchandise tents with dozens of cashiers used tablets connected to the internet. There were Wi-Fi access points at various places on the course.
What do all these things have in common? Cisco, the digital communications technology conglomerate behind the scenes making it all happen.
"It's not just about providing a network so fans have the connectivity for liking, sharing and being brand ambassadors for the USGA," said Ashley Navarra Marusak, global lead of sports sponsorships for Cisco. "It's also about making sure the media can write their stories and get them out, and that the broadcasters have the network they need to get data back to Stamford, Connecticut, in a matter of seconds — while also making sure the USGA can conduct their business as well. We're serving a multitude of different audiences."
Cisco put boots on the ground at LACC three months before the first tee shot was hit the morning of June 15. The company installed the network, 400 access points and multiple 10-gig circuits that connected the tournament across the media center, merchandise, NBC broadcast, fan zones and back of house operations. Webex was utilized for press conferences and supporting NBC in its connection to talent and interviews on site and back to Stamford.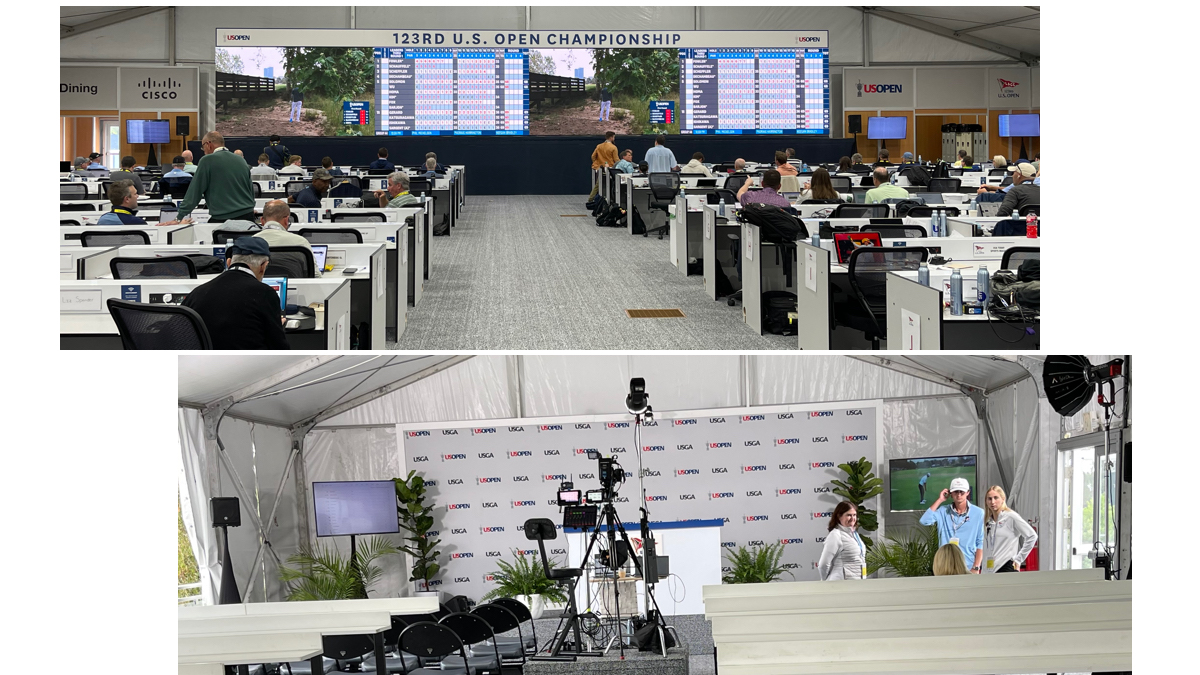 "You don't know how the network works, you just know if you have connectivity or not," said Matt Van Tuinen, global partnerships communications manager for Cisco. "And you don't care how it works. When you turn the light switch on, you just want the lights to work, not to understand how the electricity works. For Cisco, sports provide this really great way to contextualize what we do, why it matters and how it's starting to create this incredible opportunity elsewhere."
Cisco and the United States Golf Association first partnered in 2018, with its first golf event in 2019 at Pebble Beach. With the five-year deal expiring in 2023, the two sides recently announced an extension of the partnership through 2028.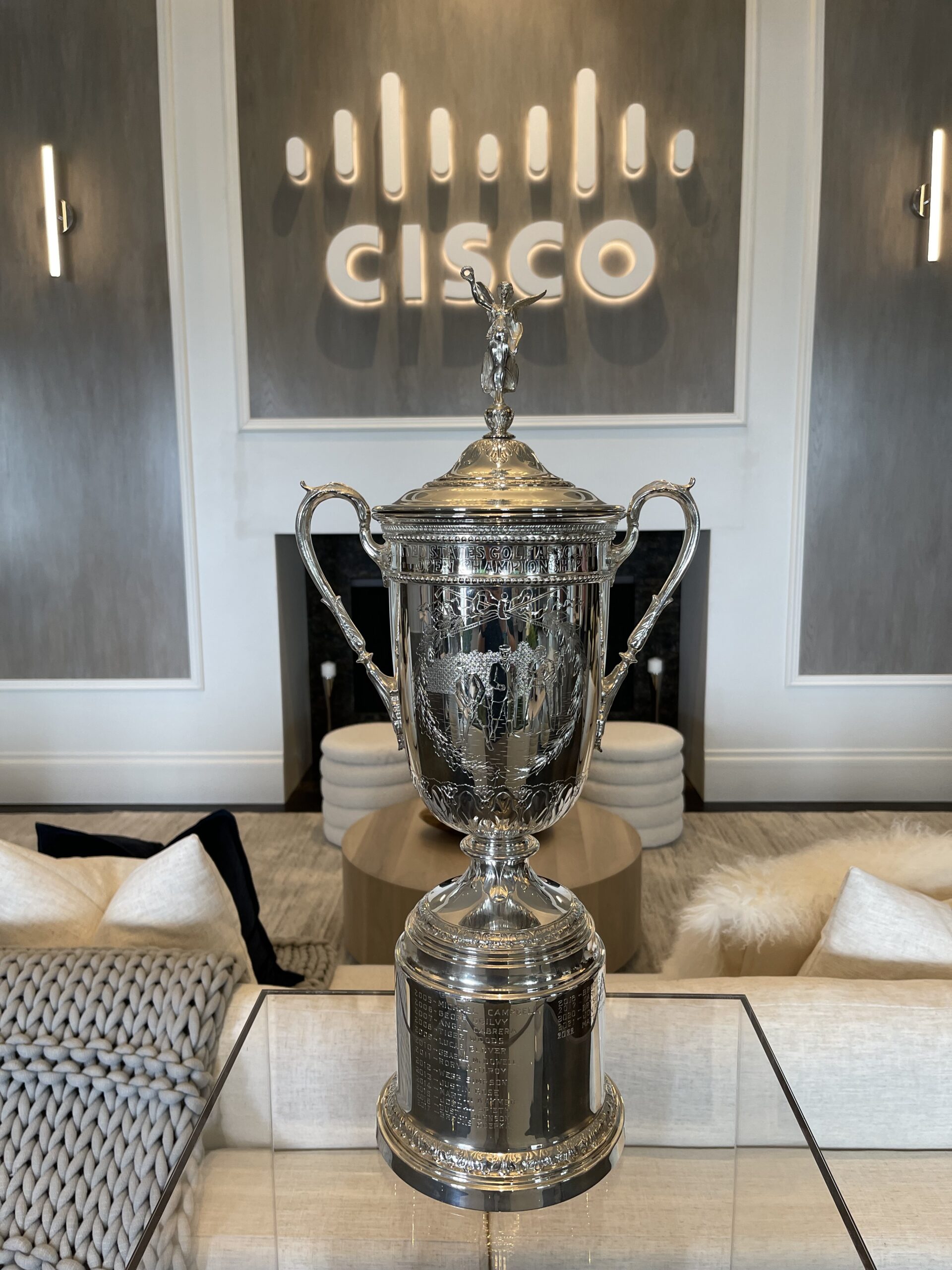 The partnership offers more than the services Cisco provide on the course. Cisco's ongoing support of the USGA furthers the company's commitment to "Teeing Up Tomorrow" and creating opportunities for more people to engage with the game.
These initiatives include partnerships with organizations such as the Advocates Professional Golf Association Tour and Stephen Curry's Underrated Golf Tour. Cisco also supports USGA programs such as the Pathways Internship Program and LPGA/USGA Girls Golf, which strive to drive career opportunities in golf for people with diverse backgrounds.
"Our best-case scenario is that somebody is watching the U.S. Open this week and they say, 'that is amazing, what Cisco can do for the USGA, I wonder if they can do that for my business?' And the answer is yes," Navarra Marusak said.
The USGA app offered everything a fan may need, including a map of where all golfers were at any given moment, a leaderboard, tee times and video clips.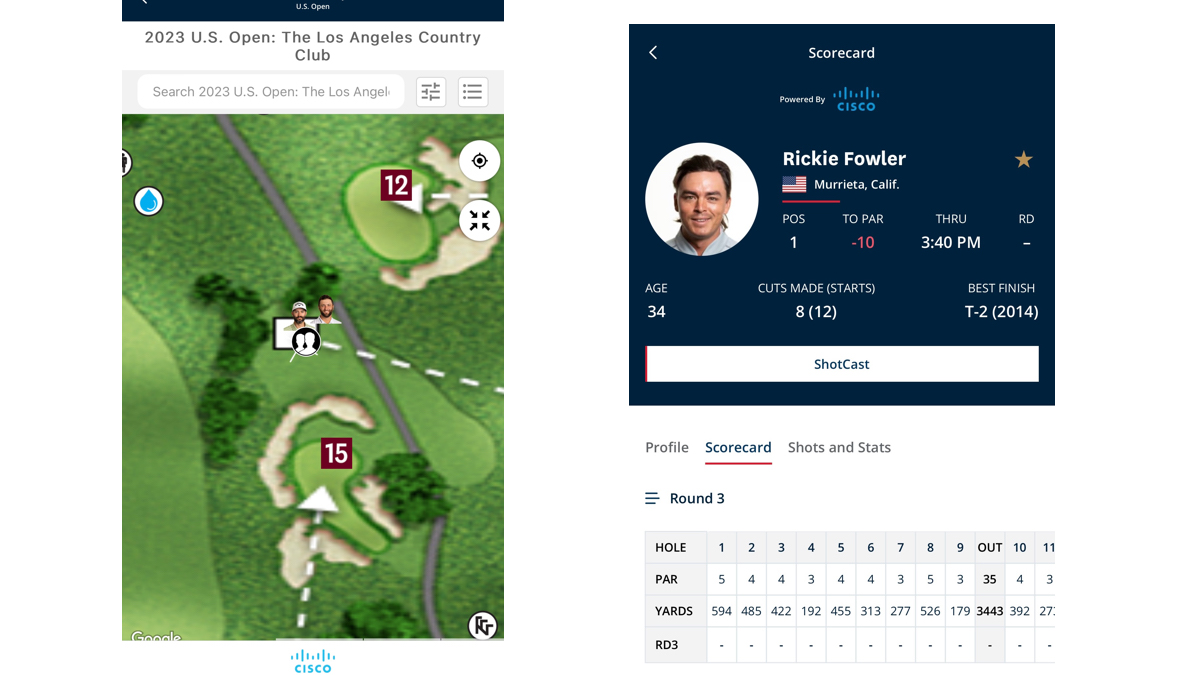 "The first time we partnered with the USGA was 2019 at Pebble Beach and that was great, but it was a learning experience for everybody," Van Tuinen said. "So, we built off of that going to Torrey Pines, Brookline and then here in L.A. We've had a good journey to get to this place, but it was a lot of refinement."
Five years later, Cisco has polished its process at major events to ensure everything is running smoothly around the grounds. The challenges presented by a sporting event that essentially must be built from the ground up are more complex than one at a stadium or arena.
"At a fixed venue, you're putting up your access points and putting the technology into your network closet that's going to stay there," Navarra Marusak said. "Once it's in, it's a platform that self-sustains. Doing something like the U.S. Open is a challenge, but it's the type of thing that gets our network engineers excited. They're dealing with a big open space that in some ways is like a traveling circus because none of these buildings and grandstands were here a few weeks ago. We're not only doing this for the USGA, but for NBC and their broadcast."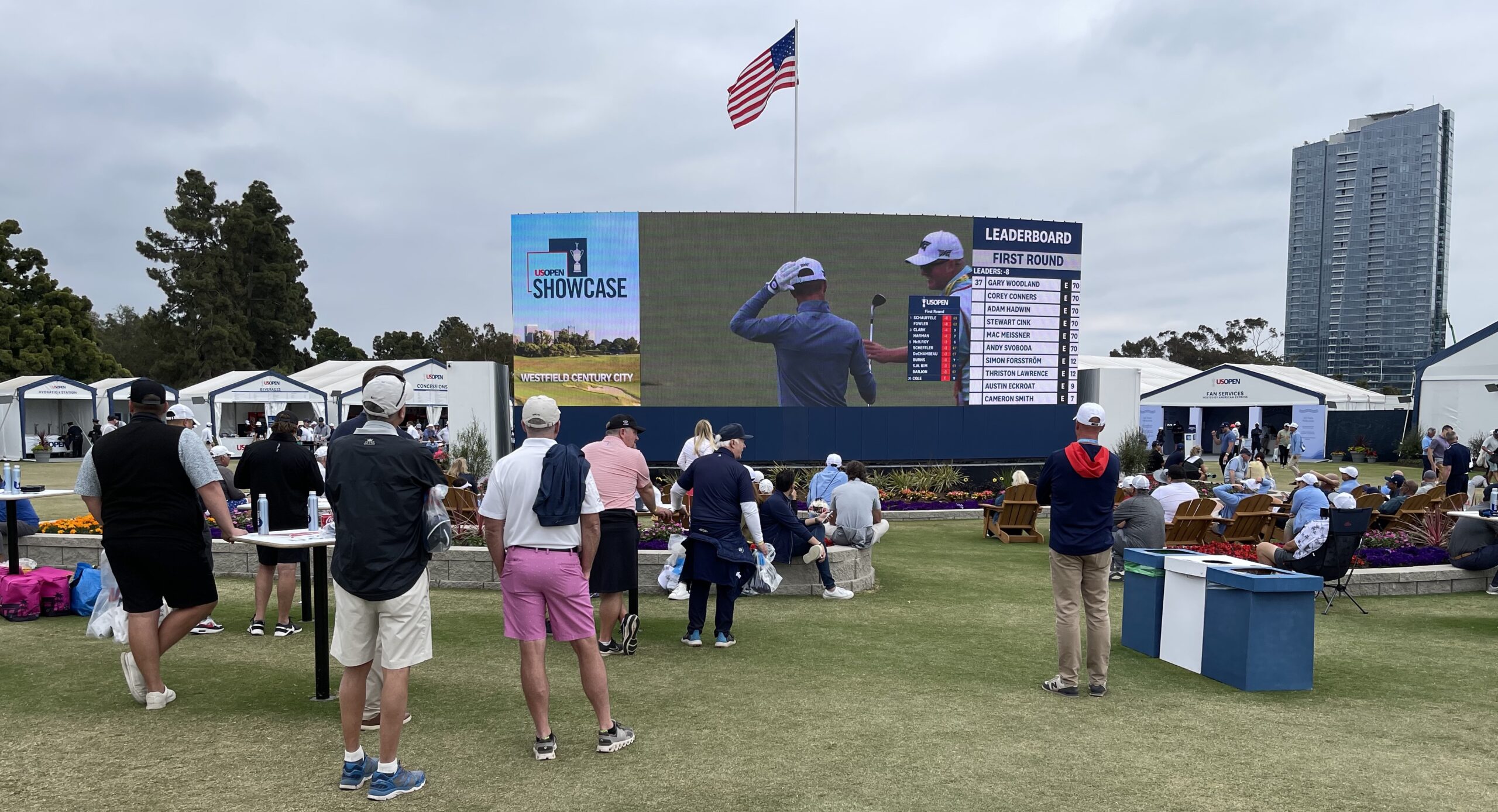 While golf is a major part of Cisco's sports initiatives, it's part of a portfolio that the company has amassed including the Olympic and Paralympic Summer Games, Real Madrid, McLaren Racing, Manchester City, Riot Games League of Legends Championships, the NFL and SoFi Stadium.
"When venues are going through major transformation shifts, they're upgrading their entire network infrastructure," said Navarra Marusak. "They can't do that for just the season ahead — they really have to think about what the fan five or 10 years from now will need, and what are the potential devices that they'll be bringing into the venue at that time. So, thinking about the platform you build with a network … does it have the potential to satisfy our needs of today and also have a pulse on tomorrow."