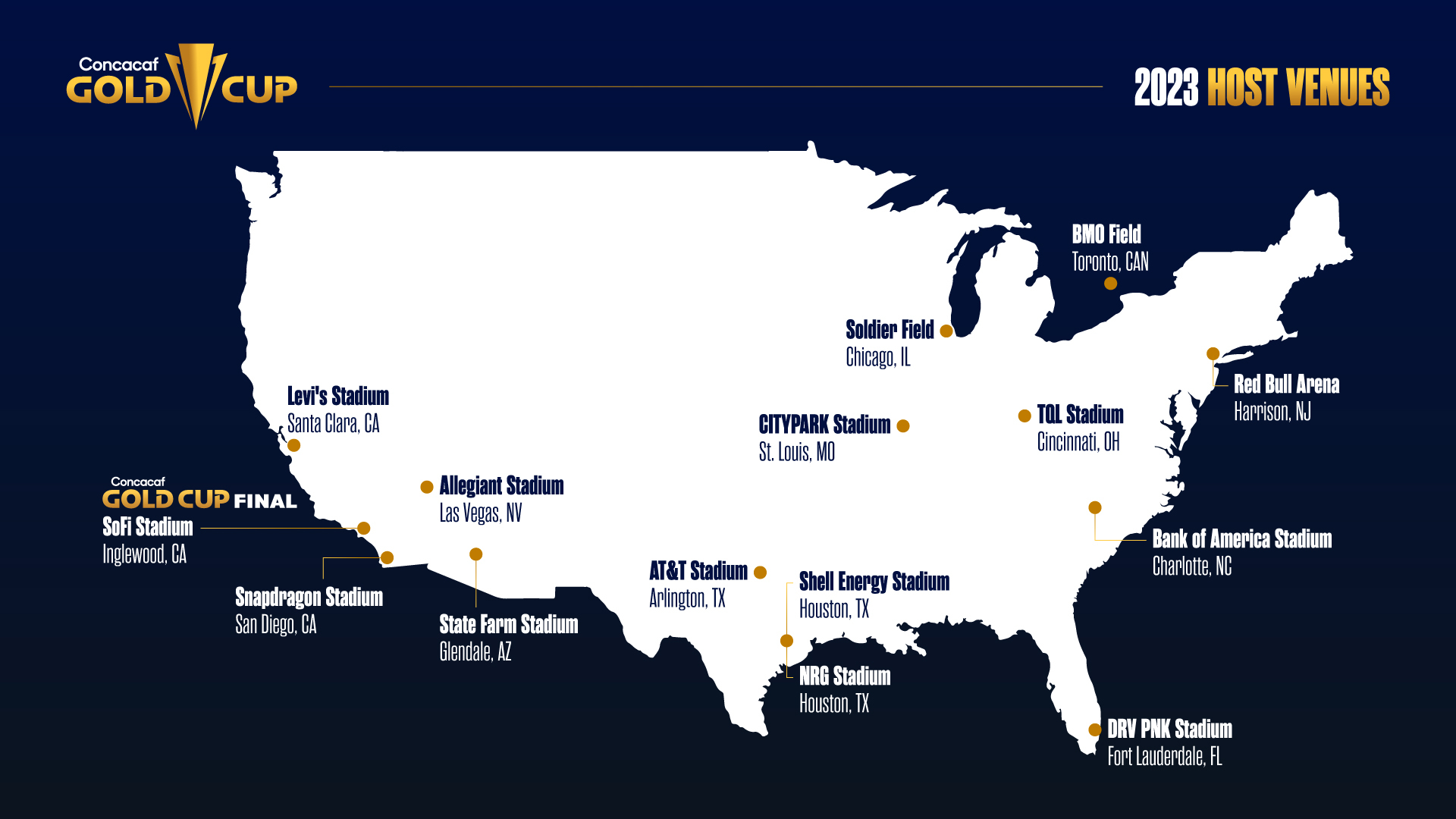 Concacaf announced the full match schedule for the 2023 Gold Cup with the United States playing group stage games in Chicago, Charlotte and St. Louis.
Concacaf earlier announced the 15 stadiums in 14 United States and Canadian destinations that will host matches of the 2023 Concacaf Gold Cup with four first-time hosts. The 17th edition of the competition for men's national teams will be played between June 16 and July 16 with the championship match at Los Angeles' SoFi Stadium.
The U.S. will play against Jamaica at 9:30 p.m. ET at Soldier Field in Chicago on June 24; against a preliminary team to be determined at CITYPARK Stadium in St. Louis on June 28 at 9:30 p.m. ET; and July 2 against Nicaragua at Bank of America Stadium in Charlotte at 7 p.m. ET.
The game in Charlotte will be the eighth time the USMNT plays in North Carolina but its first in Charlotte, which has hosted the women's national team before. Charlotte has hosted Gold Cup matches in 2011, 2015 and 2019.
"Momentum for the beautiful game across the country is at an all-time high and our city and region are in prime position to take full advantage of another summer of soccer," said Charlotte FC President Joe LaBue. "The honor of hosting the United States Men's National Team at such a pivotal moment in the soccer landscape of this country is a testament to the regions deep history of being a soccer hotbed."
TQL Stadium in Cincinnati, CITYPARK Stadium in St. Louis, Snapdragon Stadium in San Diego and SoFi Stadium will be first-time stadium hosts and the first time Cincinnati and St. Louis host games in the tournament. The tournament returns to Canada for the second time and first since 2015, when BMO Field in Toronto hosted a group stage doubleheader. This summer is the seventh edition of the event hosted at Soldier Field and NRG Stadium.
The preliminary games with 12 participating teams will take place between June 16-20, at DRV PNK Stadium in Fort Lauderdale, Florida. The games will be played in two elimination rounds with the three Round Two matchup winners advancing to the group stage. After the group stage, the quarterfinals will be doubleheaders in Arlington, Texas, and Cincinnati with the semifinals at Snapdragon Stadium in San Diego and Allegiant Stadium in Las Vegas. The venue for each semifinal matchup will be confirmed at the conclusion of the group stage.
Gold Cup Schedule
All Times Eastern
June 24 Group Stage
9:30 p.m.: United States vs. Jamaica, Soldier Field, Chicago
June 25 Group Stage
3:30 p.m.: Nicaragua vs TBD, DRV PNK Stadium, Fort Lauderdale, Florida
6 p.m.: Haiti vs Qatar, NRG Stadium, Houston
8 p.m.: Mexico vs Honduras, NRG Stadium, Houston
June 26 Group Stage
6:30 p.m.: El Salvador vs TBD, DRV PNK Stadium, Fort Lauderdale, Florida
8:30 p.m.: Costa Rica vs Panama, DRV PNK Stadium, Fort Lauderdale, Florida
June 27 Group Stage
7 p.m.: Canada vs TBD, BMO Field, Toronto
8:45 p.m.: Guatemala vs Cuba, DRV PNK Stadium, Fort Lauderdale, Florida
June 28 Group Stage
7:30 p.m.: Jamaica vs Nicaragua, CITYPARK, St. Louis, Missouri
9:30 p.m.: TBD vs United States, CITYPARK, St. Louis, Missouri
June 29 Group Stage
7:45 p.m.: Qatar vs Honduras, State Farm Stadium, Glendale, Arizona
10 p.m.: Haiti vs Mexico, State Farm Stadium, Glendale, Arizona
June 30 Group Stage
6:30 p.m.: TBD vs Panama, Red Bull Arena, Harrison, New Jersey
8:30 p.m.: El Salvador vs Costa Rica, Red Bull Arena, Harrison, New Jersey
July 1 Group Stage
7:30 p.m.: Cuba vs TBD, Shell Energy Stadium, Houston
9:30 p.m.: Guatemala vs Canada, Shell Energy Stadium, Houston
July 2 Group Stage
7 p.m.: United States vs Nicaragua, Bank of America Stadium, Charlotte, North Carolina
7 p.m.: Jamaica vs TBD, Levi's Stadium, Santa Clara, California
9 p.m.: Honduras vs Haiti, Bank of America Stadium, Charlotte, North Carolina
9 p.m.: Mexico vs Qatar, Levi's Stadium, Santa Clara, California
July 4 Group Stage
6:30 p.m.: TBD vs Guatemala, Red Bull Arena, Harrison, New Jersey
6:30 p.m.: Canada vs Cuba, Shell Energy Stadium, Houston
8:30 p.m.: Costa Rica vs TBD, Red Bull Arena, Harrison, New Jersey
8:30 p.m.: Panama vs El Salvador, Shell Energy Stadium, Houston
July 8 Quarterfinals
7 p.m.: Teams TBD, AT&T Stadium, Arlington, Texas
9:30 p.m.: Teams TBD, AT&T Stadium, Arlington, Texas
July 9 Quarterfinals
5 p.m.: Teams TBD, TQL Stadium, Cincinnati, Ohio
7:30 p.m.: Teams TBD, TQL Stadium, Cincinnati, Ohio
July 12 Semifinals
7:30 p.m.: Teams TBD, Snapdragon Stadium, San Diego OR Allegiant Stadium, Las Vegas
10 p.m.: Teams TBD, Snapdragon Stadium, San Diego OR Allegiant Stadium, Las Vegas
July 16 Championship
7:30 p.m.: Semifinal winners, SoFi Stadium, Inglewood, California