Daytona International Speedway will host a three-day ChallengeNorthAmerica triathlon festival December 4–6 along with USA Triathlon and the Professional Triathletes Organization. The event will feature a series of different age groups races along with a PTO Middle Distance World Championship with a $1 million prize purse.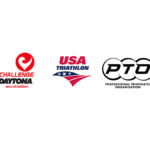 Along with the world championship event in Daytona Beach, Florida, there will be a sprint triathlon, a junior challenge youth race, a pro-am relay race, duathlon and aquabike events along with a 5K, 10K and walk events. There will also be a middle-distance triathlon where the top six male and female finishers in each age group will qualify for the PTO Championship in May 2021 in Samorin, Slovakia.
"The COVID-19 pandemic has impacted our daily lives and routines in dramatic ways," said Rocky Harris, USA Triathlon CEO. "As we adjust and adapt to these changing circumstances, we also know that our entire multisport community is eagerly awaiting the day we can safely and responsibly race again. USA Triathlon is proud to support ChallengeNorthAmerica and the PTO by sanctioning a world-class event in December that will showcase the camaraderie of our sport."
ChallengeNorthAmerica works to enhance race experiences for athletes and families and organizes 40 full and middle distance events in 26 countries.
"The global pandemic has displaced athletes and canceled races and now more than ever, our world needs to unite," ChallengeNorthAmerica CEO William Christy said. "Our festival allows us to cheer and compete for a shared cause."