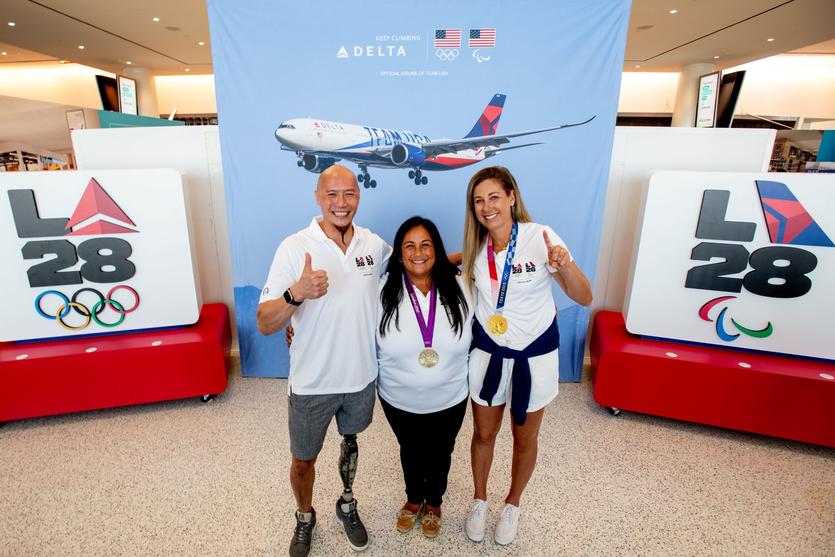 Delta Air Lines and the LA28 Olympic and Paralympic Summer Games have introduced a cocreated emblem featuring Delta's "A" at an event to celebrate the Delta Sky Way at LAX project.
The LA28 integrated emblem represents the next phase of Delta and LA28's partnership that began in 2020 when Delta launched its eight-year commitment to LA28 as the inaugural Founding Partner. As the inaugural Founding Partner, Delta will dedicate support to numerous LA28 initiatives on the road to 2028.
"The integrated emblem is a new model of commercial integration into the Olympic and Paralympic Movement," said Dave Mingey, senior vice president and head of partnership management and activation for U.S. Olympic and Paralympic Properties. "Partners are critical to the LA28 Games and we're excited to have Delta creating and storytelling with us."
The Delta x LA28 integrated emblem features the airline's notable widget in two forms as the "A", showcasing the partnership. The two designed emblems are separately accompanied by the Olympic rings and Paralympic agitos.
"This emblem embodies our partnership with LA28 and the journey we will be on together over the next six years leading into the LA28 Olympic and Paralympic Games," said Emmakate Young, Delta managing director for brand marketing and sponsorships. "These efforts are anchored by our joint values of connecting people to their dreams and inspiring a better future."
"Developing the creative expression for this partnership has been a source of immense pride for our in-house creative team," said Maya Dukes, Delta's creative director. "This design symbolizes Delta's commitment to LA28 and the Los Angeles community, establishing the visual representation of our partnership over the next six years.
In addition to serving as the inaugural Founding Partner of LA28, Delta is the official airline of Team USA for Paris 2024, Milan Cortina 2026 and LA28, carrying the athletes of Team USA to each of these games.