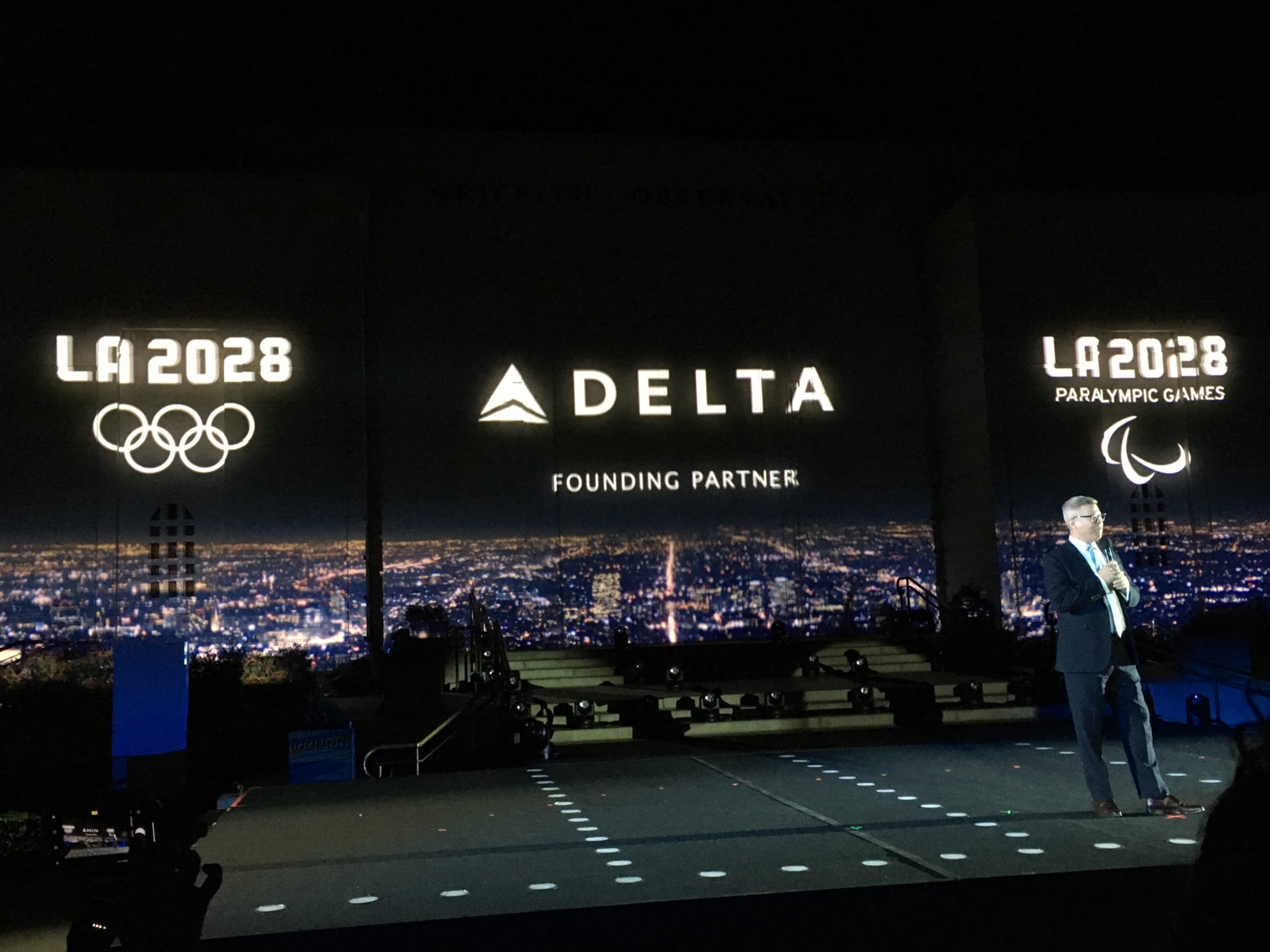 The 2028 Olympic Summer Games in Los Angeles has its first major sponsorship agreement, as Delta Airlines announced an eight-year partnership beginning in 2021 that makes it the inaugural founding partner of LA28 along with a supporter for the United States Olympic and Parlaympic teams.
The announcement was made at an event at Griffith Observatory celebrating Delta's 95th anniversary. Four-time U.S. Olympic gold medalist and LA28 Chief Athlete Officer Janet Evans hosted the evening event and introduced Tim Mapes, Delta's chief marketing and communications officer, as well as LA28 Chairperson Casey Wasserman for a special video played against the outside of the observatory.
Olympians Allyson Felix, Ibtihaj Muhammad, Michael Phelps, Kerri Walsh Jennings and Paralympian Mallory Weggemann joined local dignitaries and Delta partners for a first look of what a special LA28 Airbus A350 aircraft livery could look like once the partnership launches.
"Knowing that the games is coming home to the US and having a brand like Delta is coming to the table as a founding partner, it's exciting to know that they'll be at the core of it," said Weggemann, a two-time Paralympian who has won two medals.
From last night, a video hinting of what Delta's LA2028-themed Airbus aircraft would look like. pic.twitter.com/b4t8TBA9ZU— SportsTravel (@SportsTravel) March 3, 2020
"Delta is in the business of connecting people and nothing brings the world together quite like the Olympic and Paralympic Games," said Delta Chief Executive Officer Ed Bastian. "Partnering with LA28 is an investment in L.A.'s future and a commitment to work together to create a more connected, equitable and sustainable world."
Delta will be the official airline of LA28 and Team USA for the Beijing 2022, Paris 2024, Milan-Cortina 2026 and Los Angeles 2028 Olympics. The Los Angeles Times reported that the eight-year partnership is worth $400 million.
"I think we're the only one of a handful of Olympic committees that are privately funded, so to have a partner like Delta step up in a huge way and have an event like this is so dramatic, so beautiful, so powerful — as an athlete who is the beneficiary of the support of companies like Delta, for them to come on board as the first sponsor, it's amazing," said beach volleyball standout Kerri Walsh-Jennings, who has three gold medals and one bronze in her Olympic career.
Delta's partnership includes a commitment to NBCUniversal over eight years, including multi-platform advertising during future Olympic Games as well as media activation in non-Olympic years. Delta is a past sponsor of the 1996 Olympic Games in Atlanta and the 2002 Olympic Games in Salt Lake City.
"Delta embodies the spirit and strength of the Los Angeles Games, and we are proud they are taking this journey with us as an early and committed partner to the Olympic and Paralympic movement," said Wasserman.
As part of the partnership, Delta will co-create the LA28 Volunteer Program, which will include more than 25,000 community and employee volunteers, and partner the LA28 Sustainability Collective. LA28 is the independent, nonprofit organizing committee responsible for delivering the Olympic and Paralympic Games 2028 Los Angeles.
"I'm so happy for the athletes who will get to compete in their home country," said Allyson Felix, who won six Olympic gold medals in four separate appearances. "And with all that LA has to offer, with the people and the culture, it's such a sports and entertainment place. Having competed in four other Olympics and seeing the support that hometown people get, I'm excited for our athletes to experience that."