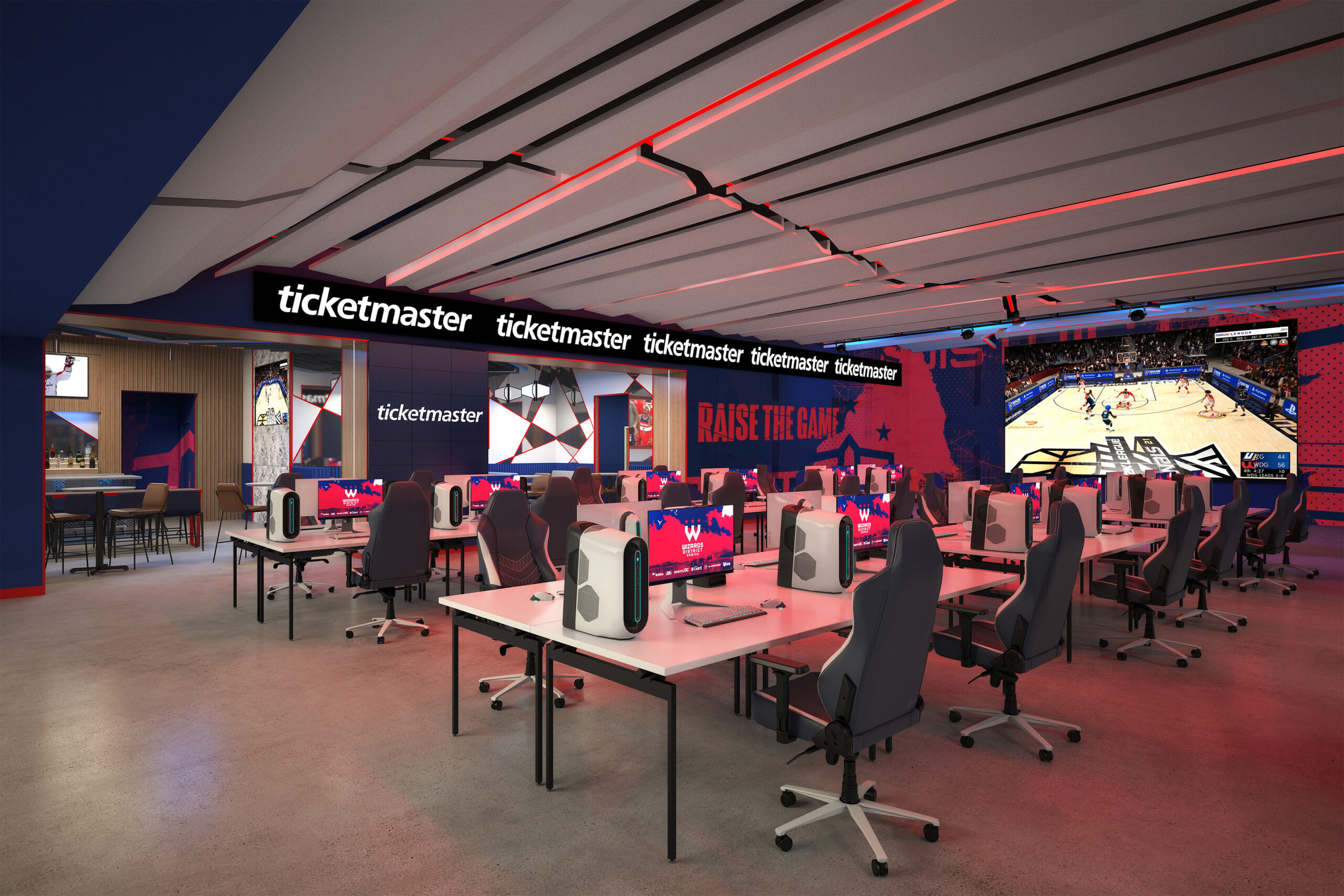 Monumental Sports & Entertainment has unveiled plans for a new esports venue in downtown Washington, D.C., that will be the competition and training venue for Wizards District Gaming and Caps Gaming.
The planned venue will be called 'District E Powered by Ticketmaster' with the 14,000-square-foot venue including an event theater, event programming, and community events along with pre- and post-event activations for fans attending Capitals and Wizards games or events at the adjacent Capital One Arena.
"We are excited to invest in this first-of-its-kind venue for esports and other immersive experiences and know it will quickly become the preferred destination for pre- and post-event attendees with one-of-a-kind programming and food and beverage offerings," said Zach Leonsis, Monumental's president of media & new enterprises. "The wide-scale, international appeal of esports brands is well documented. We are so proud to build a best-in-class esports venue featuring our globally recognized esports team, Team Liquid, our back-to-back NBA 2K League Champion, Wizards District Gaming, our leading Caps Gaming NHL initiative, and much more to come in the future."
The venue will also create a best-in-class competition and training venue for the MSE esports franchises and serve as a catalyst to foster the amateur gaming community in the region. Team Liquid will have a satellite office located at the facility.
"MSE has been an incredible partner to Team Liquid over the years and the development of District E is an initiative that I believe truly elevates the fan experience and helps connect us with more fans than ever before," said Steve Arhancet, Co-chief executive officer and owner of Team Liquid. "Having lived in the DMV for a number of years, it's an honor for me to reconnect with the local community and I am looking forward to working alongside and supporting our local organizations, universities and athletes to bring together fans across Northern Virginia, Maryland, and D.C. by providing them with a genuine and unique esports experience."
The design of District E Powered by Ticketmaster has three main components including an 150-plus capacity esports competition studio; a food and beverage experience with Aramark operating a restaurant and bar experience; and an esports practice center, officially "MedStar Wizards District Gaming Studio," with streaming pods for Wizards District Gaming, Caps Gaming, Team Liquid and more. The proposed venue is targeted to open in the fall of this year. The venue will plan to host Capitals, Wizards, and other fans for pre- and post-game events to enhance the game day experience.
"We are honored to expand our partnership with Monumental Sports & Entertainment by developing a first-class hospitality experience for fans to enjoy at District E Powered by Ticketmaster," said Alison Birdwell, president and chief executive officer of Aramark Sports and Entertainment. "This is an exciting opportunity to showcase our expertise in food and beverage innovation to esports fans while also creating jobs and further building Aramark's presence in the greater Washington metropolitan region."
Monumental Sports was an early investor in esports and has grown its esports portfolio over the past several years to include the NBA 2K League's Wizards District Gaming and Caps Gaming. Through its equity ownership in aXiomatic, MSE also owns equity in Team Liquid, Epic Games, Niantic, Dapper Labs and Nifty Games, among other gaming investments.
"The team at Monumental is always on the cutting-edge, adopting the latest technology and setting trends for live event experiences," said Marla Ostroff, Ticketmaster managing director for North America. "District E Powered by Ticketmaster is an innovative and exciting concept that explores a whole new realm of live entertainment experiences. We look forward to continuing our partnership with Monumental in bringing District E to life."