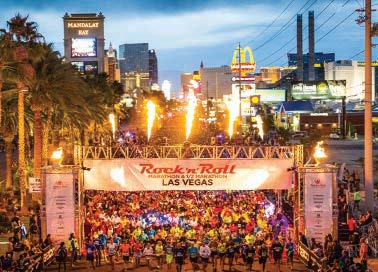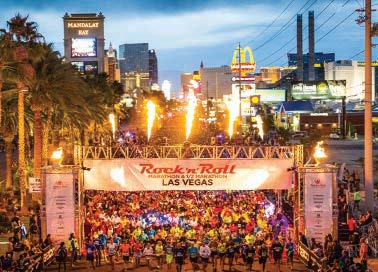 Venues have been improving their technology infrastructure for years to enhance the fan experience. But what about using technology to get fans to and from the event itself?
That's what Waze's Global Event Partners program is attempting to do. Waze, the traffic and navigation app, recently signed its 100th venue partner—the Tacoma Dome in Tacoma, Washington—to help fans navigate traffic in and out of an event, and even find parking spots. Waze is a community-based app that allows users to update traffic conditions in real time and provides drivers with the best route. The Global Event Partners tool allows event organizers and venue managers to maintain direct, real-time communication with patrons or participants, something that previously was difficult or impossible to achieve.
The partnership between Waze and sports began with the Rock 'n' Roll Marathon series. Like many road races, the marathons create traffic challenges both for runners themselves and for residents looking to avoid the area. Waze created a way for people to see real-time road closures as they navigated the area, said Rebecca Resnick, the program lead for Global Event Partners. "It was a mutually benefiting partnership," she said. "Slowly we started hearing from other marathon organizers that this is what they wanted as well."
After that, professional sports teams, including the Washington Redskins, started asking to participate. (There are now 25 professional teams involved.) The program, which is free to organizers and venues, soon was expanded to arenas and other large-scale events.
In addition to monitoring traffic, the app allows venues to guide patrons to specific parking lots. "A lot of times people don't know where the parking lots are," Resnick said. "Now we can make sure all their parking lots are updated on the Waze map, including the entrance point."
For the Tacoma Dome, the partnership has proven especially useful, given several major construction projects near the 22,000-seat arena, including a large freeway project and the replacement of a nearby train trestle. The Waze app has allowed venue staff to alert patrons to road closures immediately before events. "Before, we could monitor it and we might get it out on Twitter," said Kim Bedier, director of Tacoma Venues and Events. "But this is better, because it's going right to someone's app who's trying to figure out which way to turn."
Another bonus for the venue, she said, is the data it receives back, including how long it took people to drive to the arena and from where, and how many people were exiting at what time and in what direction. App data has revealed that for larger shows at the venue, nearly 70 percent of fans travel more than 20 miles to attend. "They'll also tell us when people arrived, so that gives us data on whether we should we open our doors earlier or later," Bedier said.
Eventually, the hope is that other apps can be integrated as well. "We're assuming our Uber drivers will also access it," she said, "to know the best place to pick up their customers."
---
This story is part of a special section on tech in sports. More related stories:
Sports Enter the Digital World
Esports Reach the Big Stage