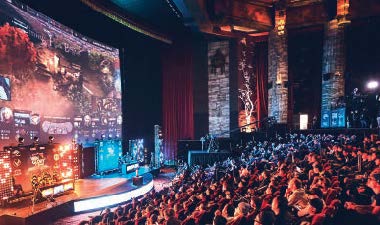 In  e-sports, the games have names like Dota 2, League of Legends and Counter-Strike. The teams are called Evil Geniuses, Team Liquid, Digital Chaos and more. And instead of balls, cleats and helmets, the tools of the trade are computer, keyboard, headset and controller.
Most important, the world of e-sports has what all sports fans call "the Big Mo." Momentum has propelled electronic gaming to its current status as a multimillion-dollar industry. Traditional sports organizations, including the NBA, MLB and FIFA, participate in the e-sports space, but most of the heat is coming from the soaring popularity of games in the genres of multiplayer online battle arena (MOBA), real-time strategy, fighting and first-person shooter.
A recent research report by consulting firm PwC predicts that e-sports revenue in the United States will nearly triple to $300 million between 2017 and 2021. North America is the world's largest market, but the segment is growing globally as well. A February 2017 report by Newzoo, an e-sports research firm, predicts worldwide revenue of $696 million in 2017, an increase of 41.3 percent over 2016. Brands are expected to pony up $517 million of that total through sponsorships, advertising and media rights. With brand investment doubling by 2020, the industry should grow to $1.5 billion globally, Newzoo says.
Skepticism required
At least one industry proponent suggests that breathless economic forecasts should be viewed with suspicion. "I would caution you that market research varies right now," said Nathan Lindberg, director of global e-sport sponsorship sales at Twitch, a leading online gaming platform owned by Amazon. "It can be a little bit on the aggressive side in terms of the numbers."
Nevertheless, the numbers are trending up, Lindberg said, with brands like Arby's, Domino's, Pizza Hut, Audi and Subaru taking new sponsorship stakes. "I just don't like it when a lot of people come to you and say, 'Oh, my gosh, e-sports is bigger than the NFL! It's bigger than the Olympics!'" Lindberg said. "Let's take a couple of steps back. I think that e-sports is an emerging market that is monopolizing the attention of millennials, and for that reason alone brands need to pay attention to it."
It's clear that e-sports have captured the attention of millennial males ages 18–34. More millennial women are beginning to play as well, which Lindberg sees as a natural progression for the industry. "When I started working in e-sports six or so years ago, I was looking at our demographic data, and it was like 90 percent-plus male," he said. "I think today the numbers are more like 75 percent to 25 percent."
Live events and live streaming are a big part of that appeal. Twitch, which is free, has roughly 10 million daily visitors, Lindberg said, and the average visitor spends about 106 minutes a day there. Other than sleeping and commuting, "there aren't that many things that one human does in an average workday that surpasses 106 minutes," he said. "It's a very sticky website. The fact that 98 percent of the content is live on the platform means that if you're not there and not watching, you're missing it."
Right-sized venues
Andy Vander Woude, founder and CEO of Next Generation Esports, said that live e-sports are seeing the greatest growth in "club theater-size events" for 500 to 2,500 people. "From a technological perspective, the requirements for organizing an event at these types of locations is actually pretty similar to the requirements for a music venue putting on an EDM act," he said. The most compatible venues feature LED walls, video screens and powerful speakers. If these tech amenities are not already in place, NGE has to supply them.
The most important tech requirement is a strong internet connection. "Most venues are not anywhere near equipped with the size and stability of internet that we require," Vander Woude said. "That's something we usually have to bring externally, which can sometimes be complex and expensive."
The cost of a typical 500-person e-sports event held at an established venue usually reaches into the six figures, Vander Woude said, with logistics playing a big part in the expense. "If you're flying eight teams of six or seven players each from countries all over the world, a decent percentage of your budget is actually just moving people around and getting players into the venue," he said. Promoters sometimes assign dedicated staff to professional players, making sure they get on the planes in their home countries, guiding them through media interviews and getting them on their return flights.
For fans, the live e-sports experience is different from traditional sports in that the competitions can take as long as six to eight hours, creating a party-like atmosphere. "It's a very dynamic fan environment, which helps when you have such a long event," Vander Woude said.
While arenas and theaters are hosting e-sports events, specific e-sports venues are now in the works as well. In Las Vegas, Allied Esports and Esports Arena plan to build a dedicated venue at the Luxor Hotel and Casino. Set to open in early 2018, the arena will be the first permanent e-sports venue on the Las Vegas Strip and the centerpiece of Allied's worldwide network of e-sports properties, said Jud Hannigan, the company's CEO.
Allied Esports wants to develop "a market-based ecosystem for the future of e-sports," Hannigan said. The company plans to open 10 to 15 arenas in North America over the next few years, including one scheduled to debut in Oakland later this year. The ecosystem draws on similarities with traditional sports, where teams have a home arena in a specific market and a passionate fan base. "This would translate to increased exposure for the players and teams, and further drive some of the more traditional revenue streams, such as merchandise," Hannigan said.
Partnering with publishers
Before the games begin, however, e-sports promoters must secure licensing arrangements with publishers. Game publishers include companies such as Activision Blizzard, which owns the popular games Overwatch and World of Warcraft, and Tencent, owner of League of Legends and the first-person shooter game CrossFire. Community events involving small prize pools may require only small fees from publishers. The professional level—with large purses, brand sponsorship and broadcast rights—requires extensive cooperation with the publisher.
This cooperation generally takes one of two forms. The first is an event driven by the publisher itself. Most game publishers "have become rapidly interested in controlling their intellectual property," Vander Woude said. The second type of event is organized by a third party, which typically requires an IP licensing agreement with the game publisher. "Along with that there's usually some revenue sharing, potentially advertising or sponsorships, or other financial arrangements," he said.
"There are really two pieces of live entertainment that are being created," Vander Woude said. "It's the event itself, and then it's the online broadcast. The online viewership is usually larger than the in-person viewership."
Hotel ballrooms have been the go-to venue for a number of years. The Capcom Pro Tour, an international fight-game tournament co-promoted by Twitch for the past four years, still holds a majority of its events in ballrooms. "It's not because they have to—it's because they like it," Lindberg said. "They like that closeness."
Lindberg suggests that event organizers work with game publishers to find out the most popular games in the area. "A lot of game publishers can look at their heat maps and say, 'Okay, there's a lot of Super Mario Kart players in Cleveland, so let's do a Super Mario Kart championships in Cleveland because we know we'll get a huge audience.' Just because you're not bringing the League of Legends World Championships to your town doesn't mean you can't organize and effectively run a great e-sports event."
Regional popularity
Tracking the industry's growth can be daunting. The large number of tournaments and competitions "sort of materialized out of the primordial soup for the last 10 years, driven by fans, driven by small companies, driven by entrepreneurial publishers," Lindberg said. "The coordination of distribution of entertainment that something like television or cable TV provides did not and does not exist as strongly in e-sports, which creates a little more of an ad hoc feel to the events and the tournaments."
The 2016 League of Legends World Championships Finals drew a sold-out audience of about 20,000 fans to the Staples Center in Los Angeles. It was the third time the championship finals were staged in L.A. In September 2016 AEG launched a joint global partnership with ESL, the world's largest e-sports company, that will tap into AEG's worldwide network of more than 120 clubs, theaters, arenas and stadiums. These include the Barclays Center in Brooklyn and London's O2 Arena.
Recent developments show that other cities are trying to get in on the action. Events DC has partnered with NRG Esports in a sponsorship deal, in which NRG will promote the CVB on the company's Twitch streaming channels and on social media. Events DC believes the partnership, which will be assessed after one year, will raise the city's profile as a player in the e-sports community. As part of the NRG sponsorship agreement, Events DC hosted four Smite World Championship players in April for promotional appearances and community events.
The nation's capital is fertile ground for e-sports, said Greg O'Dell, president and CEO of Events DC. "There's also a strong demographic base here," he said. "We have a net base of 1,000 people moving to Washington, D.C., every month," and many of the new arrivals are in the e-sports demographic sweet spot of 18–35. The city also has the venue infrastructure that can support both traditional sports and e-sports, he said.
That number of venues will grow when the city completes its new entertainment and sports arena in September 2018, O'Dell said. The combined venue will house a training facility for the NBA Washington Wizards and feature a 4,200-seat arena for the WNBA Washington Mystics. The arena will also be the home of the city's NBA G League team and be a spot for hosting e-sports events, he said.
One of Events DC's goals in this area is to encourage more women to participate. "We are at the beginning stages of building that ecosystem in the community" by meeting with universities and local e-gaming groups in an effort "to enhance gender equity," O'Dell said.
Fan bases grow
In September 2016, the Philadelphia 76ers became the first pro sports franchise in the United States to plant a flag in the e-sports world by teaming up with a VC firm to buy a majority stake in the Dignitas and Apex teams. The NBA team began cross promotional efforts in December by displaying the Dignitas logo courtside at home games. The Sixers also feature the logo on the home and away jerseys of their G League affiliate.
In January the Miami Heat followed suit, becoming the second NBA franchise to join the e-sports world when it announced a partnership with Misfits, a franchise that owns teams competing in games such as League of Legends and Heroes of the Storm. In a related development, the owners of the Washington Wizards and Golden State Warriors partnered with Magic Johnson last year to form the e-sports ownership group called aXiomatic, which bought a controlling stake in Team Liquid. And earlier this year, the NBA itself announced it would launch a league of its own for players of the NBA 2K game series.
Vander Woude said one of the unique aspects of e-sports is that players can be on a single team and live in multiple countries. But that has a downside. "Whether I'm a football fan or not, at least I know I can cheer for the home team," he said. "You're seeing e-sports at the college level being a really fast-growing area because college comes with baked-in regionality."
Several U.S. colleges have e-sports club or varsity teams. In April the University of Utah became the first Power 5 conference university to sponsor a varsity e-sports program offering partial scholarships. The varsity team will compete in the League of Legends Collegiate League this fall. The university eventually expects to offer 35 full scholarships to its players.
Whether e-sports are "real sports" is a question that really doesn't matter to fans, Lindberg said, citing recent research showing that the millennial generation prefers e-sports to traditional sports.
"Much like being a professional athlete, the amount of time and talent that goes into a level of mastery of these games is a really unique and precious resource," Vander Woude said. "The physical and mental talent that it takes to perform at the highest level of these games is really no different than athletes performing at the highest level of professional sports."
---
This story is part of a special section on tech in sports. More related stories:
Sports Enter the Digital World
Event Participants Find Their Waze