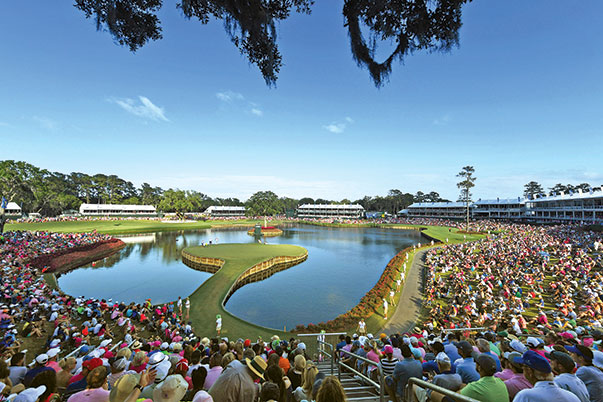 With its distinctive island green, the 17th hole of the Players Stadium Course at TPC Sawgrass "is probably the most iconic of our holes through all of our events throughout the year," said Scott Gutterman, vice-president of digital operations for the PGA Tour. So it wasn't surprising that the PGA selected the hole for virtual reality (VR) treatment during this year's Players Championship at the course in Ponte Vedra Beach, Florida.
The live coverage, which fans could stream through an Oculus app and Samsung Gear VR headsets, was a prime showcase for the growing role that digital technology plays in the sports-events industry through VR, augmented reality (AR) and smartphone apps.
"Sports are undergoing their greatest transformation in more than 75 years thanks to significant advancements in technology, and it's incredibly exciting," said Sandra Lopez, vice-president of Intel Sports Group, which used its Intel True VR technology for the livestream of the 17th hole.
Intel acquired the virtual reality company Voke VR about a year ago and rebranded it in March. Intel True VR has formed multiyear partnerships with the NCAA and Major League Baseball. It also has entered a seven-year partnership with the International Olympic Committee and plans to broadcast events from the 2018 Olympic Winter Games.
"Virtual reality is impacting all areas of the sports industry," said Brad Allen, executive chairman of NextVR. The company, which has offered virtual reality broadcasts since 2009, has partnered with Fox Sports to bring viewers the U.S. Open golf tournament, the Daytona 500, the Big East Men's Basketball Tournament and other events.
Telling Stories Through Tech
PGA Tour fans without the Gear VR headsets could watch The Players Championship through a 360-degree video stream on Twitter and Periscope. One camera was placed on the 17th tee, one on the walkway from the tee box to the green and a third in the water adjacent to the island green.
Both VR and augmented reality platforms are most effective when they're used to tell stories with "a unique point of view that you wouldn't have without the technology," said Gutterman. He cited a segment during The Players Championship broadcast showing two commentators sitting at a coffee table on which a holographic, interactive model of the 12th hole could be seen.
"There was an opportunity there to not just show a flat, 2D picture of the hole," he said, but to show viewers how the hole was reconfigured and point to the bunkers and the fairway and the green. "People can see the undulations and all the different aspects of the hole," he added.
The PGA singled out the 17th hole at TPC Sawgrass not only because it's distinctive, Gutterman said, but also because VR could "create a unique experience" of the hole for fans, one that was unavailable in any other format—not TV, not online, and not even in person.
The closest that fans at the tournament can get to the 17th island green "is maybe 30 to 40 yards because there's water between you and the green," Gutterman said. His team realized that putting a camera in the water next to the green could create a one-of-a-kind experience because it could be close to the hole but not interfere with play.
"We basically kept the camera within 10 or 15 feet of the green," Gutterman said. To get that close on any other hole, "you'd have to go out there and move the cameras every five minutes, and VR cameras aren't quite in the place yet where you can do Steadicam [shots] and move the cameras around easily."
Lopez said the Intel True VR platform uses "panoramic stereoscopic camera pods to create a more natural, realistic and immersive view in every direction a viewer looks." The VR feed can be distributed "across multiple devices including PC, tablet, phone or VR headsets," she said.
"A key element of a good VR experience is that it's tailor-made for VR," Lopez added. "For instance, in our MLB game broadcasts, our producers and directors are trained and well-versed in producing for VR. They're not just hired based on traditional broadcasting 2D experience."
Doing What Hasn't Been Done
Distinct camera placement was the goal of the first VR broadcast of the X Games, held in July at U.S. Bank Stadium in Minneapolis. Because ESPN both produces and broadcasts the event, the franchise has the luxury of placing its VR cameras in "some pretty cool locations," said Tim Reed,
X Games vice-president. This integrated approach enables the X Games "to test and do things that haven't necessarily been done before," he said.
The X Games VR broadcast targeted three events that had smaller footprints: skateboard vert, BMX street and skateboard street amateurs. "We felt that those types of courses—the vert ramp and the street course—provided us with the right amount of space and the ability to get the cameras where we needed to get them just to create the experience we were looking for." Through VR, fans experienced the vertiginous thrill of the vert ramp.
The technology also can enrich and broaden the fan base. As former pro sports executives, Wes Burtner and Andy Dolich were struck by the large number of fans who rarely attend live events. A recent market report determined that of the 200 million fans who follow the four major U.S. sports leagues, only 3.2 million have season tickets.
Burtner and Dolich, seasoned sports executives who worked together at the Memphis Grizzlies NBA franchise in the early 2000s, founded Vhere (pronounced "V-Here") about two years ago. "We both had a lot of conversations about the fact that sports teams, college athletic departments—you name it—do a pretty good job of getting people to the venue," Burtner said. But he and Dolich were curious about what teams do for fans who can't be at the venue, other than traditional broadcasting.
For example, Spanish fans of Pau Gasol, who was the Grizzlies' power forward during Dolich's and Burtner's tenure in Memphis, might want to track the NBA career of their fellow Spaniard. "If I'm a huge Pau Gasol fan but I live in Madrid," Burtner asked, "how am I consuming Grizzlies content? Or how am I consuming Pau Gasol content?"
Then the pair saw their first virtual reality demo and marveled at the opportunities. Any number of elements around the game-day experience are unique to particular teams. "Those are the experiences we were interested in capturing and letting the fans experience it as if they're there," Burtner said. One of their most popular projects involved following the NHL Nashville Predators' goalie for a day—from his arrival at the rink to walking out with his team for the game.
Burtner and Dolich don't think VR, at least in its current form, is a replacement for being at the game. "But it certainly can give that experience if you can't get there for any reason," Burtner said.  "You could be geographically displaced, you could be disabled and not able to go to games, or tickets could be too expensive."
The Mobile Experience
It's hard to understate the integral role that smartphones play not just in the VR realm but in the overall fan experience. For fans fortunate enough to pass the turnstiles, their smartphones are enhancing an already memorable experience.
The mobile technology startup VenueNext has created a free app that consolidates a wide range of functions such as ticketing, food orders and parking. The company debuted in 2014 at Levi's Stadium in Santa Clara, the home of the San Francisco 49ers. Since then it has partnered with Yankee Stadium, AT&T Stadium and Churchill Downs, among others.
John Paul, VenueNext's founder and CEO, said that ticketing is the app function that fans use more than any other, followed by food ordering. Ticketing "was most important for teams, and that's a good thing," he said. "It's a big transition from paper tickets or PDFs to mobile tickets." The app makes it easy to transfer tickets to others, and it gives each team a clear idea of who exactly is in their building, Paul said. "A paper ticket, or even a mobile ticket, (when) not quite done the right way, is kind of an 'anonymizer.'" Paul said he could give his paper ticket to another person and when the ticket is scanned at the venue "their systems would say, 'John Paul just walked in,' when it was really someone else."
VenueNext built a self-service scanner called Kezar that speeds people through the gates and into the venue, Paul said. "Most important, we give it not only a bar code for your ticket but also the ID on your phone, so we really know that, 'Hey, John Paul just presented his ticket at this gate,'" Paul said. "This is really important to teams who fundamentally had no idea who was in their stadium. The 49ers used to market to their 19,000 season ticket holders—that's who they assumed were in the building—and now after three seasons they know (the identities of) about half a million people who came."
VenueNext also worked with the Orlando Magic to create a virtual currency that allows season-ticket holders to return their unused tickets to the box office right up until game time. "The team gives you full credit in what they call 'Magic Money,'" Paul said, noting that the program offers the full face value of the ticket. Fans can use the virtual currency for seat upgrades, food, beverages, valet parking and other items. "Their season ticket holders love it," he said.
Knowing Your Audience
"The big trend in sports in general is using the technology platforms to get to know your fans better and to serve them better experiences, no matter where they are," Gutterman said. The PGA Tour plans to expand its capabilities and was eagerly awaiting the fall release of Apple's iOS 11, which will offer AR software, he said.
Another area of excitement is the use of voice-activated platforms such as Amazon Echo or Google, Gutterman said. "You're going to be able to walk into a room and say, 'Alexa, turn on The Players Championship, and who's leading right now?' Your TV will come on and tell you, 'Jordan Spieth is currently leading in The Players Championship.'"
Gutterman marvels at how the rapid pace of technological advancement has changed the sports-event  landscape. When he joined the PGA in 2005, "we had just a website," he said. "Now you can consume PGA Tour content on well over a dozen different types of platforms. What we've seen, especially over the last four or five years, is just an acceleration."
---
This story is part of a special section on tech in sports. More related stories:
Event Participants Find Their Waze
Esports Reach the Big Stage