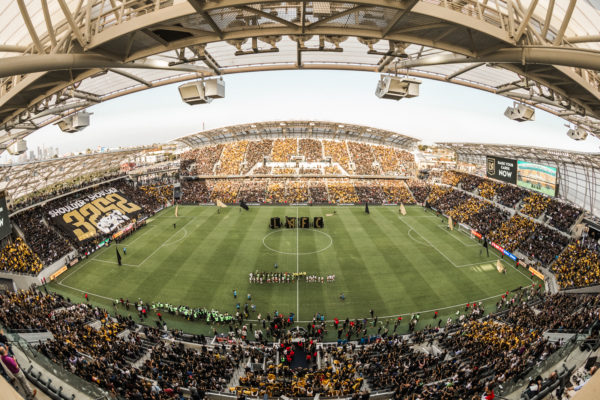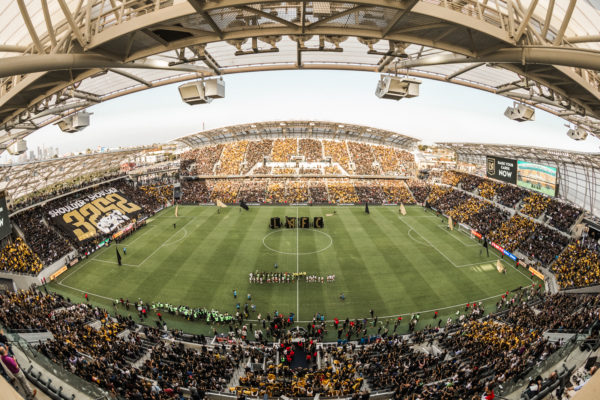 A burst of special effects, a flurry of streamers and Flo Rida's "My House" blaring on the speakers marked the official opening of Banc of California Stadium, a $350 million venue built for Los Angeles Football Club, the most recent Major League Soccer expansion team to begin play. Making its debut in April as the most expensive soccer-specific venue in the United States, Banc of California serves as a testament to the league's commitment to growth.
Major League Soccer launched in 1996 with 10 teams and zero stadiums that had been built or renovated specifically for soccer. Since then the league has more than doubled in size, with 23 clubs in 2018 and plans to reach 28 teams within a few years. MLS soon will have 20 soccer-specific stadiums, with D.C. United's Audi Field scheduled to open this July, Minnesota United's Allianz Field set to open in 2019 and three new stadiums in the works for the league's latest expansion teams, Nashville,  Miami and Cincinnati.
While the league has experienced tremendous growth, its expansion has been strategic and deliberate. When evaluating potential markets, MLS considers factors such as whether a city has a committed ownership group, a market with a history of strong support for soccer and a comprehensive stadium plan. Los Angeles, Nashville, Miami and Cincinnati—the most recent cities to be awarded expansion teams—met the necessary criteria.
"Our research shows that there are roughly 80 million soccer fans in the U.S. and millions more in Canada," said Dan Courtemanche, executive vice-president of communications for Major League Soccer. "Not all of them are fans of MLS clubs, and usually that's due to the fact that they might not have a team in their town. But our goal is to convert all of those soccer fans into fans of MLS clubs, and part of that is through expansion. There's no doubt in our mind that there are dozens of cities across the United States and Canada that can successfully support an MLS club."
Strong Supporters
In December 2016 the league announced the process and timeline of its next round of expansion, with plans to eventually reach 28 teams. A total of 12 ownership groups in 12 cities formally submitted expansion bids. By November 2017 Major League Soccer announced that the next expansion team would go to one of four finalist cities: Cincinnati, Detroit, Nashville and Sacramento.
The 24th MLS expansion team was ultimately awarded to Nashville, a surprise contender in the bid process. The team is expected to begin play in 2020. "We were probably the least likely to make the cut when this started," said Butch Spyridon, president of the Nashville Convention & Visitors Corp. "We went from zero to 60 about as fast as any city could get there, but I think what resonated was a unique destination city in terms of the offerings."
"Candidly, two years ago Nashville was not on our radar," Courtemanche said. But that all changed when John Ingram, chair of Ingram Industries Inc., came on board as lead investor. "You need a committed local ownership group that's passionate, that believes in Major League Soccer and has the resources to invest in the infrastructure to build the sport in the respective market," Courtemanche said. "Well, John Ingram and his partners clearly had that."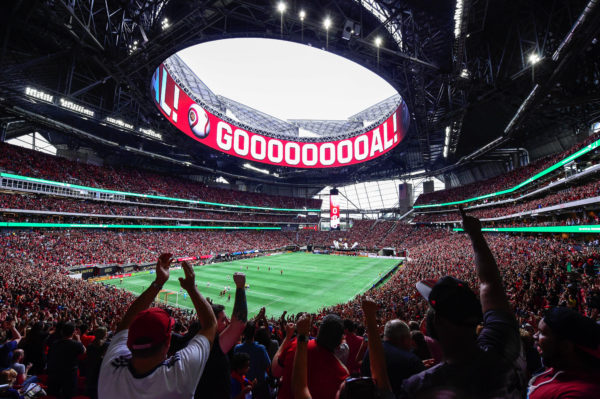 Los Angeles was another market that brought with it a committed group of owners, led by former NBA executive Tom Penn, Mandalay Entertainment Group chair and CEO Peter Guber, and Henry Nguyen of IDG Ventures Vietnam. Penn, Guber and Nguyen are just three of 30 owners in LAFC's ownership group, making it among the largest in Major League Soccer. The team's other investors include notable figures such as actor Will Ferrell, World Cup champion and Olympic gold medalist Mia Hamm-Garciaparra and NBA Hall of Famer Magic Johnson.
Cincinnati, MLS' most recent expansion franchise, is the 26th team to join the league. Continuing as FC Cincinnati, the club will begin play in 2019. Since its first season in the USL in 2016, FC Cincinnati has set attendance records for its matches. The club also recently finalized a partnership with Mercy Health, making Ohio's largest hospital system the team's jersey-front partner.
"I have to start by thanking the supporters of FC Cincinnati, because from the beginning they were the foundation of the efforts of our bid to join MLS," FC Cincinnati managing owner Carl Lindner said in a statement. "We could not have done this without them."
And then there's the Miami expansion franchise, which was awarded to soccer icon David Beckham, who played for the LA Galaxy. The announcement in late January had been long awaited, tracing back to when Beckham joined the Galaxy to 2014 with an unusual option in his contract allowing him to acquire an MLS expansion team at a discounted fee. After Los Angeles Dodgers part-owner Todd Boehly dropped out as majority partner of the Beckham ownership group, brothers Jorge and Jose Mas of Miami-based infrastructure firm MasTec Inc. joined the venture. 
"They're the Miami angle that Beckham has always been looking for," said Jose Sotolongo, director of sports tourism at the Greater Miami Convention & Visitors Bureau. "They carry the Miami flag as opposed to somebody coming in from out of town. They know what the community is going to like."
A Diverse League
Nearly two decades ago, Major League Soccer's growth strategy found inspiration in an unusual source: the U.S. Census Bureau. In 2000 Kenneth Prewitt, director of the bureau, said, "The 21st century will be the century in which we redefine ourselves as the first country in world history which is literally made up of every part of the world." 
"We took a hard look at that statement, analyzed it and said 'Wow, this really is what Major League Soccer is all about,' " Courtemanche said. "We are the league for the new America, a new America that is young, diverse and digitally savvy. Those factors really have been a catalyst for our growth."
Major League Soccer ranks as the youngest and most diverse sports league in North America. The current pool of 637 players is drawn from 72 countries, the most of any soccer league in the world. And currently, 19 MLS players representing six countries have received the call to compete in the FIFA World Cup in Russia, June 14–July 15. Additional provisional roster updates have yet to be announced.
Furthering its mission of inclusion, Major League Soccer's community outreach initiative, MLS Works, recently launched a new platform called Soccer For All. The effort will integrate and promote a number of existing partnerships and programs and is driven by the belief that everyone is welcome to MLS regardless of race, color, religion, national origin, gender, disability, sexual orientation or socioeconomic status.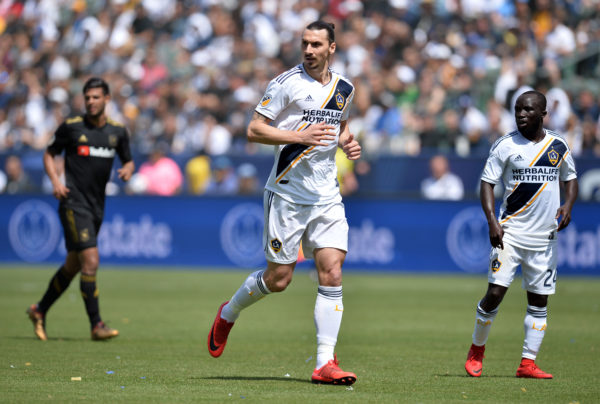 Sotolongo believes that diversity is Miami's strongest draw and is what led to it being awarded an expansion team, which is expected to begin play in 2020. "We're a soccer-savvy community that knows the game," Sotolongo said. "We have people from so many parts of the world. A lot of people here grew up with soccer and understand it from a technical standpoint."
Spyridon also cited diversity as one reason it made sense for Nashville to join MLS. Nashville proved it could host international events when the 2017 Concacaf Gold Cup was held in Music City for the first time. The game brought 47,622 people to Nissan Stadium, a record for a soccer match in Tennessee. Three weeks later, a new record was set when 56,232 attended the International Champions Cup between Tottenham Hotspur and Manchester City.
A Stadium to Call Home
In 1996 the first MLS match was played in San Jose, California, at Spartan Stadium (now known as CEFCU Stadium), a multipurpose venue. The first venue to be billed as a soccer-specific stadium opened in 1999 as Columbus Crew Stadium, now known as Mapfre Stadium in Columbus, Ohio. Other MLS clubs followed suit, and eventually plans for a soccer-specific stadium became a standard for expansion teams.
"The remarkable rise of professional soccer in the U.S. and Canada has required the investment of billions of dollars in a wide range of infrastructure and other strategic initiatives led by soccer stadiums," Courtemanche said. When the league started, MLS clubs were essentially tenants in the stadiums where their matches were held. Having a soccer stadium where the clubs are the primary tenants allows for control over match dates and revenue streams.
Courtemanche also noted that having a stadium allows a younger audience to focus on an "aspirational destination" where they may fulfill their goals of playing professionally. "They can look at the stadium and these players and say, 'If I work hard and have the talent, maybe someday I can be on the field here at Red Bull Arena or Children's Mercy Park or StubHub Center or Banc of California Stadium.' That has really changed the dynamic of our league."
LAFC's 22,000-seat Banc of California Stadium, which sits in Exposition Park near Los Angeles Memorial Coliseum, includes a large public plaza, restaurants, retail and a conference center.
"It's hard to believe that 20 years ago, the concept and term 'soccer-specific stadium' didn't exist," MLS Commissioner Don Garber said at the stadium's opening. "Our first stadium was built literally 20 years ago, and it was just a couple years after that that the first stadium here in Los Angeles was built for the LA Galaxy. We are building the foundation for this sport in the United States and Canada brick by brick and stadium by stadium."
The $195 million Audi Field will open this July for D.C. United. The stadium will feature 20,000 seats and 500,000 square feet of mixed-used space in the Southwest Waterfront area of Washington, D.C. Also on the horizon is Minnesota's Allianz Field, set to open in 2019, as well as the proposed stadiums for the new franchises.
In Cincinnati, a new 21,000-seat soccer stadium in the city's West End neighborhood is expected to be completed in 2021. In the meantime, FC Cincinnati will continue to play at the University of Cincinnati's Nippert Stadium until its new stadium is finished.
Miami's ownership group is currently looking at potential stadium sites. Possibilities include Miami's Overtown neighborhood, which had long appeared to be the likely construction site, and the nearby city of Doral, which recently became part of the talks. The expansion team will begin play in a temporary venue while the new stadium is being built.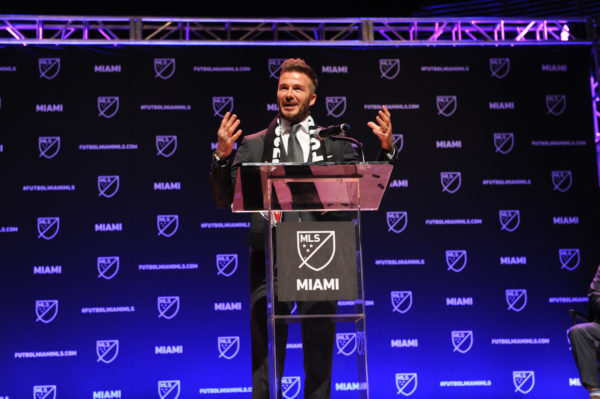 Sotolongo is optimistic about what another venue will mean for Miami as a sports destination. "I'm excited about it because it opens up another venue for us on the overall sports end," Sotolongo said. "A new stadium is adding another arrow in our quiver, if you will."
In Nashville, the 27,500-seat proposed stadium near the city's fairgrounds will need to go through several more rounds of approval before construction can begin. "The goal is to start demolition of the buildings that are in the way in August," Spyridon said. "It'll take two years depending on when we start. There are chances we could make 2020, but 2021 is probably more likely."
Spyridon also believes that the stadium will attract more events such as tournaments and concerts. The city recently won its bid to host matches during the 2019 Concacaf Gold Cup and has bids out for several other international matches.
A Benefit for the Fans
There are many benefits to constructing soccer-specific stadiums for MLS teams, but at the end of the day it comes down to the fans, Courtemanche said. "It's an environment where you go into these stadiums and you know it's the home for your club."
That sentiment was palpable at LAFC's first game at Banc of California Stadium. The team had played its first six games on the road before the stadium was complete. As LAFC took the field against the Seattle Sounders—this time on their home turf—fans waved black and gold flags to show their support, welcoming their team home.