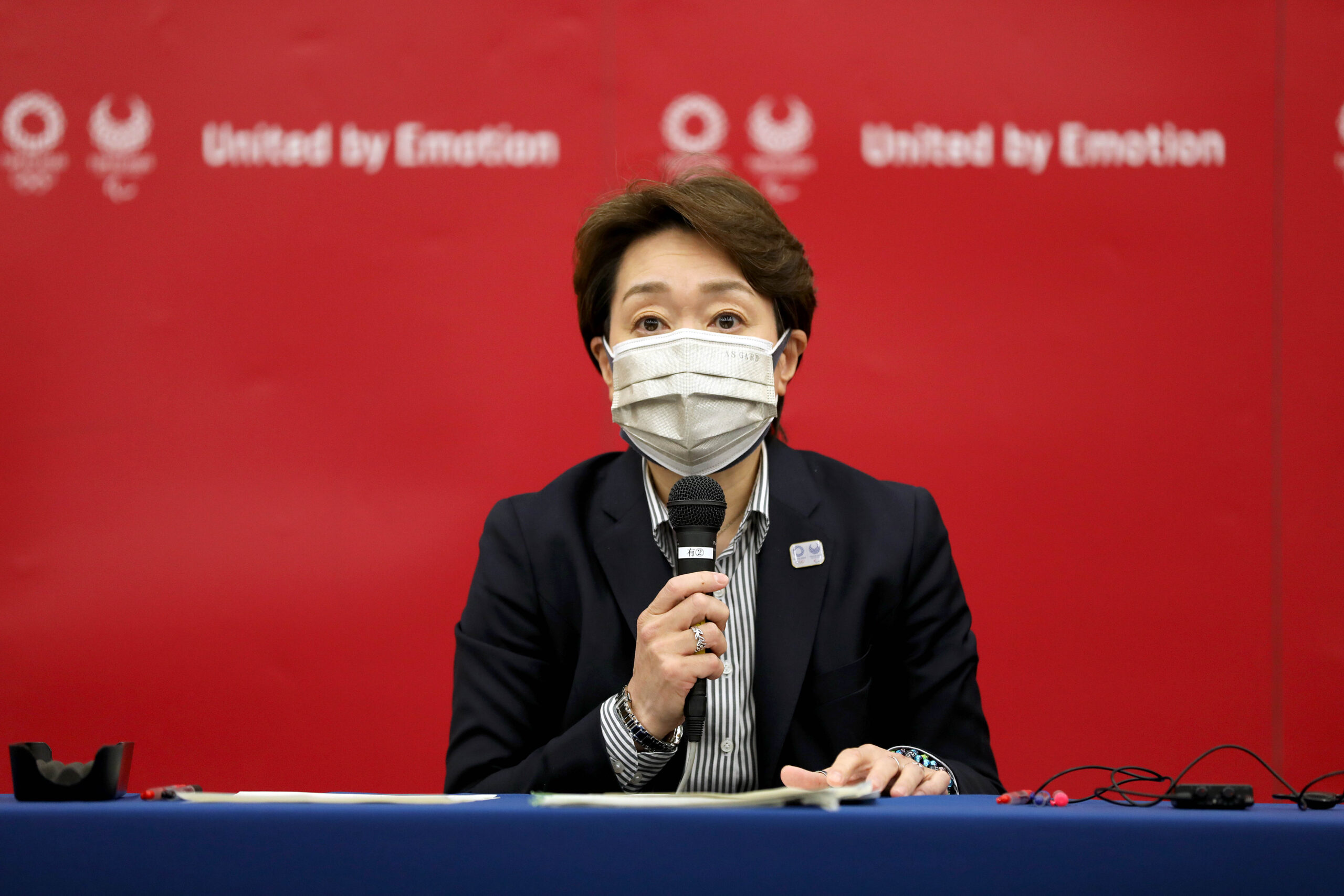 New rules for athletes competing at the Olympic and Paralympic Summer Games will require daily testing for those expecting to compete and limit their movement largely to the competition venues and their housing. In an updated "playbook" released by Tokyo 2020, the International Olympic Committee and the International Paralympic Committee, organizers set to reassure an increasingly skeptical public in Japan that the events can be held safely if participants abide by the rules.
The update to the guidelines, which will be in place for athletes, officials, international federations and media covering the Games, marks the second of what will be three updates before the Opening Ceremony is planned on July 23. While the latest document released Wednesday covers athletes, further details for the other constituent groups will be released on Friday.
"These rules must be clearly recognized by all participants for the sake of the Games," said Tokyo 2020 President Seiko Hashimoto. "They must be prepared to make contributions when they come to Japan."
Among the highlights in the new regulations:
All participants will required to take two COVID-19 tests with 96 hours of their flight to Japan.
Athletes and all those in close proximity with athletes will be tested daily in Japan with a saliva test to minimize the risk of undetected positive cases.
Athletes will be required to leave Japan no more than 48 hours after they are eliminated from a competition or their sport concludes if they reach the finals.
All other Games participants will be tested daily for three days after their arrival. After the first three days and throughout their stay, they will be tested regularly, based on the operational nature of their role and level of contact with athletes.
All Games participants must exclusively use dedicated Games vehicles and will not be allowed to use public transportation.
All Games participants must eat only in the limited locations where COVID-19 countermeasures are in place, including catering facilities at Games venues, their accommodation's restaurant and their rooms, using room service or food delivery.
The latest Tokyo 2020 Playbook outlines various steps athletes will need to take to enter Japan and participate in the Games.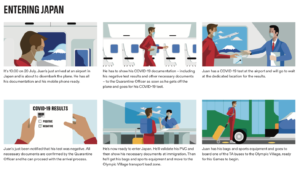 Tokyo 2020 officials said the ability for all participants to adhere by the rules will be crucial to the events' success. Still undetermined will be what if any penalties could result from an athlete or other Games participant who does not follow the guidelines. IOC and Tokyo 2020 officials said those situations would be dealt with depending on the severity of the discretion if they arise. Even those who are vaccinated — which is not a requirement for participation but is being strongly encouraged — will not be exempt from the rules. Athletes and other Games participants will also be required to keep and submit an activity plan detailing where they intend to be each day of the event.
"If one violates what one wrote in the activity plan, we will study the situation," said Tokyo 2020 CEO Toshiro Muto. "In the final analysis, the worst possible penalty would be the possibility of taking away accreditation."
Pierre Ducrey, the IOC's Olympic Games operations director, said the adherence to the guidelines will be crucial. "The key is that everyone is aware of the rules in this playbook and that they accept them and most importantly, they will implement them during the Games," he said. "For those who choose deliberately not to respect the rules there could be impact on their participation in the Games."
The moves come as polls in Japan suggest waning support for the concept of proceeding with the Games. But the IOC, IPC and Tokyo 2020 said the event will continue as planned under the restrictions being enforced.
"During the Games, stakeholders will be among the most tested people on Earth," said Craig Spence, chief brand and communications officer for the IPC.
Christophe Dubi, Olympic Games executive director, added that organizers have been studying other recent large sporting events, including the Australian Open, whose director has offered advice on how an event as large as the Olympics can be staged. Among the lessons learned from that event, which had its own challenges fighting COVID-19 infections, is the situation will likely be fluid and dynamic even during the event despite the advanced planning, Dubi said. "This is what we're going to do in the next months is to train, train and train the teams to respond to various situations," he said.
Meanwhile, no decision has been made on whether Japanese spectators will be allowed. That decision is expected in June, although Hashimoto said it could come as early as late May as Japanese ticketholders need as much advance notice for their own planning purposes. Foreign spectators have already been banned.
Hashimoto said despite what she called a "tense situation" amid a current state of emergency over rising COVID-19 cases in Japan and Tokyo specifically, there is still the possibility that venues could be open to 100 percent capacity. But all other potential limits to crowd size, including the chance of no spectators at all, are still on the table.
"We have hope that we want as many spectators as possible to see the Games if the situation so allows," she said.
The news comes as Tokyo, Osaka and several other areas throughout Japan have been placed under a third state of emergency as coronavirus cases surge. Opposition lawmakers in Japan's national legislature suggested Prime Minister Yoshihide Suga scheduled the state of emergency to accommodate the IOC and President Thomas Bach, who is scheduled to arrive in Japan for the torch relay in Hiroshima less than a week after the state of emergency is lifted. The government and IOC have said said the precautions are in place for Japan's "Golden Week" holiday, which starts Thursday.
The torch relay, which began on March 25 in Fukushima, has been detoured several times this month and is be banned this weekend on the Okinawa island of Miyakojima, which only has one hospital. The relay is a caravan of more than a dozen cars and other vehicles festooned with advertising from major sponsors like Coca-Cola and Toyota.