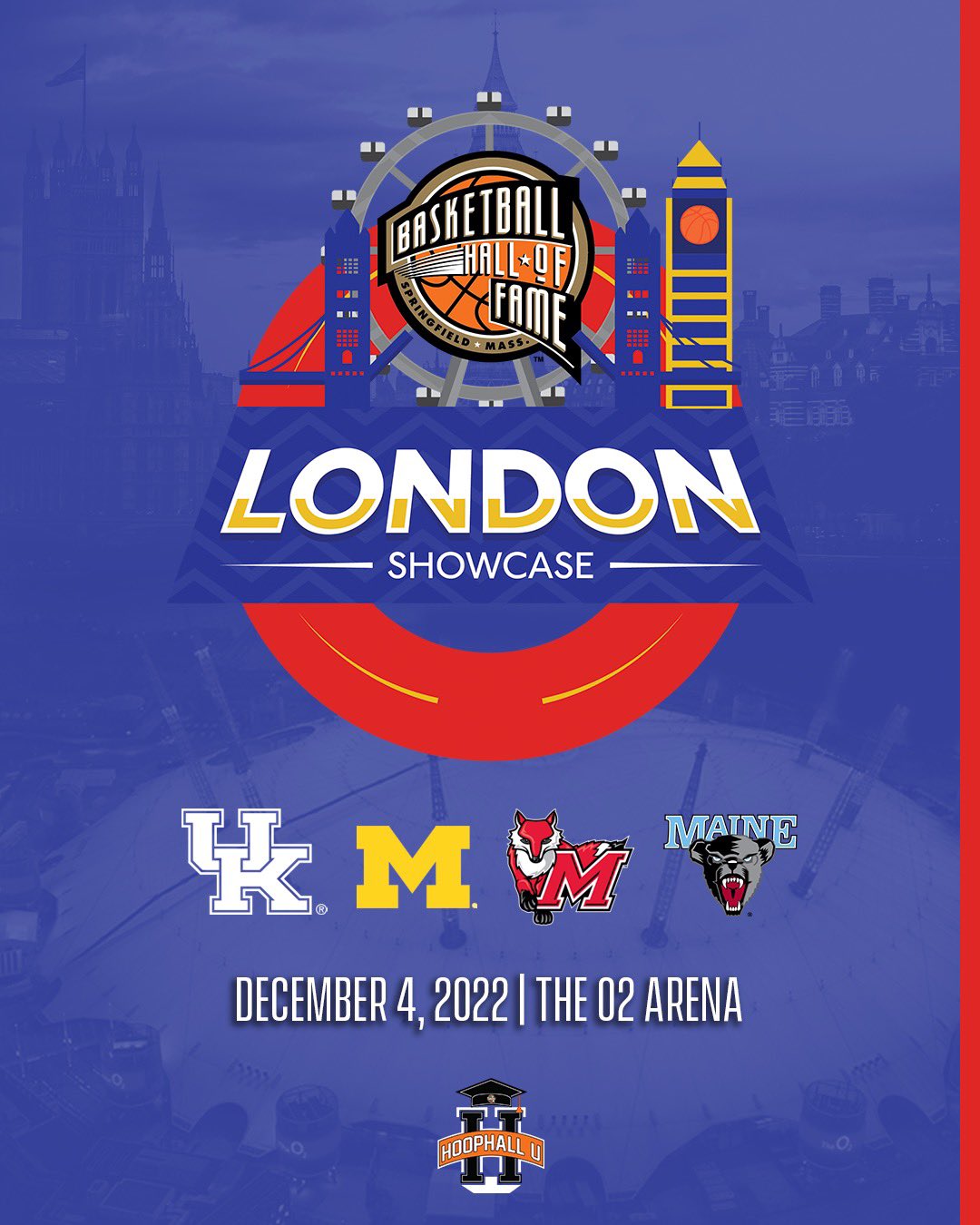 Michigan and Kentucky men's basketball will play at London's 02 Arena on December 4, 2022, as part of a rescheduled Basketball Hall of Fame London Showcase.
The doubleheader was scheduled for December 6, 2020, but postponed for concerns surrounding the pandemic. The event starts at 10:30 a.m. ET with Marist College playing the University of Maine before Kentucky and MIchigan would tip off at 1 p.m. ET, which is 6 p.m. London time.
"The Basketball Hall of Fame is proud to celebrate the game on a global scale and we couldn't be more excited to host four Division I men's teams in London this December," said John Doleva, president and chief executive officer of the Basketball Hall of Fame. "We were disappointed to postpone our event in 2020, but could not be more excited to get the inaugural games underway soon. The O2 is a beautiful, world-class venue and we expect many U.S.-based fans will make the trip to enjoy its amenities and support their teams abroad. We're also looking forward to showcasing collegiate hoops to the local fans and growing the appreciation for basketball at all levels worldwide."
Michigan and Kentucky have met on seven occasions, including three times in the NCAA Tournament. Michigan and the Fab Five beat UK in overtime in the 1993 Final Four before Kentucky beat Michigan at the buzzer in the 2014 NCAA Midwest Regional final.
"After all that has transpired over the last few years for us, and even the world, it will be a tremendous opportunity for Michigan, Kentucky and college basketball itself to get the chance to showcase this game," Michigan coach Juwan Howard said. "We had to wait, but it will be that 'once-in-a-lifetime' experience for our young men and our fans. We are thankful the Naismith Memorial Basketball Hall of Fame has continued to provide this opportunity and make sure everyone is safe. This is going to be truly special."
Located 15 minutes from central London, The O2 has been visited by over 100 million people since opening in 2007. It host at least one NBA game each season in 2011 and from 2013–2019.
"When we announced this game a few years ago, we were excited to be able to do something different – to be first, which our fans know we loved to do – and play this game in London," Kentucky coach John Calipari said. "Our world has been devastated by the COVID-19 pandemic over the last two years and I'm hopeful we are finally able to do this. I know our fans have been anticipating this game and will show up in full force, but this will also be an unforgettable experience for our players both on and off the court. The Naismith Memorial Basketball Hall of Fame is known for putting together first-class events and I am confident this will be another one."