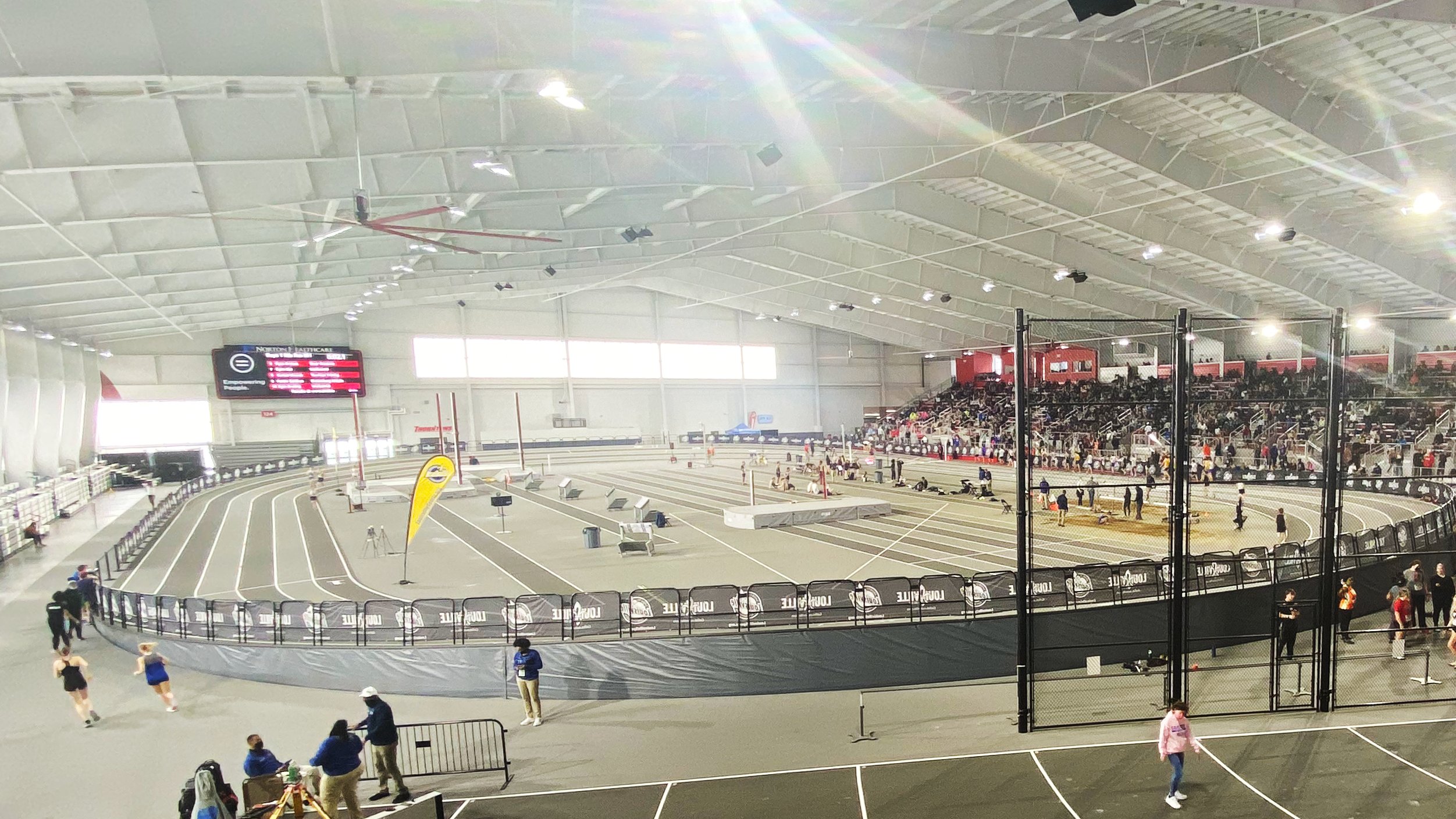 USA Track & Field has awarded five national championships between 2023 and 2024 to the city of Louisville that tourism officials believe will bring in 14,000 athletes and an approximate $10.4 million in economic impact.
The Norton Healthcare Sports & Learning Center, now in its second year of operation, will host the 2023 USATF National Masters Indoor Championship as well as the 2023 and 2024 National Youth Indoor Championship. E.P. "Tom" Sawyer State Park, site of championship-level cross country for more than three decades, will host the 2023 and 2024 USATF National Junior Olympics Cross Country Championships.
"This announcement would not be possible without our great partnership with Louisville Tourism and USATF Kentucky, as well as the support of the Commonwealth of Kentucky, Louisville Urban League, ASM Global and the local and regional track and field community," said Louisville Sports Commission President and Chief Executive Officer Karl F. Schmitt Jr. "These events will put Louisville in the national spotlight and showcase what truly spectacular facilities Louisville has to offer for cross country and track and field at the championship level. We appreciate the confidence that the national office of USATF has in our community partners to host championships at the highest level."
One of nine banked indoor track-and-field facilities in the nation, the Norton Healthcare Sports & Learning Center has hosted more than 30 meets for youth, high school, collegiate, masters and professional athletes. The ACC Championships will be held at the facility in 2023. E.P. "Tom" Sawyer State Park boasts 10K, 8K, and 5K cross country courses in an urban area with nearby hotels, restaurants and other amenities. Since 2003, 16 NCAA and NAIA national championships have been decided at Sawyer, along with numerous NCAA and NAIA regionals and collegiate conference championships.
"We are thrilled to bring five of our championship events just down I-65 from our national headquarters in Indianapolis," said Max Siegel, USATF chief executive officer. "The Norton Healthcare Sports and Learning Center, as well as E.P. "Tom" Sawyer State park, are two of our country's top competition venues and will provide the ultimate environment for our athletes to perform at their best. We're excited to provide more competitive opportunities for our Youth and Masters athletes to shine and what we're sure will be incredible performances that inspire more people to get involved in track and field."
"The hard work and dedication shown by Louisville Tourism's key alliances and local partnerships were a driving factor in our city being awarded these national USATF hosting opportunities," said Cleo Battle, Louisville Tourism president and chief executive officer. "Events like these truly make a significant economic impact to our city while simultaneously continuing to position Louisville as a regional and national site for sporting events."