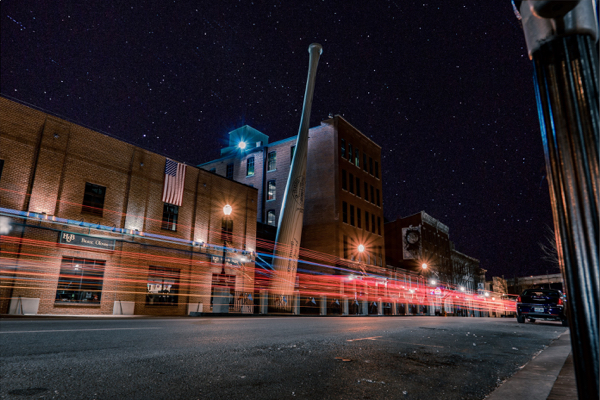 In Louisville, Kentucky, sports legends abound. From Churchill Downs to Muhammad Ali to Louisville Slugger, the city has an impressive history. But looking back is not what the city is about—not by a long shot. Louisville is looking at a bright future following the infusion of $1 billion into projects that have transformed its downtown area and included an extensive renovation and expansion of the Kentucky International Convention Center, which many got to experience at TEAMS '18 conference held in Bourbon City.
"Louisville has steadily become one of the hottest destinations in the United States," said Karen Williams, president and CEO of Louisville Tourism. "We've got a booming bourbon renaissance, a nationally renowned culinary scene, burgeoning neighborhoods, stunning parks, outdoor adventures and iconic attractions and events all wrapped within our hallmark Southern charm."
BIG NEWS FOR EVENT ORGANIZERS
The renovated and expanded Kentucky International Convention Center, which features 200,125 continuous square feet of exhibit space, a 40,000-square-foot ballroom, a 175-seat state-of-the-art tiered conference theater and 52 meeting rooms, turned one this year, so the big news in Louisville shifts to continued hotel development and new sports facilities like the Lynne Family Stadium and the Louisville Urban League Sports and Learning Complex.
Lynn Family Stadium is a 10,000-seat soccer stadium that will be home to Louisville City Football Club under way in Louisville's Butchertown neighborhood. The stadium will be part of a commercial district with hotels, restaurants, retail and office space. The project is a public-private partnership in an underused and highly visible space that will become a connector for Butchertown and downtown. The stadium is expected ready in time for the 2020 season.
The Sports and Learning Complex is an indoor track and field facility that broke ground in August 2019 and could be ready for use by the end of 2020. The complex will be designed to host a variety of sporting events including competitions from USA Track and Field, NCAA, and local and regional schools. The facility also is expected to have restaurant and retail space as well as space for student athletes to work on homework. It will have a 200-meter banked track sitting on a hydraulic lift. The track can be lowered to the floor and covered with a protective surface to allow the space to be used for other purposes such as volleyball and fencing and will have 4,200 seats.
The Kentucky International Convention Center is one of two convention centers available for sports events in Louisville. The other, the Kentucky Exposition Center, sits on more than 400 acres near the Louisville International Airport and provides more than 1 million square feet of climate-controlled indoor exhibition space, meeting rooms, public areas and Freedom Hall, a 19,000-seat indoor arena.
Both the Kentucky Exposition Center and the Kentucky International Convention Center are operated by Kentucky Venues, which is governed by the Kentucky State Fair Board and also produces signature events in the city that include the World's Championship Horse Show, the Championship Tractor Pull, the North American Championship Rodeo and the All-In Hoopfest.

ENGAGING SPORTS LEGENDS
Hoops are something the University of Louisville knows a little about, with its men's basketball team garnering 42 NCAA tournament appearances and three national championships. Both the men's and women's basketball teams play their games at the multipurpose KFC Yum! Center, located in downtown Louisville adjacent to the Ohio River waterfront. The 721,762-square-foot arena complex offers a seating capacity of 22,090 and additional flexible spaces for groups of 20 to 500-plus.
Also downtown is the Muhammad Ali Center, a cultural and educational facility inspired by the ideals of its visionary founder. The center can hold up to 1,000 people and includes galleries featuring the art of Howard L. Bingham and LeRoy Neiman, an auditorium, classrooms, a retail store, cafe and private-use space.
Just a few blocks away, the Louisville Slugger Museum & Factory has been a Louisville mainstay since 1884, when 17-year-old Bud Hillerich crafted the company's first bat for a local baseball player. Now groups can tour the facility—or head out to Louisville Slugger Field, home to the Triple-A affiliate Louisville Bats.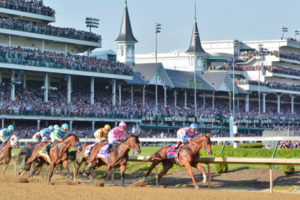 LIVING UP TO A RICH HISTORY
The history of Churchill Downs dates even further back than that of the Louisville Slugger, with thoroughbred racing a continuous presence at the track since 1875. Home to the Kentucky Derby and the Kentucky Oaks, the racetrack has also hosted the Breeders' Cup World Championships eight times and will host it again later this fall.
Over its long history, the track has completed several massive renovation projects—in part to accommodate the more than 165,000 guests who arrive each year on Kentucky Derby Day. These include the construction of private luxury suites, the installation of permanent lights and the building of The Big Board, touted as the world's largest 4k video screen.
Adjacent to the racetrack, the symbol undergoing a revitalization. Long known as a gateway to the Bourbon Country distilleries, Louisville has opened nearly a dozen new distilleries and other spirits-related attractions in its downtown core as part of its Urban Bourbon Experience, sure to provide a spirited welcome to event attendees.
"As the urban center for bourbon production and home of the Kentucky Derby, we've been enjoying America's only native spirit and delivering great sports experiences to people from all over the world for almost 150 years, so it's part of our culture," said Louisville Sports Commission President and CEO Karl Schmitt. "The recent infrastructure upgrades in the heart of our downtown—hotels, restaurants, still houses and the convention center—have enabled the Louisville hospitality industry to up its game," he said. "Add the iconic Slugger Museum and Bat Factory, the Muhammad Ali Center and the Kentucky Derby Museum, as well as the University of Louisville's entrance into the ACC, and sports experiences in our community have never been better."
Learn more about how to bring your next event to the city where champions are made by visiting GoToLouisville.com/Sports.