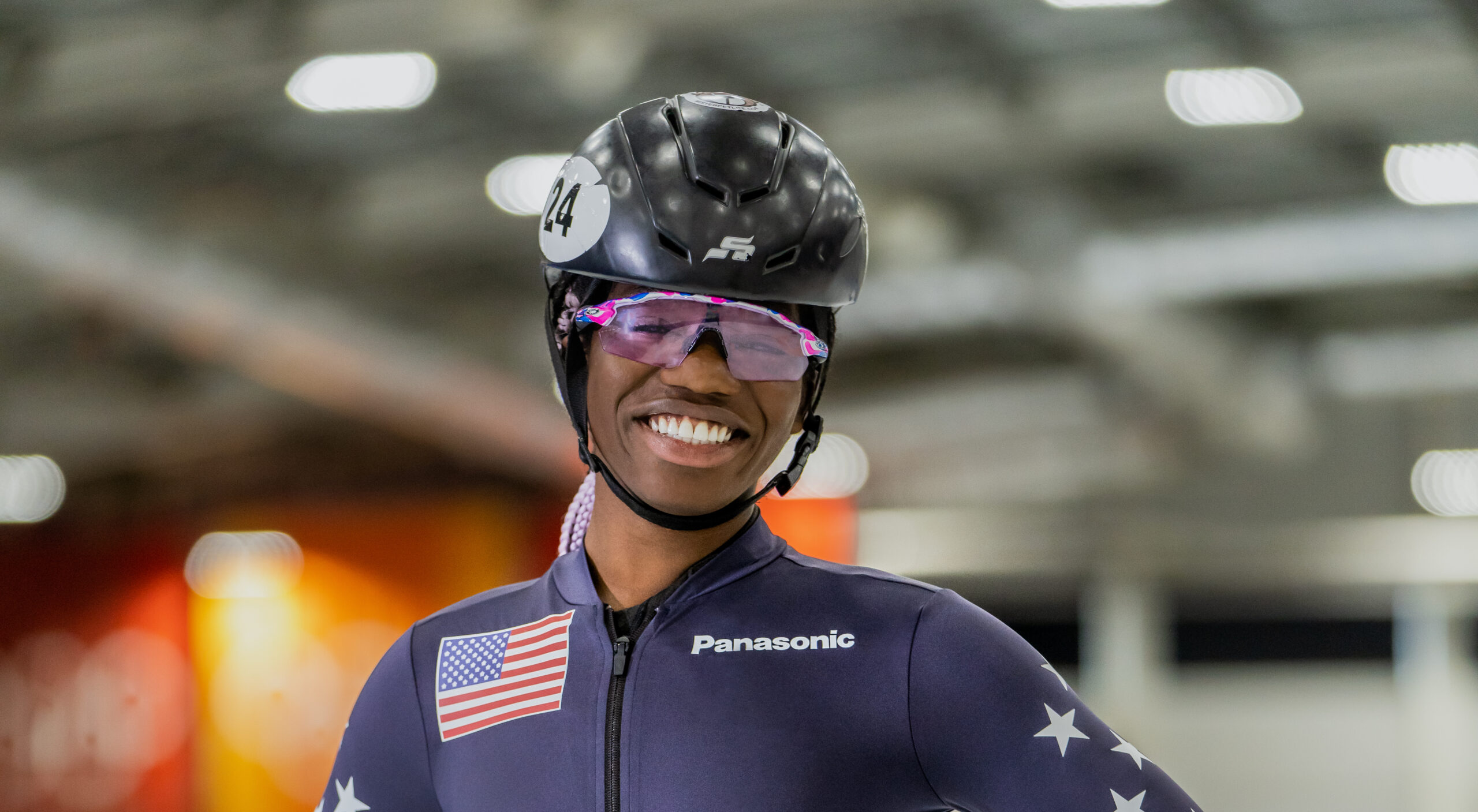 After cruising to victory in the women's 500 meters, a visibly relieved and emotional Maame Biney met the assembled media at the U.S. Olympic Team Trials for short-track speedskating.
"I'm super excited to be racing again," said Biney that December afternoon at the Olympic Oval in Kearns, Utah, having had an injury in the early fall. "To be able to do what I'm doing right now is amazing."
And now, she's headed to her second Olympic Winter Games — her face in nearly every NBC commercial, her prominence as one of the standouts on Team USA well-chronicled. This year Biney will head to the Games with four teammates, giving the U.S. a chance to compete in the relay events and an additional chance for them all to get a medal. And Biney's alter ego on the ice, Anna Digger, will be right there as well.
"I'm so happy to have more of my teammates with me," Biney said. "I'm just so excited."
A Winter Sports Celebrity
She burst onto the Winter Olympic sports scene by qualifying for the 2018 Pyeongchang Games in the 500 meters at the age of 18, won three gold medals at the 2021 U.S. Short-Track Speedskating Championships and is one of the most recognizable winter sports athletes in the United States.
And yet, when approached to do commercials and an entire advertising campaign ahead of the 2022 Olympic Winter Games, Biney's first response was "do I really deserve this?" But there she was in August near Salt Lake City, spending two days shooting scenes in and out of her U.S. uniform to prepare for Panasonic's Olympic campaign and knowing the countdown for Beijing is on with the goal of getting to her second Games.
"The stress level is a little up there, that's for sure," Biney said during a break between filming her on-ice shots at the Olympic Oval that hosted the sport at the 2002 Olympic Games. "I'm focused on trying to get better, trying to get stronger."
Biney's Olympic backstory was the stuff that TV producers — and commercial partners — can only dream of. She came to the U.S. from Ghana as a 5-year-old with her father, settling in Northern Virginia where she started as a figure skater before switching to speedskating. With an infectious laugh, she stunned observers by winning the 500 meters at the 2018 U.S. Olympic Trials, qualifying in two events for the Games and eventually finishing 14th in the 500.
Fast forward four years later and she has a social media profile that befits that of a star, with 25,000 followers on Instagram and partnerships with both Proctor & Gamble and Panasonic, which leads to commercial shoots such as the one in August.
"I've done it once or twice, but I feel very honored to do things like commercials," she said. "I just like talking with everyone on the crew. What they do is very interesting and they're the ones that make me look good."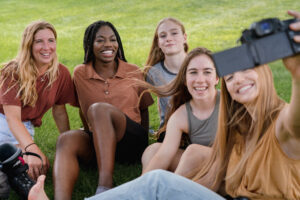 So good, in fact, that she admits the reaction from family and friends keeps her on her toes.
"It's like I'm looking at my twin sister," she said. "My dad is very mellow about it. Yesterday after my lifestyle shoot, I called him very excited and he was like 'Oh, that's good, that's good.' He's very religious so he says keep praying about it and you'll do good this year. Then my friends, they're like 'Oooooh, can I get your autograph because you're so popular?!"
Panasonic's Long View
Panasonic's first Olympic involvement was at the 1984 Games in Los Angeles, where it supplied a sound system and video display for the main stadium. It joined the flagship The Olympic Partner worldwide sponsorship program in 1987. Since then it has grown exponentially along with the Games.
Panasonic North America's Tokyo 2020 campaign included Michael Phelps, Katie Ledecky, Sakura Kokumai and Paralympian Lex Gillette. Each athlete had a particular topic they championed as part of the campaign: Phelps had awareness of mental health and water safety, Ledecky had STEM education and women in tech, Kokumai as a champion for the Japanese-American community, and Gillette as a motivational speaker. Along with Biney, Panasonic is working on a campaign for the 2022 Games with figure skater Nathan Chen and para-snowboarder Noah Elliott.
"This is a quite unique campaign," said Tak Kosugi, head of Olympic marketing in North America for Panasonic. "Giving back to the society, that's a message that we can use constantly with this campaign both for Tokyo and Beijing."
Kosugi said Panasonic's program focus on selecting athletes who seek out causes was also consistent with a drive to raise brand awareness among millennials and Gen Z.
"We met with Maame and immediately we were a big fan of her smile and her story," Kosugi said. "She's a champion for speedskating in the United States and she has a passion for access to skating. This means a lot for us, that's why we decided to partner with her."
Biney, the first African American woman to represent Team USA in an Olympic short track competition, is aiming to use her platform to advocate for better access and opportunities in her sport and beyond: "I feel like being able to use my voice in a way that I feel comfortable in," she said. "Being able to have a platform like this and have people listen to me, it gives me the opportunity to voice my opinions on certain issues."
The Confidence to Speak Out
Speaking on social issues has become a bigger point of emphasis than ever for Olympians, regardless of Summer or Winter Games. Biney said that one of the biggest takeaways she had from watching the Tokyo Games was the openness with which Simone Biles talked about mental health and being able to step away from the gymnastics competition for her own health and safety.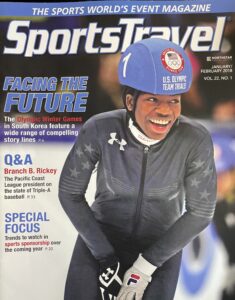 "What she did was absolutely amazing and she should do whatever she needs to do to be in the right head space," said Biney, admitting it resonated with her "a lot. … I love skating and that's my happy place, but sometimes it didn't feel like my happy place. But being able to be surrounded by people who cared about me and wanted me to seek help and let me know that it's OK to go and see a therapist or see a sports psychologist, that helped me find my happy medium.
"I always used to be skating, skating, skating and just go to practice and nothing else," Biney said. "But I realize now that I need to do something outside of skating, like rock climbing and hanging out with friends who are not my teammates and are from school. That's helped me so much because I can have a life outside of skating and then go back to practice the next day that much more excited. It's OK to have a bad day and voice that instead of keeping it all in. I think having a good support system, being able to have that is so ideal in a high stress sport like speedskating or gymnastics or track."
With the goal, of course, of utilizing that support system to succeed in Beijing.
"I'm going to be putting in the work to be as ready as possible when I'm at the Games," Biney said. "I for sure feel pressure, but it's not bad in a way, I know that people want me to do well," joking that "my dad is like 'You can get dead last and I'll still love you' and I'm like 'Please don't put that out in the world!' … I know that people aren't sure if I'm expected to medal but if I do, it'll be like 'Ahhhhhhh!' because I know I've put in the work and the dedication to be where I am right now."