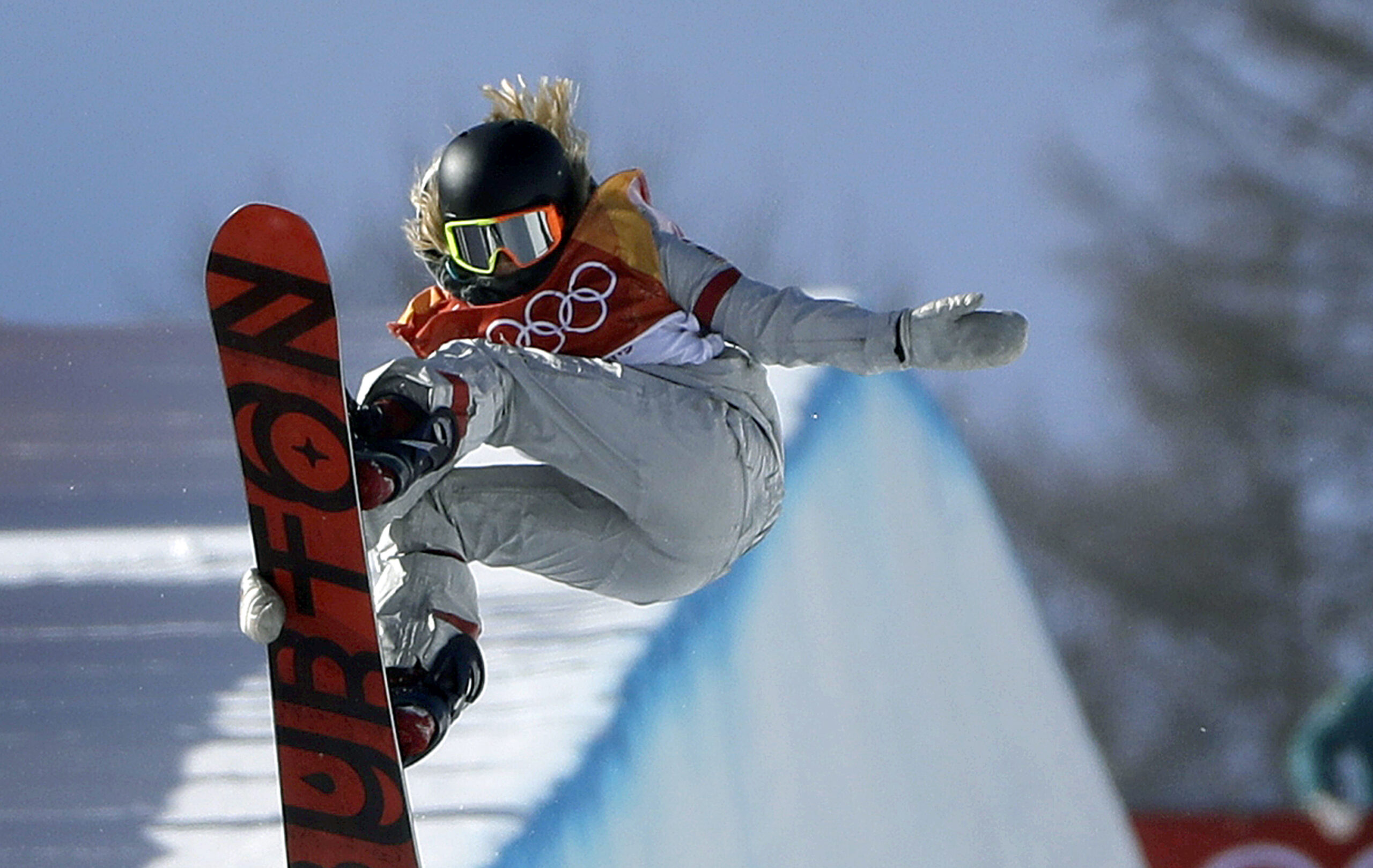 Between the controversies surrounding the host to a pandemic still ongoing after two years, there has never been an Olympic Winter and Paralympic Games like this.
In the Olympic coverage preceding this year's Games, very little of it has been focused on the athletes. Even NBC has been downgrading some of its ratings guarantees to commercial sponsors; when the 100-day milestone was celebrated, a Morning Consult poll showed 26 percent of U.S. adults were aware the next Olympic Games were scheduled for 2022, while only 21 percent correctly identified Beijing as the host.
SportsTravel's Olympic coverage — which will include on-site reports — addresses several storylines ahead of the Opening Ceremonies on February 4. And there's nowhere to start other than the biggest storyline of all …
The controversial host country
Beginning with the 2024 Paris Olympics, host cities must adhere to the U.N. Guiding Principles on Business and Human Rights. But China is not subject to those rules, and the International Olympic Committee has steadfastly refused to acknowledge any human rights issues in China.
While the IOC has turned a blind eye to it, the rest of the world has not. The United States called China's treatment of the Uyghurs genocide. Forced labor, mass detentions and torture have been widely reported by human rights groups. China — and by extension the IOC — have been widely criticized over the near-disappearance from public view of tennis star Peng Shuai after she accused a former senior member of the Communist Party of sexual assault.
Multiple countries, including the United States, have announced diplomatic boycotts of the Games, which seems to suit both China and the IOC just fine.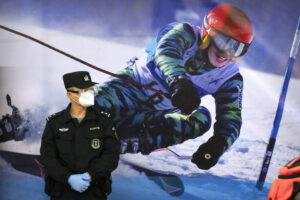 "The IOC deserves all of the disdain and disgust that comes their way for going back to China yet again," former Olympic host Bob Costas told CNN's Reliable Sources recently. "They were in Beijing in 2008. They go to Sochi in 2014. They're shameless about this stuff."
(When Beijing was awarded the 2022 Games, it barely edged out Almaty, Kazakhstan, one of the few places in the world even more autocratic than China. The 2022 bid race may have been the most depressing in Olympic history.) 
Human rights advocates have called what athletes will face in China an "Orwellian surveillance state" and are encouraging athletes to stay silent for fear of prosecution. While the IOC has said athletes will have freedom of speech when talking to the media or posting on social media, the IOC's rules prohibit political protests at medal ceremonies and requires "applicable public law" to be followed.
"Any expression that is in line with the Olympic spirit I'm sure will be protected," Yang Shu, deputy director general of international relations for the Beijing Organizing Committee, said in January. "Any behavior or speech that is against the Olympic spirit, especially against the Chinese laws and regulations, are also subject to certain punishment."
That … does not sound encouraging.
Not only are there concerns about the welfare of athletes who speak out, there are fears of surveillance. The British Olympic Association will offer temporary phones to athletes and staff and those who do not take up the BOA on the offer have been told Chinese authorities could install spyware to extract private information or track future activity. The Canadian cybersecurity research group Citizen Lab says a Games-required health-tracking app has security flaws that make users' personal data vulnerable.
It's another COVID Olympics
Last summer's Tokyo Olympics were held under what was thought to be fairly strict quarantine requirements. Tokyo is nothing like what the Chinese have prepared for those who compete, attend and cover the Winter Games.
All athletes, team officials and journalists need to provide two recent negative tests before heading to China. They will be tested again at the airport upon arrival and everyone will get daily throat swabs for PCR lab tests, with results coming back within a day.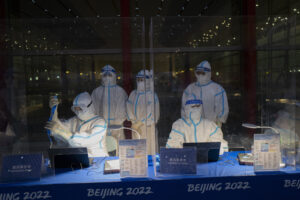 If anybody tests positive during the Games, there will be a confirmatory test. Should that test also be positive, anyone who has symptoms will go to a hospital while those without symptoms go to a hotel for isolation. To get out of isolation, people will need two consecutive days of negative tests and no symptoms.
The uncertainty over how long isolation might last is fueling worries since PCR lab tests can detect tiny amounts of virus, which means a test can come back positive long after a person is likely to spread the virus.
"We have always said the target is not zero cases; the target is zero spread," said Dr. Brian McCloskey, chair of the Beijing 2022 Medical Expert Panel. "Because we test every day, even if somebody turns positive on the test, we know they were negative the day before and in 24 hours they will not have had time to become infectious."
Through Wednesday, there have been 39 positive results at the airport among those who arrived. None of the positives involved athletes and the average time spent in isolation for most has been around six days. Once inside the "closed loop" system, no one will be able to leave a network of official venues. Unlike when Beijing hosted the Summer Games in 2008, sightseeing is not available.
"It's really sad because in (Pyeongchang in 2018) we were able to move around and explore and that was one of the best parts about traveling," U.S. short-track speedskater Maame Biney said in December. "Not being able to do that in Beijing kind of sucks. At least I'll have four of my teammates with me."
A mandate that isn't controversial
Given the polarization throughout the U.S., it is extraordinary that when the USOPC announced its vaccine mandate, nobody tried to challenge it legally and no athletes went on a public anti-mandate screed.
"This is all about the safety and health of our team," USOPC Chief Executive Officer Sarah Hirshland said. "The presence of this virus makes the challenge greater for all of us in a Games environment, but we're committed to doing everything we can in our power to mitigate illness and to mitigate the spread of COVID-19."
Chief Medical Officer Dr. Jonathan Finnoff told The Associated Press last week that no U.S. athlete asked for a medical exemption.
"Within our general population, there are some people who are extremely happy that we introduced this policy and they feel like it's in the best interest for their health and safety and those around them," Finnoff said in the fall. "And then there are others that are upset and would like to not have any type of mandate regarding vaccinations. But I would say that the latter is a very small minority."
During the USOPC media summit in the fall, no athlete was asked about their vaccination status — contrasted to multiple questions ahead of the 2021 Summer Games in Tokyo. Now, could Beijing's 21-day quarantine mandate for unvaccinated people have had something to do with it? Possibly. Is it commendable for the USOPC to have mandated vaccination? Absolutely.
Quiet stands again at Games
Beijing's ban of foreign fans was assumed months before an official policy was put in place, which cited COVID-19 but was widely seen as a political gesture with health and safety being a convenient excuse. Further restrictions among Chinese citizens were put in place in recent weeks.
"It's devastating and it's heartbreaking because of course we're competing for ourselves, but we're competing for our country and our family, friends, fans," U.S. speedskater Brittany Bowe said. "To not be able to hopefully celebrate the most important time in your life without all those people that have been along with you on your journey, it's sad."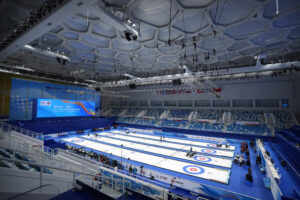 Much like for Tokyo, there will be plenty of viewing parties organized by families and sponsors, although the time difference between Beijing and the U.S. will make for some temporary insomnia. And no matter the size of the viewing screen for fans, there's nothing like being there — for the athletes, too.
"We'll have 30,000 spectators live in non-COVID times watching our races," biathlete Susan Dunklee said. "When a race favorite comes into shoot, they get on the shooting mat, they get set up, the stadium behind them goes dead quiet. And then they take the first shot and if they hit, 30,000 voices all in unison go, 'Yay!' And then it gets dead quiet and taking the next shot. If they miss, 30,000 voices, all at once. It's this wild, wild energy. … it's going to be a shame to not have that."
The U.S. vs. Canada women's hockey rivalry returns
The men's gold medal hockey game will be February 20, three days after the women's gold medal game. While the men's competition was highly anticipated with the return of NHL players to the Games for the first time since 2014, the NHL's decision to withdraw its participation after a series of COVID outbreaks only increases what was already guaranteed to be a spotlight on the women's rivalry between the United States and Canada.
The U.S. is the defending champion after beating Canada in a shootout in 2018 to end Canada's run of four Olympic titles. Canada is the reigning world champion after an overtime win in August to end the Americans' run of five consecutive titles. A series of exhibitions between the teams was suspended by COVID concerns after six games — four won by Canada.
Could a spoiler crash the party? It's unlikely. The U.S. and Canada have met in 19 of the 20 women's world championships and all but one of the six Olympic gold medal games.
Female athletes dominate the Olympic spotlight
Women's hockey superstar Hilary Knight is heading into her fourth Olympics. Mikaela Shiffrin has won gold medals at her previous two Olympics (the slalom in 2014 and giant slalom in 2018) and is the face of American skiing.
Chloe Kim returns four years after she became the youngest woman to win a snowboarding gold medal at 17. In 2018, Jessie Diggins and Kikkan Randall won the cross-country team sprint to give the United States its first gold medal in the event; while Randall has retired, Diggins this year became the first American to win the overall World Cup.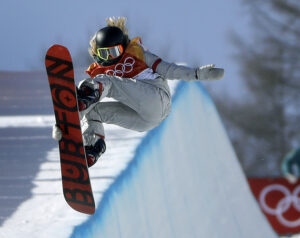 Of the 222-member U.S. team, 107 are women, the most ever for a Winter Games. In 2018, women won 12 of the 23 American medals, including five golds. This year's U.S. team includes Kaillie Humphries, the world's most successful female bobsled racer with three medals for Canada before becoming a U.S. citizen in December.
One more name to remember: Jamie Anderson the only two U.S. women's snowboard slopestyle gold medals in Olympic history.
Climate changing the Games' future
Anderson, during the USOPC Winter media summit, recounted how she and other snowboarders watched glaciers in Switzerland this fall break off in huge chunks. Keith Gabel, remembers how "it sounds like avalanches every day and you'll just see snow waterfalls coming down the cliffs. And to see how much the ice has shifted just in the last few years, it's mind-boggling."
"I grew up in Utah, where the snow was higher than the mailboxes," Gabel added. "And you could guarantee that on Christmas, there was going to be snow. And most of the resorts don't open until Thanksgiving, if you're lucky, and it's probably just a ribbon of snow. We've got to take things seriously."
The IOC will emphasize climate in the future. Researchers at the University of Waterloo in Canada say failure to reduce global emissions may mean of the previous 21 Winter Games hosts, only Sapporo by the end of the 21st century would be considered an appropriate winter host.
Enough about the problems, enjoy the present
We got all the way to this point without highlighting Nathan Chen, the world's top male figure skater whose rivalry with Yuzuru Hanyu will be reignited in Beijing! It just shows there has never been an Olympics where, at its conclusion, a viewer thinks "there wasn't anything that happened that I haven't seen before" whether it stems from an athlete you know, or an athlete you've never heard of before.
It's going to be different, no doubt. But when the music ends at the Closing Ceremony and the flame is extinguished on February 20, there will be performances that last lifetimes.