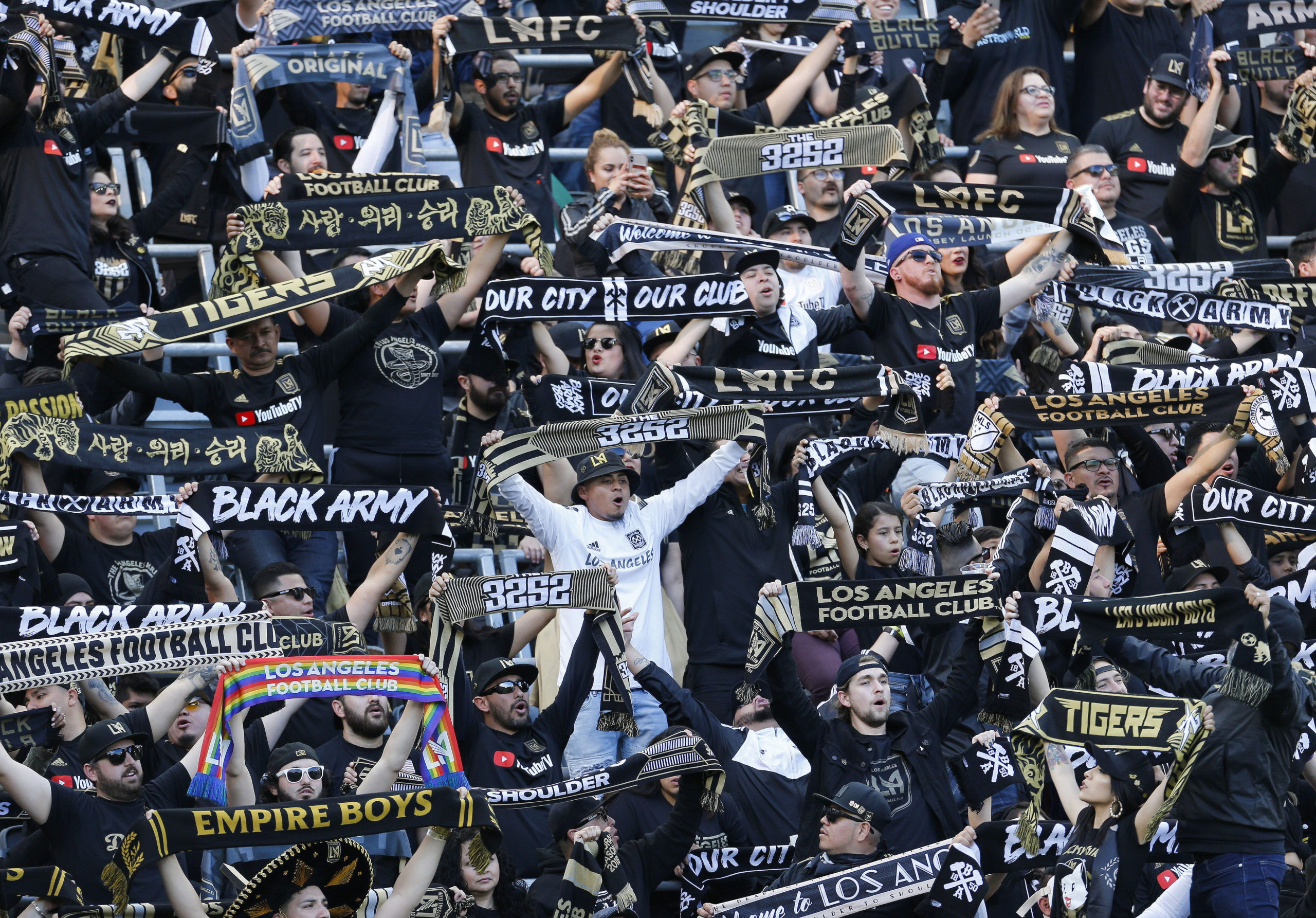 Everywhere you looked, people tailgated with portable grills, music blared, kids ran around. The smell of beef and chicken hung heavy in the air. Flags waved, songs and chants and drums and trumpets played, and all the elements were there that make you walk around the outside of a stadium and think "Whoa, this is a big …. deal."
Inside the stadium, raucous groups of fans in opposing sections cheered their respective teams as the drama went unabated. When the final whistle blew, it was more than a celebration for the home fans — it was a cathartic release from having overcome their nearby rival. For some, being there meant paying a high price — some tickets had gone for over $3,000 on the resale market.
And here's the thing: It wasn't the NBA season opener between the star-studded Clippers and Lakers. When it came to sports in Los Angeles that week in October 2019, there was nothing bigger than "El Trafico," a Major League Soccer playoff game between rivals Los Angeles Football Club and Los Angeles Galaxy.
It was a seminal moment in a league for which success has not been linear by any means. As Major League Soccer embarks on its 25th season, it has shown staying power that few may have ever imagined thanks to a combination of steady expansion, soccer-specific venues and the ability to draw star players from around the world.
• • •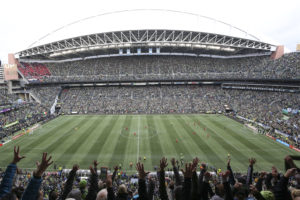 Borne out of the 1994 FIFA World Cup, an event the United States hosted with the explicit promise to FIFA from U.S. Soccer that it would start a professional league, Major League Soccer began in 1996 with 10 teams playing by rules that sometimes followed the rest of the world and oftentimes didn't. Longtime fans may still shudder when recalling the clock that counted down from 45 minutes each half with no stoppage time. The uniforms were garish, the team names sounded like a marketing project gone awry (Mutiny? Burn? Metrostars??).
Its beginnings were more than humble. It was invisible on the broader American sporting scene. MLS added two expansion teams in 1998, then had to contract to 10 teams in 2002 as its existence was teetering on the edge, becoming almost entirely bankrolled by an owner who took over operations of six different franchises at once. From that weakening pulse now stands a league that has not yet reached the heights of its major European counterparts (and some would say its neighbor to the south) but has increasingly become an attractive proposition for both investors and players.
"You see now the biggest stars and young stars that want to come to MLS because this league is in the top of the world," said Seattle Sounders midfielder Nico Lodeiro, a member of the Uruguay national team who came to MLS in 2016 from legendary Argentine club Boca Juniors. "We have a good level of play, a good life. Here, you can have everything. I always say I'm happy to be here, because I play in one of the best leagues in the world."
A league that was once 10 financially struggling teams now is a league with 26 teams, many of them with financial strength that would not seem out of place in the NFL or NBA. Four more teams will start by 2022. A league that played in stadiums so big that a healthy crowd looked like a bunch of strangers in one place by accident now has 20 soccer-specific venues, some with atmospheres that would not be out of place with the best in Europe. And there are seven more venues on the way.
"Our 25th season is a milestone," said MLS commissioner Don Garber in November. "I don't think many people thought at the beginning that we'd be here."
• • •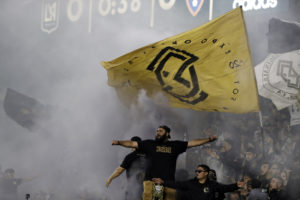 Success is seldom linear, and that is true of Major League Soccer. There have been missteps; Chivas USA was an expansion franchise in 2005, giving MLS two franchises in Los Angeles before the team folded nine years later. The original San Jose franchise moved to Houston before another team was "reactivated" in the Northern California city.
Toronto's inclusion in 2007 started the era known as MLS 2.0, which kicked into high gear in 2009 with the launch of Seattle Sounders SC, a team that remains one of the league's biggest draws. Seattle built a fan culture that drew U.S. national team star Clint Dempsey home and triggered a string of American stars, who once felt their professional future had to be abroad, to take a closer look at playing at home.
Expansion then came tumbling like an avalanche with four teams in three years, notably the inclusion of Oregon's Portland Timbers and the Vancouver Whitecaps in 2011, giving MLS a stronghold in the Pacific Northwest. Next came New York City FC, giving the league a second team in the New York metropolitan market, and Orlando City, re-establishing MLS in the South.
That set the stage for the wild success of Atlanta United in 2017, a franchise that immediately became a contender with high-profile South American signings and an owner in Arthur Blank, who did not shrink from spending big. The team paved the way for how a successful expansion could look, winning the MLS Cup championship in its second year in front of more than 73,000 fans.
Then came the Los Angeles Football Club, and what was started in Atlanta hit the turbocharger. Succeeding where Chivas USA fell short in Los Angeles and with a fan culture that somehow seemed a mashup of the best from every team preceding it in MLS, the team in short order became one of the league's most well-known franchises, playing in a sparkling downtown soccer stadium.
"It's become a real part of the bloodstream in the city," LAFC team broadcaster Max Bretos said. "People know about LAFC. I've been covering the league a long time, and there are cities where people didn't even know they had a soccer team — not the case with LAFC."
With a celebrity-packed ownership group and player-announcement videos that quickly spread on social media, LAFC was no ordinary expansion team. But it does have one thing in common with every other successful team of recent league history.
"It starts with ownership," former Galaxy and U.S. national team star Landon Donovan said. "Any corporation, any business, any club or franchise, it all starts from the top. Once it gets filtered down appropriately, that's when you see success. Then you have to have facilities that match that ambition, and you have to have players. But ultimately, if you don't get it right at the top, then it's hard to get the rest of it right."
• • •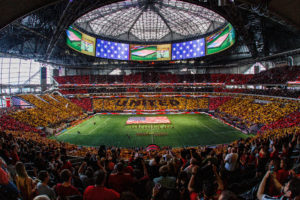 MLS has gotten plenty right lately. This season not only is the celebration of an anniversary but starts on the heels of a new collective bargaining agreement between the league and its players union; a $325 million fee for the latest expansion team in Charlotte, North Carolina; overall investment that put the league's teams on an unprecedented offseason buying spree for players; and fan demographics that are the envy of other professional leagues.
"It's positively unique and infectious," said Nashville Convention and Visitors Corp. president and CEO Butch Spyridon, whose city will welcome an expansion team this season. "With the singing, with the scarves, the MLS fan base to me is completely different than either college football, Titans or Predators — in a good way."
Nashville SC and Inter Miami, the league's two latest teams, will be in the spotlight for opening weekend. Nashville SC's inaugural game at home against Atlanta United has more than 50,000 tickets sold already at Nissan Stadium, the home of the Tennessee Titans and Nashville SC's temporary home while its own stadium is built. Inter Miami, backed by the star power of owner David Beckham, has sold out single-game tickets for its home opener against LAFC.
"When you come into the league, that newness, you have an audience," said longtime soccer journalist Ives Galarcep. "The trick is you've got to entertain right off the bat. Atlanta, Seattle, LAFC, they got it right from the beginning. Put out an entertaining product, spend money, and that's what is different. Seattle was the first to really do it. Atlanta took it to another level with the amount of spending they made, and LAFC has continued along that line."
However, as Galarcep points out, once the newness wears off, the road to relevance can be a long, hard one for some franchises. Last year's launch of FC Cincinnati was a roaring success off the field. On the field, the team was the league's worst, and this preseason has already seen its coach fired after using a racial slur around players. While Orlando City started off drawing tens of thousands of fans, many of its home games last year were played to half-empty stands. Longstanding franchises such as Colorado, Chicago (which has left its suburban soccer-specific stadium and will be back in Soldier Field starting this season), Houston, Dallas and New York have seen attendances drop.
"The [New York] Red Bulls, for years they were mediocre, for years they didn't tap into the market in New York, and now even though they've had star players like Thierry Henry, they still haven't made that connection," Galarcep said. "Fans aren't going to just keep coming if you don't put a good product on the field. Not only does LAFC put a good product on the field, they put a dominant, entertaining, best-in-the-league product. When you do that, with a stadium like this, then you're going to succeed."
• • •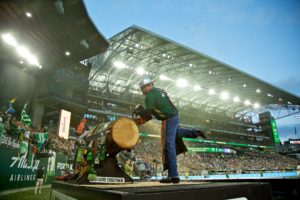 Ah, yes. Stadiums.
"[Former MLS MVP] Dwayne De Rosario years ago said, 'Nobody takes you seriously until you get your own building,'" recalled Steve Davis, who has covered the league since its inception. "Financially we all recognized a long time ago that it's not just sustainable fiscally if you don't have your own building, the ability to control your own dates, the ability to control your own parking and sponsorships, and create the stadium you want in terms of suites."
More than anything, stadiums are why MLS has reached the status it holds today. But as with other aspects of the business, the league's stadium philosophy has evolved over time.
One of the league's earliest successes was the first soccer-specific stadium in Columbus, Ohio, which opened in 1999. Home of the Crew, it foretold what could happen when teams played in venues that were appropriately sized for their fan bases. Many that followed were in suburban areas where teams were able to build in short order.
But when the Portland Timbers started play in 2011 with their downtown stadium, tapping into the market's urban demographics changed everything. From that point, existing MLS teams and potential expansion franchises made finding sites that could draw from a younger demographic a point of emphasis.
"I think MLS has been very smart on how they approach their stadiums and the desire to have soccer-specific stadiums in the heart of a downtown core," said Mike Sophia, the vice president for sports business development at the Greater Fort Lauderdale CVB. "They know their demographic and they know their product."
Since 2015 and through the upcoming 2020 season, eight teams have entered the league — NYCFC, Orlando City, Atlanta United, Minnesota United, LAFC, FC Cincinnati, Inter Miami and Nashville SC. Of those, NYCFC (which plays in Yankee Stadium) is the only team not in its own stadium or in the process of building one. Part of what made Atlanta such an immediate success was playing in Mercedes-Benz Stadium, home of the NFL's Falcons but with the ability to be transformed into a soccer venue that hosts a ferocious following.
"It's obviously very important for the long-term success of the team," said Spyridon, whose Nashville market witnessed tense delays for the groundbreaking of its stadium that were recently resolved. "It's equally important to our long-term ability to grow interest and take advantage of other soccer-related events."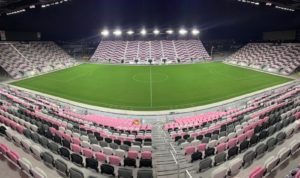 While Inter Miami's 25,000-seat stadium in Miami's Freedom Park is scheduled to be completed in 2022, the process of finding land was a tedious one. Until that stadium is finished, Inter Miami will play in Fort Lauderdale, having transformed the former site of Lockhart Stadium — home of the old NASL Fort Lauderdale Strikers and MLS' initial foray in the Miami market, the Fusion — into an 18,000-seat stadium splashed with pink as part of a broader complex that will be the team's long-term training complex. It will also give Fort Lauderdale tourism a stadium that can attract other events.
"The stadium is going to be fantastic," Sophia said. "It's been a traditional part of the sports landscape in South Florida and Fort Lauderdale, and to have that updated to a new life will be a great asset for what we do in the future."
Recognized by many as the best stadium in the league, the 22,000-capacity Banc of California Stadium in Los Angeles, home to LAFC, was built on the site of the old L.A. Sports Arena near the University of Southern California in a part of the city that has undergone extensive gentrification.
"Twenty years ago, this wasn't really a place you walked to at night," said broadcaster Bretos, "and now you can walk around. It's by the university, you've got the museums, you have the train stations to drop you off. This location is unbelievable because it's close to every fan base."
And of the four future MLS expansion franchises in Austin, Texas; Charlotte; St. Louis; and Sacramento, California, only Charlotte will not have its own facility. Charlotte is following the Atlanta blueprint of having a downtown NFL stadium that can be transformed for soccer games.
"When I was in Europe, Atlanta and Orlando came in and there was a lot skepticism about how those cities were going to fare, how the fan bases would come around and would people come out to support the teams," said Philadelphia Union midfielder Alejandro Bedoya. "With some good marketing and some good soccer-specific venues and facilities, people are going to be into it."
• • •
As the season starts around the country on February 29, Major League Soccer is at once looking back to celebrate a quarter-century and trying to position it for the next decade to come — which may be the most important one yet.
The 2026 FIFA World Cup will be jointly held by the United States, Canada and Mexico, an unprecedented marketing opportunity the likes of which MLS has never had. In the lead-up to that event, MLS has increasingly established closer ties with Liga MX, the professional soccer league in Mexico. The past two years have seen the respective league champions meet in the Campeones Cup, and another competition, the League Cup, will expand in its second year from eight teams to 16 this summer.
"The partnership with Liga MX is long-term," Garber said. "It's been something we've been working on for years. I think it's a growth track for both leagues. I think as Liga MX continues to grow their international footprint, the United States is a big part of that strategy. With us, our fans have basically said we want to see you be more competitive against international competition."
And then there is the most prominent tie-up between MLS and Liga MX. Having spent years using its All-Star Game to bring big-name European club sides over for exhibitions, this year the MLS All-Stars will face a Liga MX All-Star team on July 29 at Banc of California Stadium.
"In the past, Major League Soccer reaching out to Liga MX was a one-sided affair," Donovan said. "We, as Major League Soccer, wanted to connect with Liga MX because of all the power and clout they had in this region. What's happened now is both sides realize that there is value in partnering."
• • •
The night of July 29 promises to be a scene unlike few in MLS before, and perhaps will bring back fans' minds to that October night at El Trafico when LAFC's 5-3 victory sent Galaxy superstar Zlatan Ibrahimovic back to Europe without a championship during his two-year stay in the league.
"If I don't play in MLS, who will you talk about?" Ibrahimovic said after the game, his future at the time uncertain. "If I stay, I think it will be good for MLS because the whole world will watch. If I don't stay, nobody will remember what MLS is."
A few weeks later, Ibrahimovic left and was soon replaced by Mexico forward Javier "Chicharito" Hernandez, whose iconic status among fans eclipses even that of Ibrahimovic. The Galaxy has more than 1,000 new season ticket holders because of Hernandez and had more than 5,000 fans attend one of his first practices.
The departure of a worldwide star and eventual replacement with an even bigger star emphasizes that as its 25th season begins, MLS may be on the verge of growth beyond even the wildest expectations of those who first watched it in 1996.