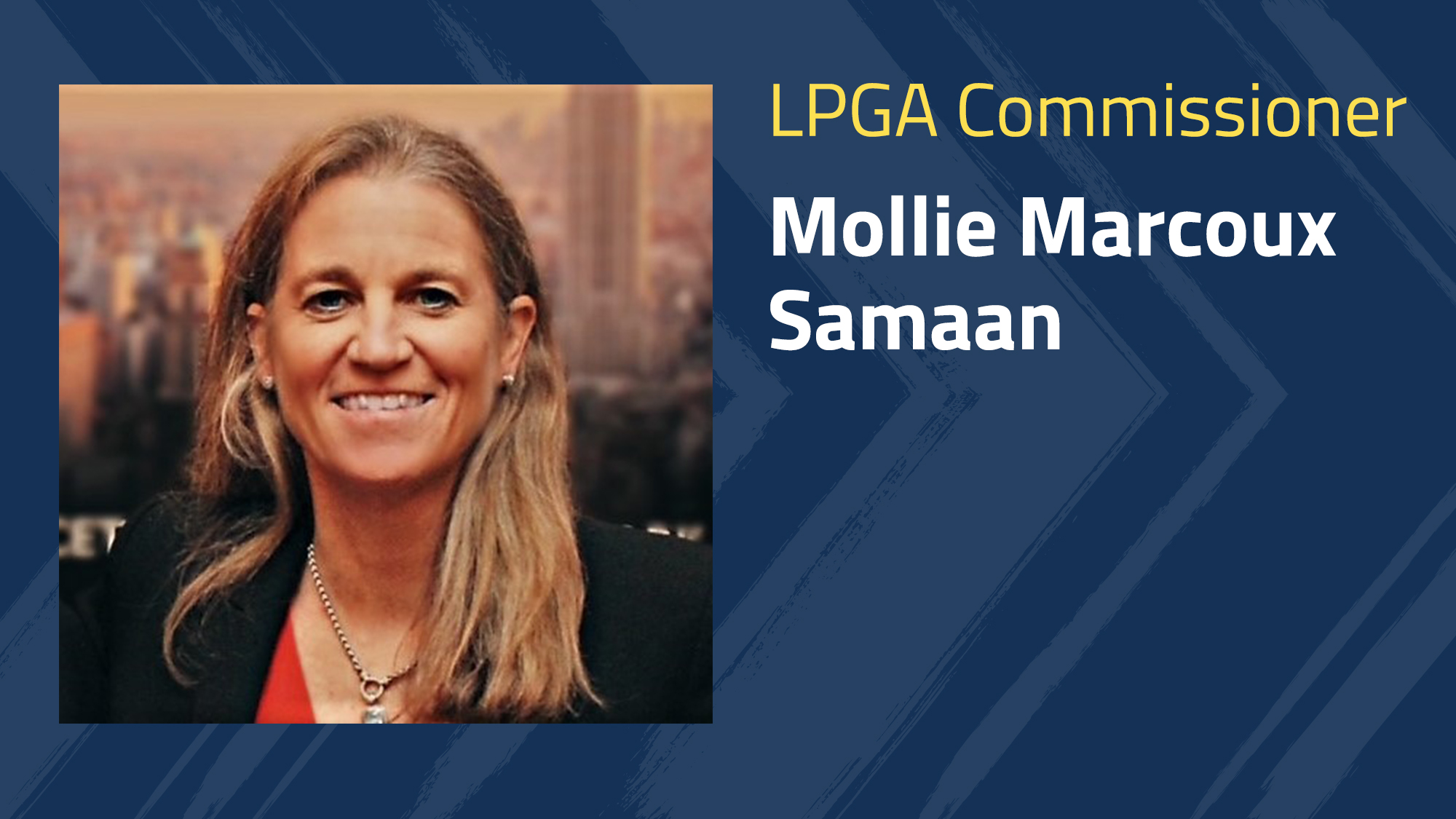 The LPGA's board of directors have selected Mollie Marcoux Samaan as the professional golf tour's next commissioner, becoming the ninth leader of the LPGA Tour since its formation in 1950.
Marcoux Samaan is currently the Ford Family Director of Athletics at Princeton University. She will succeed Mike Whan, who was recently announced as the next CEO of the USGA.
"Our selection of Mollie Marcoux Samaan as the LPGA's next commissioner is the outcome of an extensive and deliberate search process," said Diane Gulyas, chair of the LPGA Board of Directors and the search committee. "The position attracted a diverse group of outstanding internal and external candidates, all passionate about the LPGA. We concluded that Mollie is the right leader to guide the LPGA's next chapter of growth, impact and achievement."
"The LPGA commissioner role is one of the best jobs in sports today and the opportunity of a lifetime," said Marcoux Samaan. "I'm passionate about the game of golf and have been an LPGA fan since I was a little girl. I appreciate the LPGA's history and the tenacity of its 13 founders. I'm truly inspired by our tour players and teaching professionals. I'm excited to dive into the LPGA initiatives to impact women and girls in the game at every age and ability."
Marcoux Samaan's involvement with golf began as an 11-year-old playing at Newman Golf Course, a public course in Ithaca, New York. She was runner-up in the women's city championship by the age of 14 and is a five-time club champion at the North Fork Country Club in Cutchogue, New York.
Marcoux Samaan graduated from Princeton in 1991. A history major, she wrote her senior thesis on "The Social Construction of Sport and Gender: A History of Women's Golf from 1895 to 1955." She earned four varsity letters each in soccer and ice hockey, being named First Team All-Ivy in ice hockey all four years. Marcoux Samaan was named to the collegiate women's ice hockey Team of the Decade in 1990.
Following graduation, Marcoux Samaan served as assistant athletic director, assistant dean of admissions, and coach of girls' ice hockey and soccer at the Lawrenceville School in New Jersey before starting a 19-year career at Chelsea Piers Management, the company that owns and operates Chelsea Piers New York and Chelsea Piers Connecticut. She also founded and served as executive director of the Chelsea Piers Scholarship Fund, which offers scholarships to provide athletic opportunities to children in need.
In 2014, she returned to Princeton as the director of athletics. In her seven years, Princeton teams won a league-leading 65 Ivy League Championships. Marcoux Samaan crafted a strategic plan for athletics including major improvements in facilities, recruiting and retaining talented coaches and staff, creating effective fundraising and revenue growth strategies and increasing marketing and exposure.
"Our search process was disciplined and thorough," said Juli Inkster, World and LPGA Hall of Famer and a member of the search committee. "We were impressed and honored by the large number of quality of leaders interested in the LPGA. But in the end, Mollie stood above the rest. We were impressed by her track record working with athletes; with her ability to forge new and innovative partnerships; and with her personal passion, authenticity and proven persistence for excellence."
"I believe passionately that sports have the power to change the world," Marcoux Samaan said. "And in this moment in time with the positive energy around women's sports, women's leadership and society's commitment to diversity, equity and inclusion, I believe the LPGA has an incredible opportunity to use our platform for positive change.