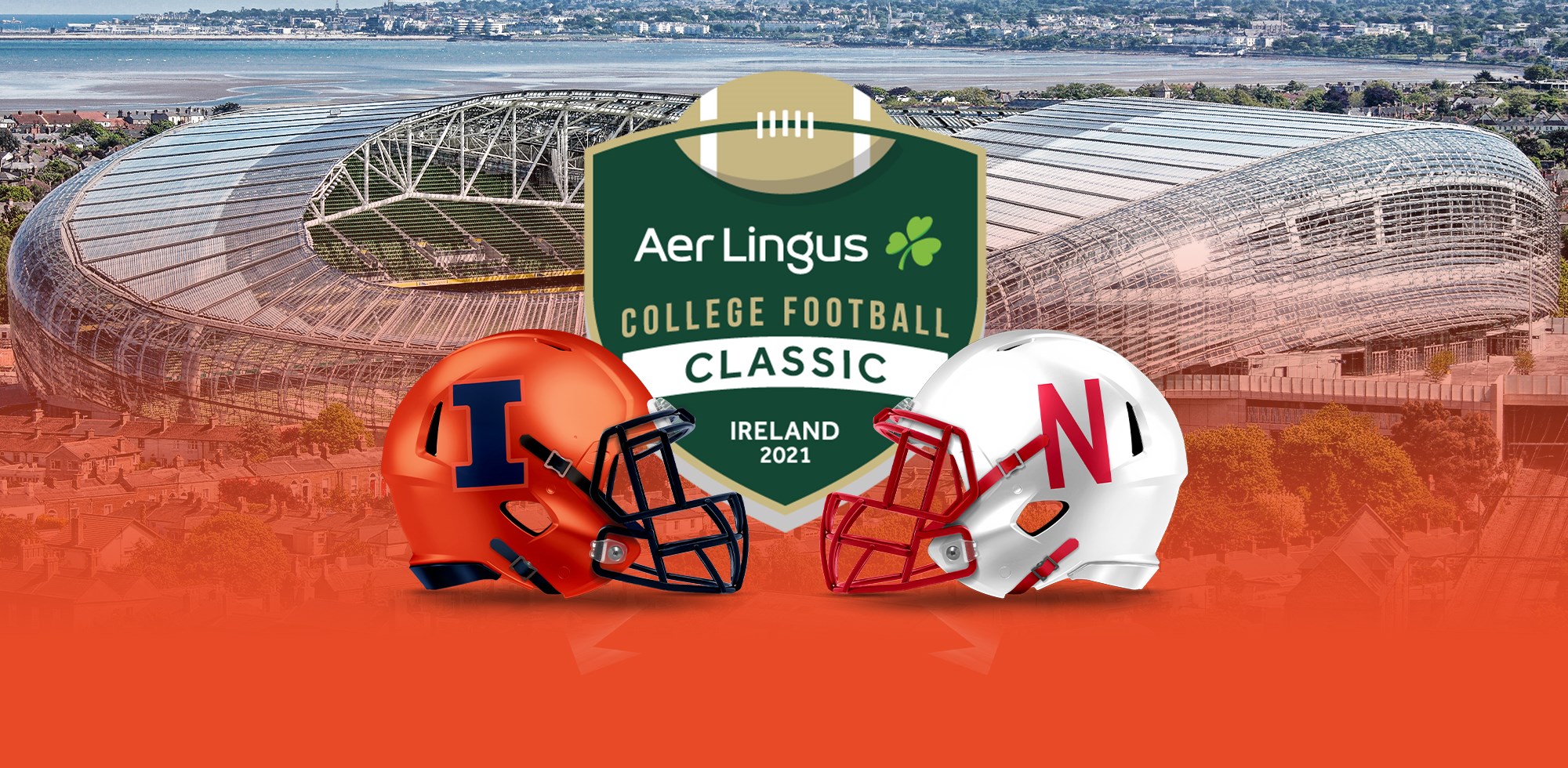 The Big Ten Conference will send two of its programs to Dublin, Ireland, for the 2021 Aer Lingus College Football Series.
The University of Nebraska and the University of Illinois will face off in the new series, which starts in 2020 with a game between Notre Dame and Navy, with ESPN College Gameday on hand as part of the day's festivities.
"The University of Illinois, our football program, our alumni and fans, and the entire Fighting Illini family are in for a once-in-a-lifetime experience on the Emerald Isle," Illinois Director of Athletics Josh Whitman said. "This game will provide an incredible educational opportunity for our football student-athletes who, because of their schedule, generally do not receive the same international experiences as many of our other student-athletes."
The 2021 game will be held on August 28, 2021, at Aviva Stadium in Dublin. Aviva Stadium has a capacity of 51,700 as the home to the Republic of Ireland national soccer team and the Irish rugby union team.
"I welcome the news that both the University of Illinois and University of Nebraska teams and fans will travel to Dublin in 2021 and I look forward to seeing the color and energy that they will bring to the city of Dublin," said Lord Mayor of Dublin Paul McAuliffe. "This fixture is an important date in our calendar and showcases Dublin as a destination for hosting major international sporting events."
It will be the first time the Illini play a game outside the United States, and the first time for Nebraska since it played Kansas State in the 1992 Coca-Cola Bowl in Tokyo.
"We look forward to taking our team to Ireland to kick off the 2021 season against Illinois," Nebraska coach Scott Frost said. "This will provide great exposure for the Nebraska football program and the Big Ten Conference. Our first priority for the trip will be to play a football game, but it is also going to give our players a chance to visit a part of the world most of them will not have seen."